Navigation
5 Essential Home Buying Tips from a Professional Mortgage Broker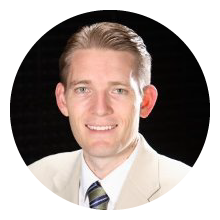 This is a guest post by Shanne Sleder, an experience Morgage Broker with years of experience and expert tips for home buyers and sellers. We are please to collaborate with Shanne and hope that you take the time to read what he has to say about home buying and selling options in the Mortgage industry.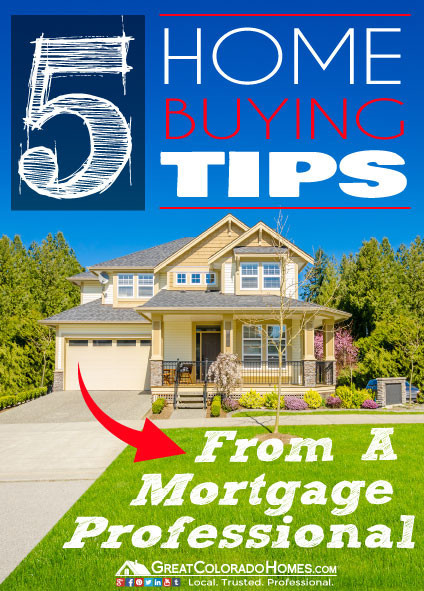 I would like to take a moment and introduce myself to the readers of GreatColoradoHomes.com. My name is Shanne Sleder and I am a Mortgage Broker and Banker from San Diego, California and the author of SanDiegoMortgageNews.net. Andrew contributed recently to one of my all-time most popular posts on Home Buying Tips, and since that post did so well, Andrew was kind enough to ask me to share with his readers some more detailed home buying tips on mortgages.
Whether you have purchased many homes in the past or are a first time homebuyer, these tips that can be extremely beneficial to you during the home buying process, especially now that lending guidelines are much more strict than they were previous years past. I will cover 5 home buying tips that are not discussed as often in the real estate community as some of the other more obvious topics of discussion. As I cover these home buying tips, feel free to comment at the bottom of the post if you have questions or need additional information about the advice that I will be sharing on this post. Without further adieu, let's get to the 5 Home Buying Tips from the vantage point of a professional mortgage lender!
---
Tip 1: Get Pre-Approved Early
Getting Pre-approved is a common tip that you have probably heard before and is not worth mentioning again. What I want to focus on is the benefit of going through the Pre-approval process early on, before you start seriously looking at homes. In some cases maybe even 2-3 months early. Why would you want to do that?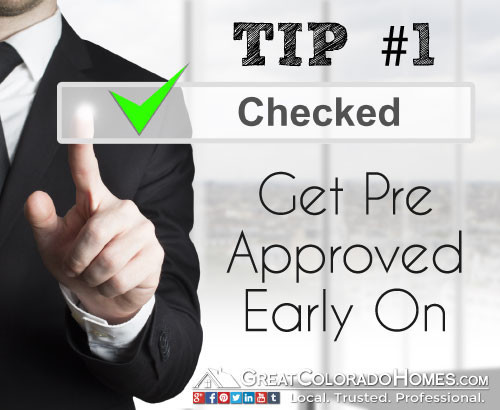 First, this will give you more time to look at different types of loans and loan structuring. You can compare and have more time to analysis the benefits or drawbacks of different options. Is it better to put 20% down or 10%? If I put 10% down, do I want to have mortgage insurance or use a 2nd mortgage to avoid the mortgage insurance? Your mortgage is the largest debt you will ever have and probably your largest payment. You should give yourself the most time possible to make the best decision for your financial plan. Don't wait until a week before you are going to go out and look at homes to get pre-approved. You are then going to be pressured to make a decision about a loan too quickly and you will stand a much higher chance of missing out on some good loan products because you won't have time to learn about all of your options. Give yourself plenty of time to learn about each available loan product.
Second, by going through the pre-approval process early, you are giving yourself the best potential to get approved for the best loan possible. If we come across any issues that may appear on your credit or involving your income or down payment, we will have time to fix those issues before you start the home search process. This could save you from being declined for a loan or save you thousands of dollars over the life of the loan if we can get you qualified for a lower rate. Fixing credit issues and adjusting your personal assets to best reflect your financial position can take months in some cases. Don't wait until the last minute to deal with this stuff. Pursuing your mortgage loan pre-approval early on can greatly impact your home buying experience for the better.
---
Tip 2: Don't Take No For An Answer
If you are trying to get approved for a loan and are declined at one lender, do not stop! Keep trying. Different lenders have different guidelines and/or interpretations of guidelines. Some are willing to make exceptions that others are not.
Mortgage Brokers may have 20 different lenders they work with. One may decline the loan and another may approve it. Since the broker has your full file, it will not be too difficult for them to submit it to a different lender. That is one of the benefits of working with a broker or mortgage banker. Make sure your broker tries multiple sources before he takes no for an answer.
Some Mortgage Brokers may be able to get loans approved that regular banks won't do. Some Retail Banks may have programs that only they offer and may allow you to get your loan approved. Some banks have what they call the "Personal Banking Division" for clients of high net worth. These divisions will do some loans that others can't.
There are also Credit Unions that are now starting to offer unique programs that other sources may not have. There is not always a solution for every situation, but don't give up until you have tried multiple sources. Many potential home buyers miss out on home ownership because they give up at the their first loan rejection. Don't give up though. Keep communicating with lenders until you find one who can help.
---
Tip 3: Your Lender Can Pay Closing Costs for You on a Purchase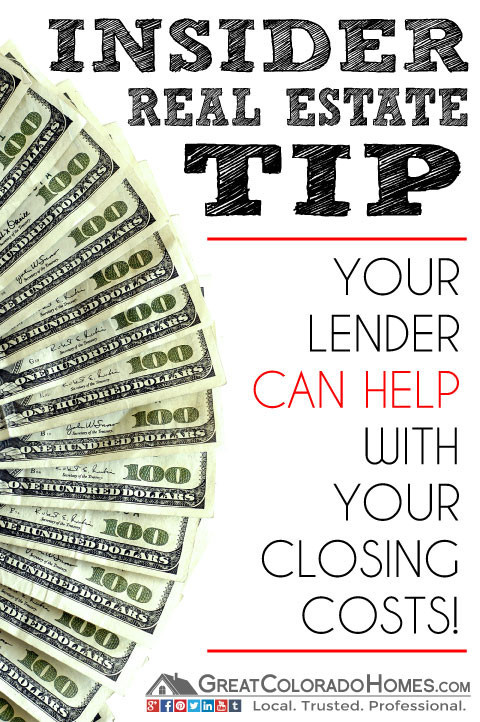 Many buyers know that the Seller can pay some or all of their closing costs for a purchase, but in today's competitive market, asking the seller to pay your closing costs can cause your offer to be rejected.
What most buyers don't know, is that just like in a refinance, the lender can pay some or all of your closing costs on your behalf. Now, this does come with a trade-off of a higher rate, but in many cases it is only about .25%. If you are limited on cash to close, this may be a way to make your purchase work, whereas otherwise it would not. That would make the trade-off worthwhile.
Currently on VA loans, this is a great option because the rates/pricing is structured where as little as .125% in rate may allow the lender to pay all of your closing costs. This could allow a veteran to buy a house with no down payment and no funds out of pocket for closing costs. In the Colorado Springs area where 10% of the city is employed by the military, this can be very helpful information to home buyers looking to purchase a home with as little money out of pocket as possible..
---
Tip 4: Should I Pay Points on my Loan?
When you Pay Points on your loan, you are paying a fee up-front to obtain a lower interest rate for the life of the loan. One Point equals 1 Percent of the loan amount. Many people think that this is a good option when getting a loan.
If you are thinking of paying Points to buy down your interest rate, take several factors into consideration.
Compare the monthly savings on your mortgage from the lower rate versus the cost of the points you are paying. If it takes longer than 4 to 5 years to recoup the cost, you may want to think again.
How long are you going to keep this loan or stay in this home? If you are going to stay in the home or keep the loan long term, then it may make sense to pay points up-front. But if you are going to move or refinance within 7 years, which is the US average, then paying points may not be your best option.
Take into consideration inflation. If you pay points, you are buying down the rate in today's dollars, to save monthly over time. Inflation will eat into the savings over time making a savings of $30 dollars a month worth less in the future. It may not make sense to use today's dollar to save inflated dollars in the future.
---
Tip 5: Be Ready to Have Your Income and Assets Scrutinized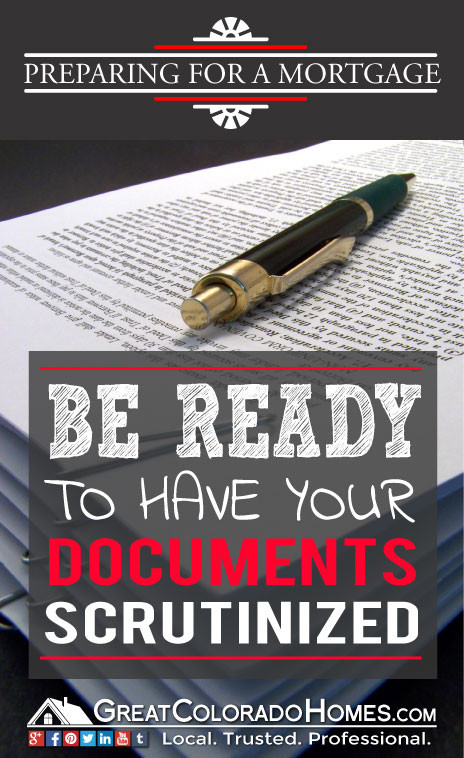 Getting a loan in today's lending environment is not the same as it was 5 years ago. Lenders require more documentation to prove income and your available assets. They are going to want to see pay stubs, W2's and potentially 2 years of tax returns.
On your assets, expect to provide 2 months of statements for each account and they must be complete statements with no alterations. Many clients try to provide only a few pages or blacken out account numbers or certain purchase transactions. This will not be acceptable to an underwriter.
In addition to having to provide all these documents, be ready to write letters of explanations for anything that may look unusual to an underwriter or for any large deposits that show on your statements. The underwriter will also want to see proof of where those deposits came from, so you will need to provide copies of checks or money transfers.
---
A Few Closing Thoughts
Many people feel that the current process of getting a loan is too invasive of their personal information. If you are aware of this early and can prepare yourself it may make it easier to handle when it happens. As a lender, I try to only get what I believe an underwriter will need, but we also want to make sure we get everything we can to get your loan approved and processed quickly.
If you would like to see more simple Home Buying Tips from a group of 50 Real Estate experts please check out: Insider's Guide – 50 Home Buying Tips from the Top Real Estate Experts in the World
Hi! I'm Andrew Fortune, the founder of Great Colorado Homes and the creator of much of the content on this website. Thanks for taking the time to read this article. Please feel free to share this article with someone who might benefit from it. I appreciate your time here on this site and am always open to suggestions and ideas from our readers.
Our Most Recent Blog Posts:
🧐 Here's a list of 22 things you need to know before moving to Colorado Springs, CO.
Blog Catagories
---
---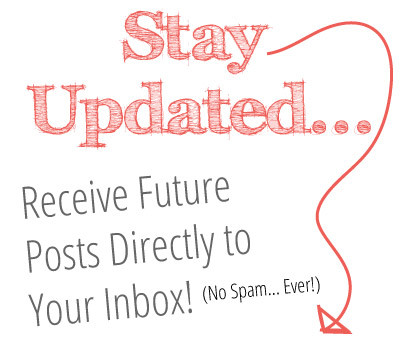 ---