Navigation
December 2014 Colorado Springs Real Estate Statistics | Housing Market Report

---
The Colorado Springs Real Estate Market for Decemeber, 2014
According to the new data released by the Pikes Peak Association of REALTORS®, the Colorado Springs real estate market is steadily selling inventory, while also gaining more home buyers, following the same trends from October & Novemeber. Even with an increased number of sales from 2013, the average days on the market numbers are still remarkably high, compared to this time last year. When local data shows conflicting information like this, it is usually a sign that the market will be shifting soon. I'm expecting 2015 to continue in sales growth, as it has over the past year. Let's take a look at the Decemeber 2014 real estate market numbers for Colorado Springs:
Decemeber 2014 Colorado Springs Real Estate Statistics
New Listings:676 (Down-13.7% from last year)
Sold Listings: 873 (Up +11.6% from last year)
Total Active Listings: 2,566 (Down-17.1% from last year)
Average Sales Price: $255,652 (Up +4.1%from last year)
Total Under Contract: 1,287 (Up +13.3% from last year)
List To Sold Price Ratio: 98.4% (Almost the same as last year)
Days on the Market: 98 Days (Up +19.4% from last year)
It's interesting to note that the "Days on the Market" stats are higher than average, but the overall "Sales Under Contract" for this Decemeber are way up. Usually, with depleting inventory and an increase in homebuyers, the days on the market will lower as the demand increases. This will be an important number to follow over the next few months as it will help to determine a shift in the market. It's likely that there were some properties sold with very high days on market that are causing this number to be so high. I expect it to go down to around 60 days on average in 2015.
These numbers cover all of Colorado Springs, CO and the surrounding areas, including Black Forest, Broadmoor, Briargate, Fountain, Falcon, Gleneagle, Larkspur, Manitou Springs, Monument, Northgate, Old Colorado City, Palmer Lake, Peyton, Powers, Rockrimmon, Security, Tri-Lakes, Widefield, Woodland Park, and Woodmoor areas.
As always, if you have any specific questions about the market or if you need help buying and/or selling real estate in the Colorado Springs area, let me know; I would love to hear from you.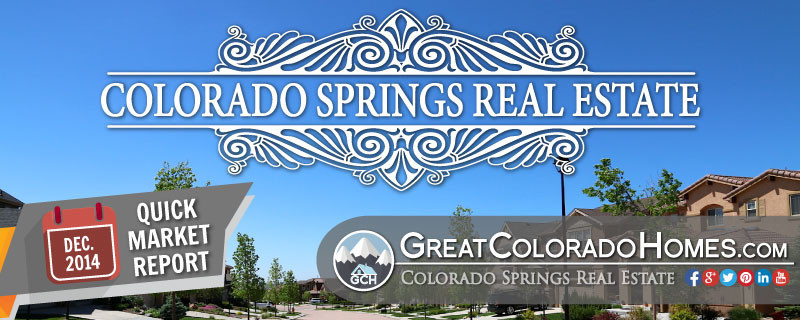 Hi! I'm Andrew Fortune, the founder of Great Colorado Homes and the creator of much of the content on this website. Thanks for taking the time to read this article. Please feel free to share this article with someone who might benefit from it. I appreciate your time here on this site and am always open to suggestions and ideas from our readers.
---
Our Most Recent Blog Posts:
🧐 Here's a list of 22 things you need to know before moving to Colorado Springs, CO.
---