Navigation
February 2016 Colorado Springs Real Estate Statistics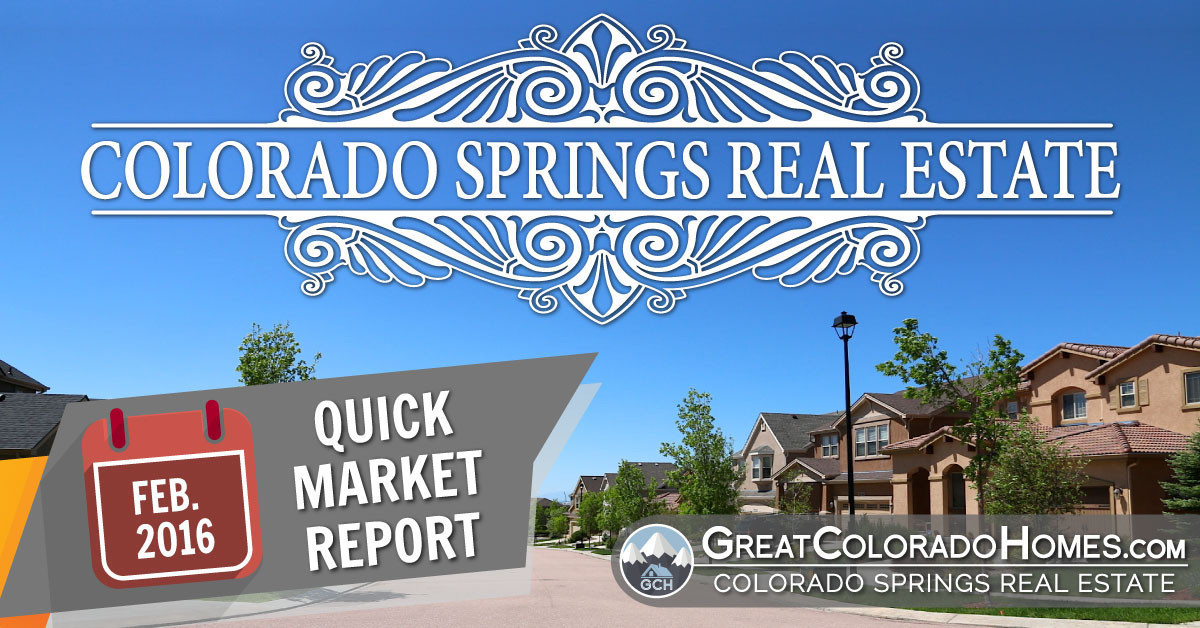 ---
The Colorado Springs Real Estate Market Report for February 2016
According to the new data released by the Pikes Peak Association of REALTORS®, the Colorado Springs real estate market is still struggling to find enough homes to meet the demands of the intense home buying market.
The Bottom line:
We are still on track to sell more homes than we currently have on the market this month. We simply need more homes to meet buyer demand.
Let's take a look at the February2016 real estate market numbers for Colorado Springs:
February 2016 Colorado Springs Real Estate Statistics
New Listings: 1,250 (Up +9.9% from last year)
Sold Listings: 870 (Up +17.6% from last year)
Total Active Listings: 1,762 (Down -27.5% from last year)
Median Sales Price: $240,000 (Up +6.3% from last year)
Total Under Contract: 2,273 (Up +13.2% from last year)
List To Sold Price Ratio: 98.9% (Up +0.8% from last year)
Days on the Market: 60 Days (Down 45.5% from last year)
The Colorado Springs Real Estate Market is Strong!
February is usually a slow month for real estate sales in Colorado Springs, but it was still 13% busier than this time last year. As home sales surge into the summer months, the need for more listings is crucial. If you know someone who is considering putting their house on the market, please pass this info along to them. We simply need more listings!

These numbers cover all of Colorado Springs, CO and the surrounding areas, including Black Forest, Broadmoor, Briargate, Fountain, Falcon, Gleneagle, Larkspur, Manitou Springs, Monument, Northgate, Old Colorado City, Palmer Lake, Peyton, Powers, Rockrimmon, Security, Tri-Lakes, Widefield, Woodland Park, and Woodmoor areas.
Hi! I'm Andrew Fortune, the founder of Great Colorado Homes and the creator of much of the content on this website. Thanks for taking the time to read this article. Please feel free to share this article with someone who might benefit from it. I appreciate your time here on this site and am always open to suggestions and ideas from our readers.
---
Our Most Recent Blog Posts:
🧐 Here's a list of 22 things you need to know before moving to Colorado Springs, CO.
---