Navigation
Is Your Tax Strategy Sabotaging Your Ability to Buy A Home?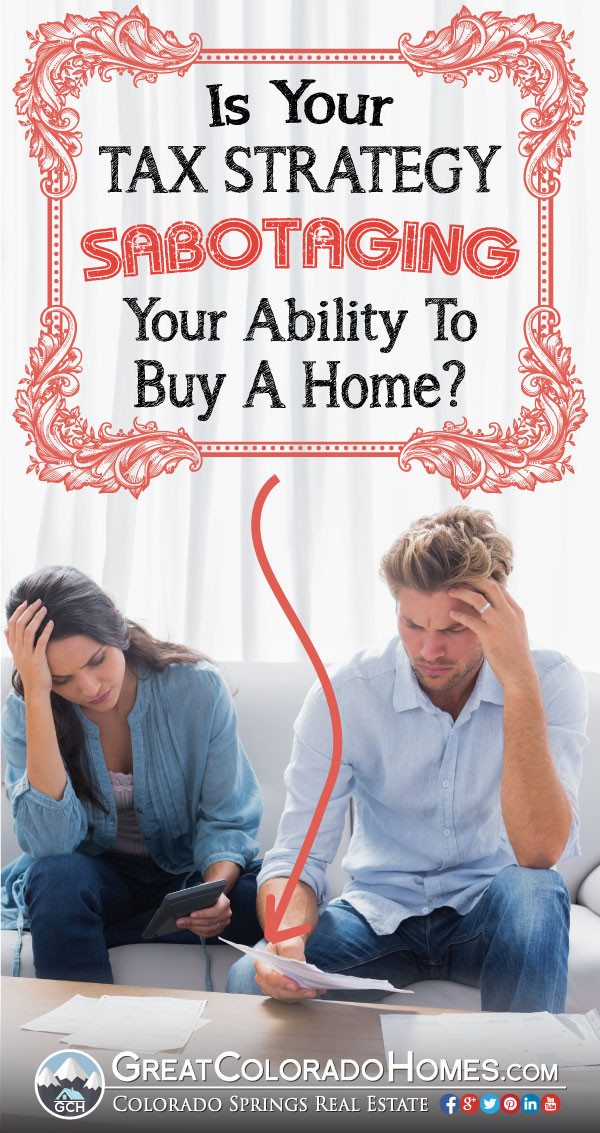 It's almost the start of another year, which means that tax season will be upon us shortly. Many people will be planning the best ways to structure their income tax to pay as little money out of pocket as possible. This may backfire on you if you plan on purchasing a house with a mortgage in the next few years though. Are you one of the many Americans who claim as many income tax deductions as possible? If so, you will definitely want to continue reading this article to find out how effective your tax strategy may be.
A while back, I had some clients who wanted to buy a house in Fountain, CO. They contacted me to get started with the home buying process. The first step in this kind of relationship is to make sure that they can get pre-approved for a mortgage. I gave these home buyers a few options for local lenders to help them get started. They ended up choosing a loan officer who I happened to know well. He called me to say that my client's pre-approval looked good so far. He was still waiting on their previous income tax statements to verify their income amounts though.
The next day, these buyers sent me a few homes that they wanted to see and we were off to look at some properties. As we were out looking, I received an email from the lender that he just received my buyers previous income tax forms. He had some bad news for us- my buyers were no longer approved for a mortgage. I stopped to call him to get some more information, even though I had a suspicion of what the problem might be.
The lender explained that the buyers gave him the GROSS amount that they made each year, rather than the NET Taxable Income. My clients were asked for the Adjusted Gross Income (AGI), which is the taxable amount on their income tax statements. They gave the loan officer their GROSS income instead of the AGI. They did not know the difference between the GROSS amount and the taxable amount. When they looked back to determine how much money they made each year, their only focus was on their total income earned . They hired a CPA to do their taxes and didn't pay attention to the difference between their GROSS income and their taxable income.
---
Your Taxable Income Determines Your Loan Options, Not Your Gross Income!
Here's the problem: My buyers had claimed over $40,000 in tax deductions each year. This brought their taxable income down below the amount needed to qualify for a mortgage. They were self employed, which has even more impact on your income tax requirements. Self employment tax is different than other forms of income tax.
My clients were proud of their GROSS income and felt that it should be enough to justify qualifying for a mortgage. They were disappointed to find out that their GROSS income is not the amount that mortgage companies use to qualify home buyers. My clients had never bought a home and were unaware of the financial paper trail needed to properly qualify for a home loan.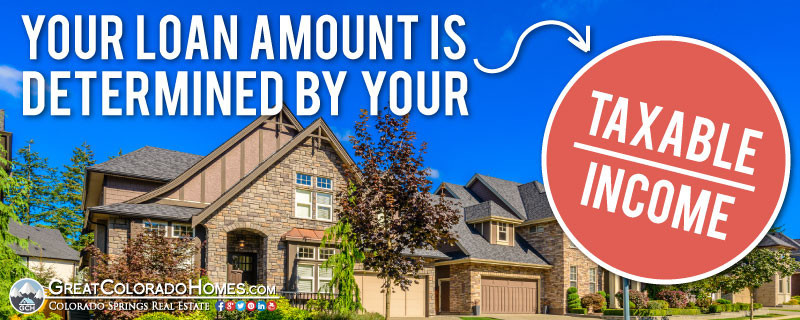 When you apply for a mortgage, your loan amount and approval is based off of your taxable income (AGI). For example, if you make $100,000 a year and claim $40,000 in deductions, you're only going to be able to qualify for a loan based off of $60,000. This can dramatically change your purchasing power and home buying options. Your taxable income will be used to determine your available loan options.
---
Strategize Your Taxes Before Applying for a Mortgage
The bottom line is that you need to strategically plan your income taxes to get the best loan options possible. My advice would be to talk to a good loan officer years before you are ready to purchase a home. Make sure that your taxable income is in line with the type of mortgage that you would like to be approved for. If you hire someone to do your taxes, talk to them about this information and let them know your future home buying goals.
The difference between the rates given to someone claiming $100,000 and $60,000 can be significant. It may not make financial sense to claim every possible deduction when filing your taxes next year. It's wise to determine how much you will save by claiming tax deductions and compare that with how much you will save on your loan terms. This can save you money and undue stress the next time you need to get pre-approved for a mortgage loan.
---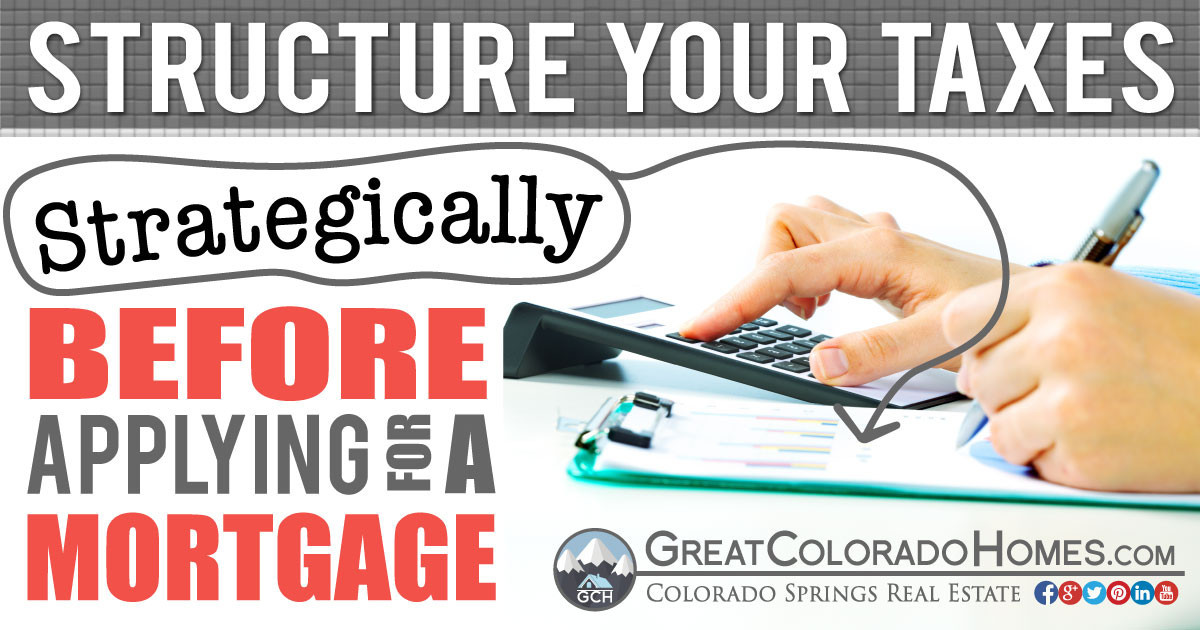 ---
Hi! I'm Andrew Fortune, the founder of Great Colorado Homes and the creator of much of the content on this website. Thanks for taking the time to read this article. Please feel free to share this article with someone who might benefit from it. I appreciate your time here on this site and am always open to suggestions and ideas from our readers.
Our Most Recent Blog Posts:
🧐 Here's a list of 22 things you need to know before moving to Colorado Springs, CO.
Blog Catagories
---
---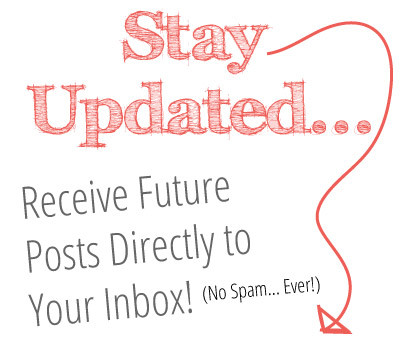 ---