Peyton, CO
Homes for Sale
If you're looking for an affordable home with a large yard, and/or acreage, then Peyton, Colorado is worth considering. Located Northeast of Colorado Springs, Peyton has miles of open land ready to be developed, along with unique neighborhoods designed for personal space and great outdoor activities. The views of Pikes Peak are wonderful from different locations around Peyton, Colorado. This area is much less populated than Colorado Springs, making it a great place to call home. This page is updated every 15-minutes with the most recent listings from our local MLS.
Peyton Real Estate Statistics
| | |
| --- | --- |
| Home for Sale: | |
| Avg Home Price | |
| Average Home Size | |
| Average Year Built | |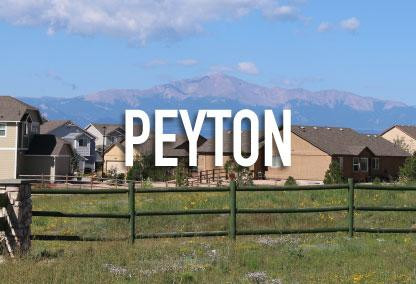 ---
Newest Homes for Sale in Peyton, Colorado
All Listings
$400,000- $500,000
$500,000- $600,000
$600,000- $700,000
$700,000- $800,000
$800,000- $900,000
$900,000- $1,000,000
Over $1,000,000
Pending
Pending
Pending
---
MORE INFO ABOUT PEYTON, CO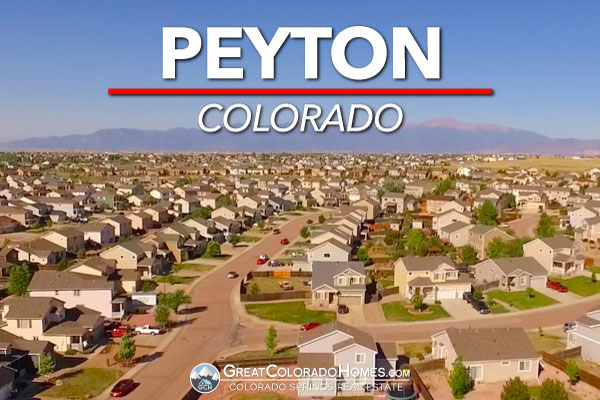 People looking at homes for sale in Peyton, CO are usually looking for more privacy than what is offered in other areas around Colorado Springs. Peyton, CO offers miles of undeveloped acreage, along with beautifully developed neighborhoods that boast large lots with plenty of living space at a fraction of the cost of similar properties closer to Colorado Springs. For this reason, Peyton is rapidly growing and developing new homes and shopping areas every year.
Peyton, Colorado real estate appeals to those who do not want to live in the hustle and bustle of the big city, but would like to maintain a close enough distance to enjoy the convenience of the amenities offered by larger developments. Residents of Peyton are only about 20 minutes away from I-25 and 30 minutes away from the Chapel Hills Mall in Briargate. Meridian Ranch and Woodmen Hills are the 2 largest neighborhoods in Peyton, CO. They are both connected to each other and offer very unique golf courses and community centers located within the communities. If you are looking for the convenience and stability of a Master Planned community but would like the privacy and seclusion of the county, then these two neighborhoods would be worth looking into.
Peyton, CO Neighborhoods
Peyton, Colorado is a small city with many older neighborhoods scattered throughout the area. Below are the most popular neighborhoods within Peyton, CO.
---