CLAREMONT RANCH in Colorado Springs, CO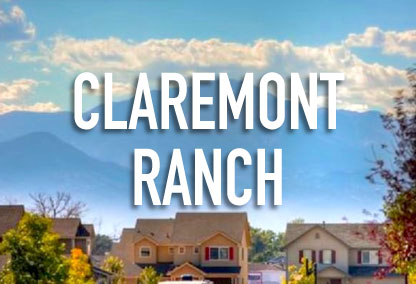 Claremont Ranch is located in the Powers Corridor of Colorado Springs, at the corner of Constitution Ave. and Marksheffel Rd. The East Fork of Sand Creek runs right through the center of the neighborhood and is part of the Sand Creek Disc Golf Course. This neighborhood started development in the year 2000 and was built entirely around the year 2010.
Many of the homes in Claremont Ranch are between 1,000 to 3,500 square feet in size and are nicely landscaped to offer the neighborhood a master-planned look and feel. With quick access to King Soopers Marketplace, Fort Carson, and shopping in the Powers Corridor, this neighborhood continues to grow in popularity as this part of the city expands yearly.
---
Available Homes for Sale in Claremont Ranch
$460,000
3Bed | 3 Bath | 2,486 Sq Ft | 0.15 Acres

$325,000
2Bed | 3 Bath | 1,396 Sq Ft | 0.03 Acres


Pending
$450,000
3Bed | 3 Bath | 3,166 Sq Ft | 0.13 Acres

$324,900
2Bed | 3 Bath | 1,256 Sq Ft | 0.03 Acres


Pending
$335,000
3Bed | 3 Bath | 1,486 Sq Ft | 0.03 Acres

$459,900
4Bed | 4 Bath | 2,338 Sq Ft | 0.11 Acres

$435,999
4Bed | 4 Bath | 2,147 Sq Ft | 0.11 Acres


Pending
$489,000
5Bed | 4 Bath | 3,182 Sq Ft | 0.12 Acres

$450,000
3Bed | 3 Bath | 2,812 Sq Ft | 0.12 Acres

---
Interactive Map of the Powers Corridor