Colorado Springs Housing Market Today
Here's the latest news about the Colorado Springs real estate market. Every month, we update this page with the most recent data from our local MLS (Pikes Peak Association of Realtors). So please let us know if you're moving to Colorado Springs and have questions about our local real estate market. We specialize in local housing market data. We use this data to help our clients navigate our local real estate market.
---
The Current State of the Housing Market in Colorado Springs

*Updated on September 14, 2022
Average Sales Price:
$530,547
*6.3% year-over-year increase
Average Sales Price in August 2021: $499,278
Median Sales Price:
$480,592
*6.8% year-over-year increase
Median Sales Price in August 2021: $450,000
SUMMARY: The median home price is the most common sales price of all the homes sold in El Paso / Teller Counties from last month's home sales in August of 2022. The average sales price is the combined average of all sold properties in El Paso / Teller Counties and Colorado Springs, CO, for the same period.
---
There were 2,639 active real estate listings in Colorado Springs last month. There were only 1,009 active listings this time last year. That's a 161% increase in available homes for sale in just one year. This statistic is good news for home buyers.
There were 1,801 new listings submitted to our MLS last month. That's an 8.1% decrease from one year ago. In addition, there were 1,960 homes sold last month, a 27.0% decrease since August of 2021. Nevertheless, inventory is slowly building up to levels equivalent to 2015.
The average days on the market for homes listed in August 2022 was 17 days. That's a 61.5% increase from this same time last year. Every month, this number will increase as more inventory hits the market.
---
10-Year Home Price Trend in Colorado Springs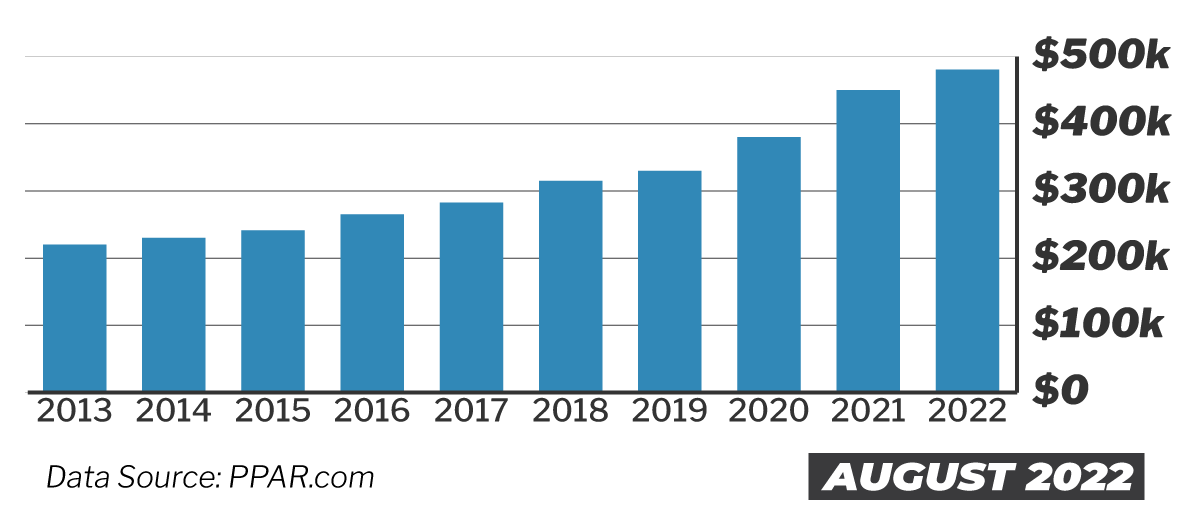 The 10-year home price trend reflects the median sales price for August 2022, going back ten years. Colorado Springs has been on a 10-year price increase with no end in sight. However, inventory is creeping back up, eventually slowing this price increase trend. Currently, prices are increasing from 5% to 8% annually around the country.
---
10-Year Active Inventory Trend in Colorado Springs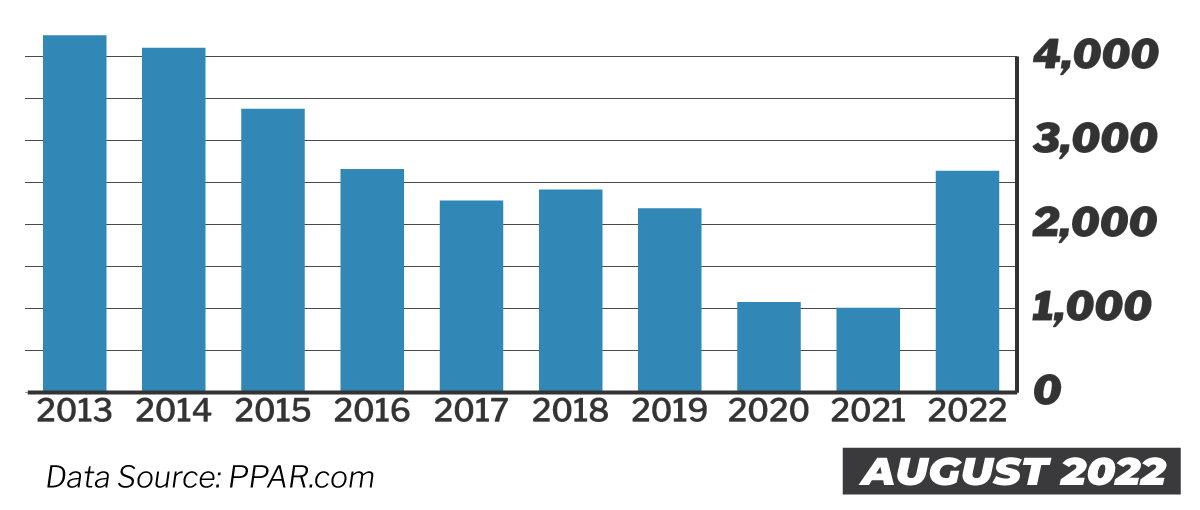 The 10-year active inventory trend reflects the active homes for sale for August 2022, going back ten years. The stability of our local housing market is based on the available homes for sale and the number of active buyers currently looking for a home. Inventory is back to pre-pandemic numbers. Prices are still rising, but at a much slower pace.
---
10-Year Home Sales Trend in Colorado Springs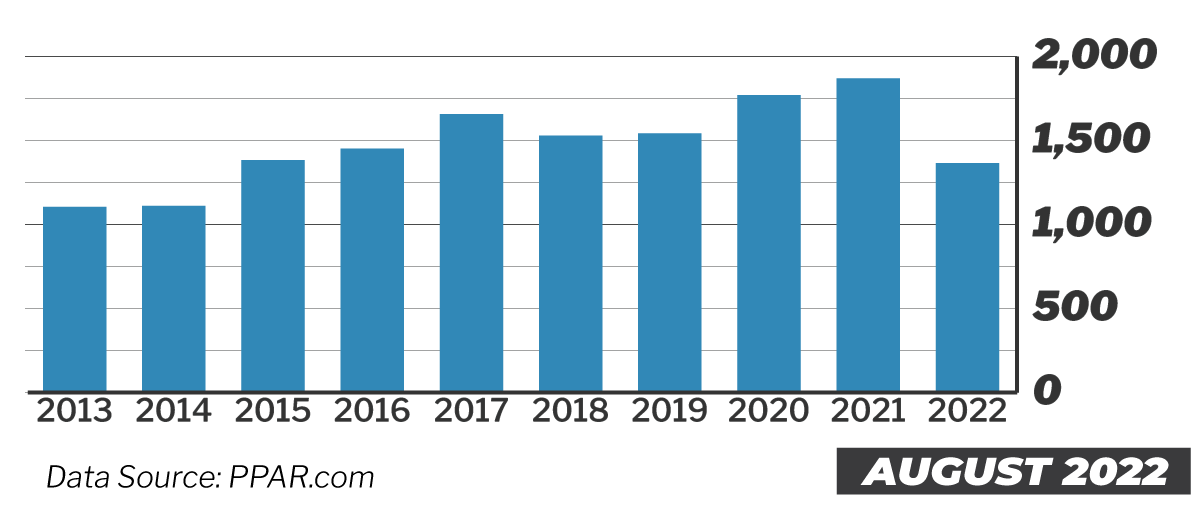 The 10-year home sales trend reflects the number of homes sold for August 2022, going back ten years. Notice how we had a spike in 2020 that is just now slowing down. It will take many months to determine where the national and local housing markets will settle.
---
Is Colorado Springs in a buyer's or seller's market right now?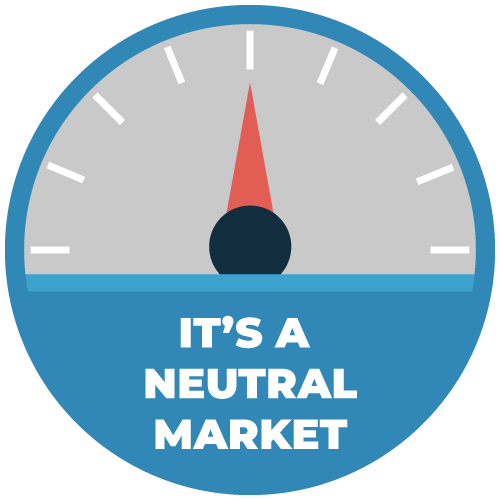 Colorado Springs experienced one of the strongest seller markets we have ever seen. Now things are shifting. There were 1,366 homes for sale last month. That equals a 161% increase in inventory in just one year. The need for more inventory has impacted our market for the previous few years. Prices have been steadily rising but are expected to slow down soon.
Sellers have been experiencing record sales prices for the last few years. However, high prices and rising interest rates are thinning out the number of active buyers. As a result, sellers now have to wait longer and possibly drop their sales price to get their homes sold quickly.
The speed of our local market is causing some folks to try and sell their home without a Realtor (FSBO). Buyers are having more success getting their offers accepted. It's essential to have a good Realtor and mortgage lender to help navigate through this shifting market as a home buyer or seller.
Is the Colorado Springs housing market going to crash soon?
Our local real estate market has experienced an increase in inventory over the last year, but not enough to slow it down. Today's median price of a home listed for sale is roughly 8% higher than last year. There are no actual signs of a housing market crash in Colorado Springs, but a shift is happening.
Even with interest rates rising in 2022, housing prices are still increasing in the Pikes Peak region; unfortunately, the supply of inventory is finally enough to meet the demand for single-family homes in Colorado Springs.
On the flip side, more and more people are starting to cash out on their equity by borrowing against their property. As a result, the market seems to be changing, but it's too soon to tell when inventory will return and help balance the entire market. It's a strange time to try and predict the housing market, but Colorado Springs is expected to be one of the hottest real estate markets in 2022.
Our real estate agents at Great Colorado Homes enjoy discussing the local market with anyone interested in learning about it. If you have any questions, feel free to contact us.
*Based on information from the Pikes Peak REALTOR® Services Corp. ("RSC"), for the period August 1, 2022, through August 31, 2022. RSC does not guarantee or is in any way responsible for its accuracy. Data maintained by RSC may not reflect all real estate activity in the market.
---
Recent Blog Posts About Our Local Market
---