Colorado Springs Housing Market Today
Here's the latest news on the Colorado Springs real estate market. 📈 Every month, we update this page to keep a running archive of El Paso County's real estate statistics from our local MLS. If you're moving to Colorado Springs and have questions about our local real estate market, please let us know. We specialize in understanding our housing market data, and we enjoy talking about it. 🙂
---
The Current State of the Housing Market in Colorado Springs

*Updated on May 7th, 2021
Average Sales Price:
$481,857
*28.1% year-over-year increase 😲
Average Sales Price in April 2020: $395,724
Median Sales Price:
$425,000
*18.1% year-over-year increase 😲
Median Sales Price in April 2020: $360,000
SUMMARY: The median home price is the most common sales price of all the homes sold in El Paso / Teller Counties from our last month's sales in April 2021. The average sales price is the combined average of all sold properties in El Paso / Teller Counties and Colorado Springs, CO, for the same period.
---
There were only 557 active real estate listings in Colorado Springs last month. There were 1,589 active listings last year at this time. That is a 64.9% drop in available homes for sale in one year. 😲
There were 1,879 new active listings in our MLS last month. That was a 28.9% increase from the previous year when we were in COVID lockdown. There were 1,489 homes sold last month, an increase of 22.1% year-over-year.
The average days-on-the-market for homes listed in April 2021 was 20 days. This was a 65% drop from this same time last year, meaning homes are selling 65% faster.
---
10-Year Home Price Trend in Colorado Springs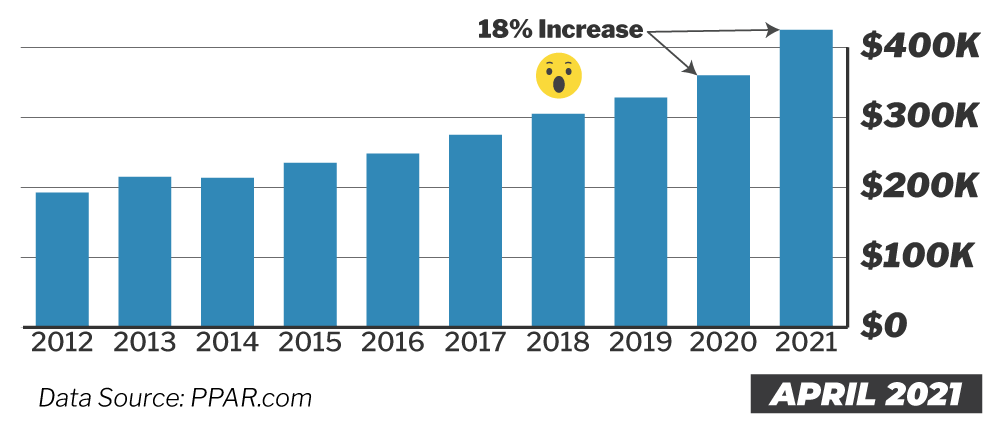 The 10-year home price trend reflects the median sales price for April 2021, going back 10 years. Colorado Springs has been on a 10-year price increase with no end in sight. 2021 is expected to continue this growth due to a lack of available homes for sale in El Paso County. Notice how April 2021 had the largest increase in home prices over the last 10 years. 🤔
---
10-Year Active Inventory Trend in Colorado Springs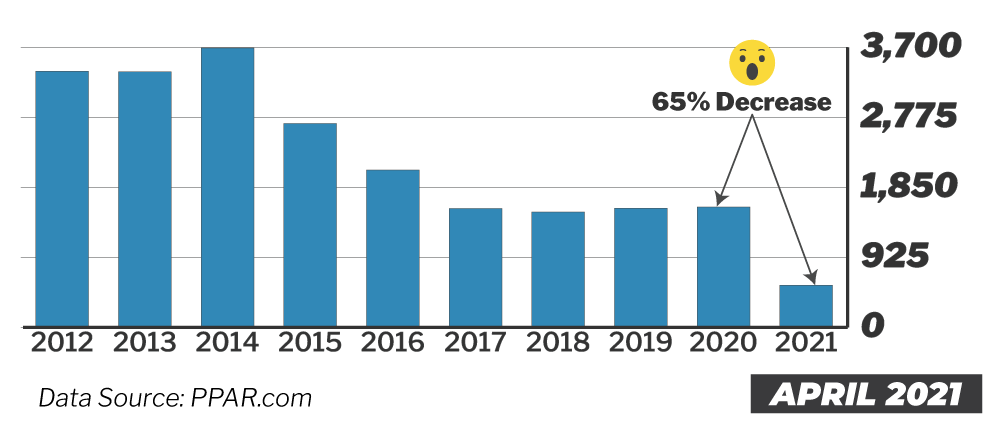 The 10-year active inventory trend reflects the active homes for sale for April 2021, going back 10 years. The stability of our local housing market is based on the available homes for sale and the number of active buyers currently looking for a home. How long can our market sustain this kind of housing crisis for homebuyers? 🤔
---
Is Colorado Springs in a buyer's or seller's market right now?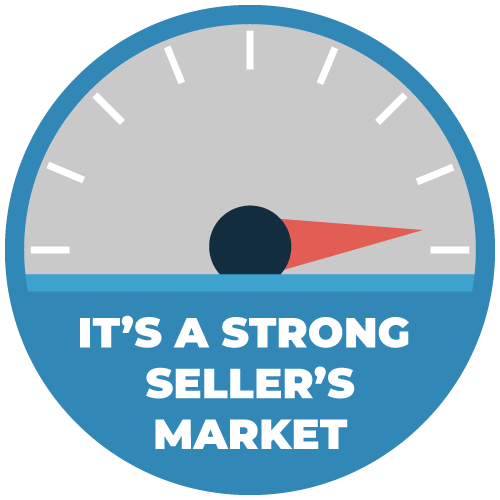 Colorado Springs is in the strongest seller's market that we have ever seen. There were only 557 homes for sale last month. There were 1,589 homes for sale in the same month just one year prior. The COVID-19 pandemic, lumber costs, and builder inventory have all put a huge strain on our inventory. Sellers are not comfortable selling their homes right now, even with record sales prices. Some homebuyers are skipping the home inspection process to get a home under contract.
The speed of our local market is causing people to buy homes sight unseen. Buyers are willing to try many different tactics to get their offers accepted.
When is the best time to buy a home in Colorado Springs?
The best time of the year to buy a home in Colorado Springs would be in December or January, as our market slows down for the winter during these months. The median home price tends to drop in the Winter. June is the peak of our local market with the highest median sales price for the year.
These trends can always change, but they hold true for the average selling season. Our local home sales in Colorado Springs typically double from the depths of Winter to the peak of Summer.
Our real estate agents at Great Colorado Homes enjoy discussing the local market with anyone interested in learning about it. If you have any questions, feel free to contact us. 🙂
*Based on information from the Pikes Peak REALTOR® Services Corp. ("RSC"), for the period April 1, 2021, through April 31, 2021. RSC does not guarantee or is in any way responsible for its accuracy. Data maintained by RSC may not reflect all real estate activity in the market.
---
Recent Blog Posts About Our Local Market
---