Colorado Springs Housing Market Today
Here's the latest news on the Colorado Springs real estate market. 📈 We update this page every month to keep a running archive of El Paso County's real estate statistics from our local MLS. If you're moving to Colorado Springs and have questions about our local real estate market, please let us know. We specialize in understanding our housing market data and we enjoy talking about it. 🙂
---
The Current State of the Housing Market in Colorado Springs

*Updated Monthly
Median Sales Price:
$380,000
*15.2% year-over-year increase
Average Sales Price:
$437,365
*20.0% year-over-year increase
Summary: The median home price is the most common sales price of all the homes sold in El Paso County from our last month's sales in December 2020. The average sales price is the combined average of all sold properties in El Paso County and Colorado Springs, CO.
---
There were only 532 active real estate listings in Colorado Springs last month. There were 1,302 active listings last year at this time. That is a 59.1% drop in available homes for sale in one year. 😲
There were 939 new listings entered into our MLS last month. That was a 14.2% increase from this same time last year. There were 1,376 homes sold last month. That's a 10.3% year-over-year increase. 🔥
The average days on the market for homes listed last month was 19 days. This was a 43.4% drop from this same time last year. Homes are selling faster than ever right now. 🏋️‍♂️
---
10-Year Home Price Trend in Colorado Springs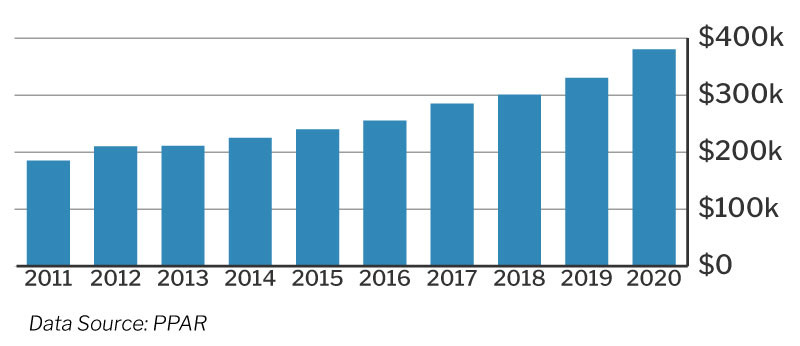 The 10-year home price trend reflects the median sales price for December 2020, going back 10 years. Colorado Springs has been on a 10-year price increase with no end in sight. 2021 is expected to continue this growth due to a lack of available homes for sale in El Paso County.
---
Is Colorado Springs in a buyer's or seller's market right now?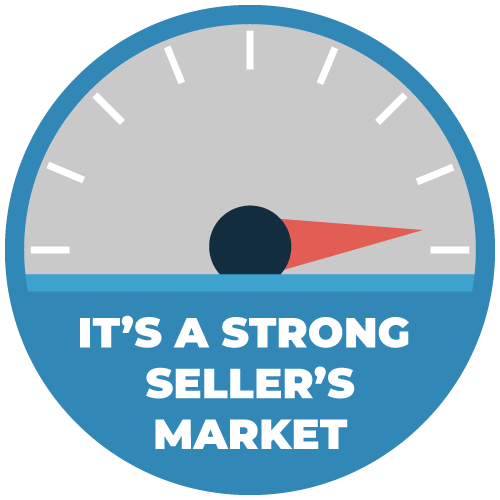 Colorado Springs is in the strongest seller's market that we have ever seen. There were only 532 homes for sale last month. There were 1,302 homes for sale in the same month just one year ago. The COVID-19 pandemic has put a huge strain on our inventory, and sellers are not comfortable selling their homes right now, even with record sales prices. Homes are selling with poor marketing and minimal listing descriptions.
The speed of our market is causing people to buy homes sight unseen. This scenario has caused many homebuyers to wait until the local housing market settles before pursuing a new home. That tactic has backfired on reluctant homebuyers as the price of housing keeps rising. It may seem like a bad time to buy a home in Colorado Springs based on our current home prices, but it's only going to get worse as the demand for housing pushed prices even higher in 2021 and beyond.
When is the best time to buy a home in Colorado Springs?
The best time of the year to buy a home in Colorado Springs would be in December or January, as our market slows down for the winter during these months. The median home price tends to drop in the Winter. June is the peak of our local market with the highest median sales price for the year. Our local home sales in Colorado Springs typically double from the depths of Winter to the peak of Summer.
---
Recent Blog Posts About Our Local Market
---