Navigation
The Best Areas to Buy a House in Colorado Springs Based Off of Market Appreciation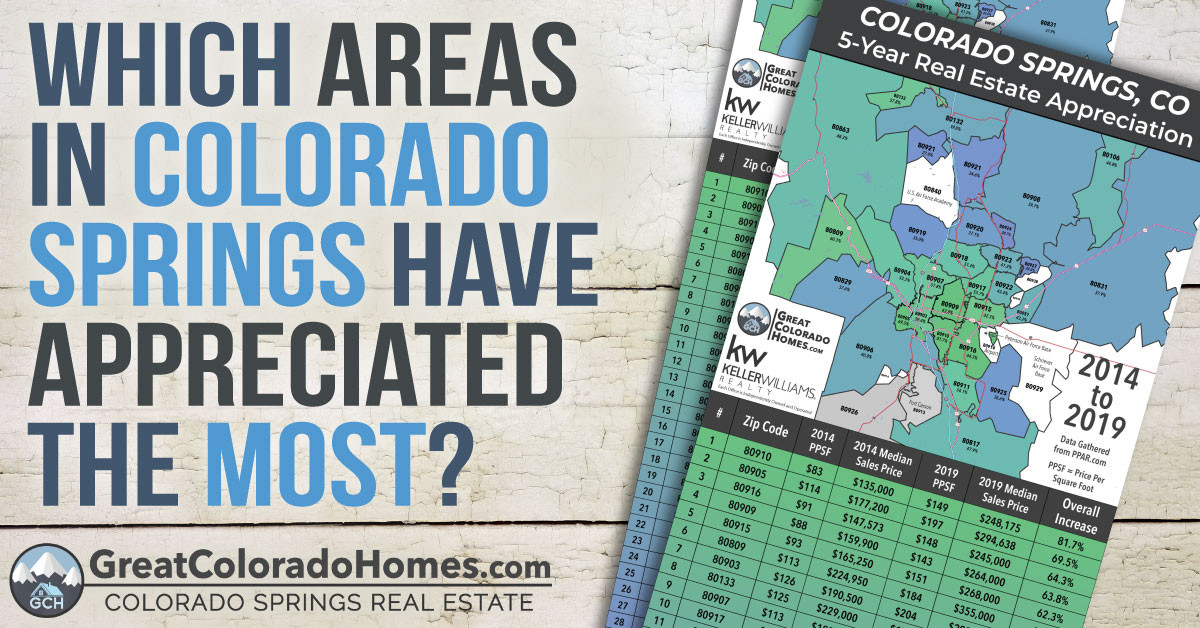 Colorado Springs and the Pikes Peak region have experienced positive appreciation in our local real estate market for the last eight years straight. Some areas have appreciated more than others. This article will inform you of which zip codes have experienced the highest and lowest rates of appreciation.
---
As you'll notice from the infographic above, different neighborhoods around Colorado Springs have very different results in market appreciation. Some areas will appreciate twice as fast as others. All parts of the Springs are not equal.
One thing is sure; every part of Colorado Springs has appreciated well. The lowest zip code on the list still increased by 28.7% over the last five years. That's great!
Let's take a look at the last ten years of sales history in the Pikes Peak region to get a better understanding of exactly how much our market has grown.
Colorado Springs Median Sales Price Over the Last 10-Years
Notice the dip in the median home value between 2010 and 2011. The government created a Homebuyer Tax Credit that artificially stimulated the real estate market in 2010, which is why we see a small spike there.
Notice how Colorado Springs has appreciated every year since 2011. By 2016, we were back to the same median home price as before the Great Recession. This steady increase is the reason why we decided to go five years back in our research. This period is beneficial for determining the best neighborhoods in Colorado Springs to buy a home.
---
What Does This Information Mean?
There are three main points of interest that we find most relevant here. We have personal opinions about this information, but for this article, we will just stick to the basic facts:
All the zip codes closest to downtown Colorado Springs seem to appreciate the most.
The zip codes with the most expensive homes were typically near the bottom of the list.
The zip codes with the most newly built neighborhoods tend to appreciate slower than others.
The numbers mean that a person who invested money in residential real estate close to the downtown area 5 years ago would have experienced a much better appreciation rate than someone who spent the same amount of money in Northgate, or on a high-end newly built home.
Traditionally, Colorado Springs has not had a great luxury market; therefore, this should not be a surprise to many local seasoned Realtors. We have seen an increase in the luxury market in the last couple of years, so this information may change as more people come from Denver and other parts of the Country.
---
Is the Colorado Springs Real Estate Market Expected to Continue These Trends?
Everyone would like to know the answer to this question, but the honest answer is that no one knows. This data is provided as a point of reference to reflect on, but not as a guarantee of what's to come in the future.
Many people are predicting another market crash sometime within the next few years, which would change the outcome of appreciation rates. If that does happen, you can be sure that we will be publishing a depreciation map to help you keep track of the changes.
This data does not guarantee that you can invest in real estate near downtown Colorado Springs and do better than you would in Northgate. It's general information over every home sold within our local MLS.
Within every area, there are always specific deals that do not conform to these averages. We advise you to work with a great Realtor who knows the market well and can help you navigate each area and property efficiently to ensure that you make the best decisions.
---
What's the Easiest Way to Keep Up with the Local Real Estate Market?
Every month, we put out the Colorado Springs Market Insider on our Facebook, Instagram, and YouTube pages. If you subscribe to any of our social media profiles, you'll receive our newest videos in your news feed as soon as we post them. Our website and Facebook page are the best ways to stay up-to-date with our crazy market shifts.
Click below to follow us on any of these social platforms to stay updated.
We also recommend finding an excellent Realtor who you can easily communicate with to help keep you posted. Many professional Realtors in Colorado Springs have a pulse on the market every day. They are a wealth of valuable information.
Whether you are buying or selling a home right now or in many years from now, you still need an excellent Realtor connection. Finding the right agent and keeping in touch now and then is a smart move.
---
View Homes for Sale in Each Zip Code
---
Hi! 👋 I'm Andrew Fortune, the founder of Great Colorado Homes and the creator of this website. I'm also a Realtor in Colorado Springs. Thank you for taking the time to read this blog post. I appreciate your time spent on this site and am always open to suggestions and ideas from our readers. You can connect with me on Facebook, Instagram, or contact me through this website. I'd love to hear from you. 🙂
Our Most Recent Blog Posts:
Blog Catagories
---
---