Black Forest Colorado
Local Real Estate Guide
Black Forest is an area located just North (and slightly East) of Colorado Springs. This community is appealing to homeowners looking for privacy and land tucked away in the beautiful ponderosa pine trees of the area. Black Forest is not a city or a neighborhood. It is an area defined by the trees that darken the terrain, offering a surreal landscape. This area is trendy for homeowners looking for acreage in El Paso County.

Not all of Black Forest is surrounded by trees. Notice how the two aerial photos in the slide show look very different. Both of those photos were taken from the Black Forest area.
Black Forest Real Estate Statistics
| | |
| --- | --- |
| Homes for Sale: | |
| Avg Home Price | |
| Average Home Size | |
| Average Year Built | |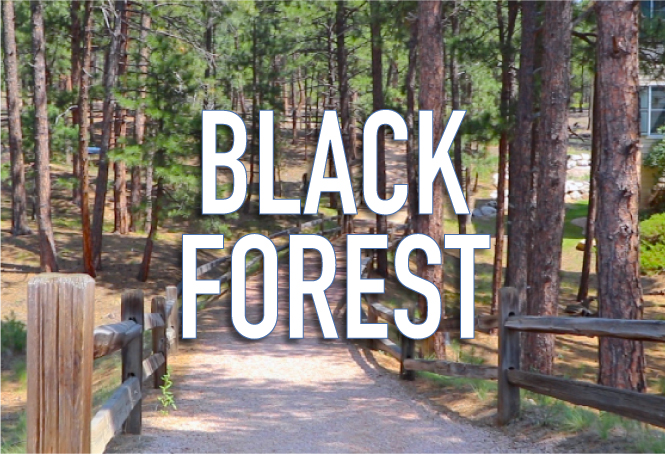 ---
Newest Homes for Sale in Black Forest
All Listings
$500,000- $600,000
$600,000- $700,000
$700,000- $800,000
$800,000- $900,000
$900,000- $1,000,000
Over $1,000,000
$593,618
4Bed | 3 Bath | 2,743 Sq Ft | 0.14 Acres

$910,000
3Bed | 3 Bath | 2,478 Sq Ft | 5.16 Acres

$1,088,986
5Bed | 3 Bath | 4,292 Sq Ft | 2.91 Acres

$1,596,500
5Bed | 4 Bath | 4,075 Sq Ft | 1.00 Acres

$875,000
3Bed | 3 Bath | 3,686 Sq Ft | 5.00 Acres

$1,600,000
4Bed | 6 Bath | 5,448 Sq Ft | 3.55 Acres

$1,295,000
4Bed | 4 Bath | 4,048 Sq Ft | 5.00 Acres

$1,350,000
4Bed | 6 Bath | 4,999 Sq Ft | 10.00 Acres

$670,417
4Bed | 3 Bath | 3,188 Sq Ft | 0.18 Acres

---
Living in BLACK FOREST in Colorado Springs, CO
Black Forest is an unincorporated community named after the beautiful Ponderosa Pines, abundant throughout El Paso County. Black Forest has sections with no trees and beautiful rolling hills, while other areas are covered in trees and secluded from their surroundings. The landscape can be vastly different, depending on which parts you visit.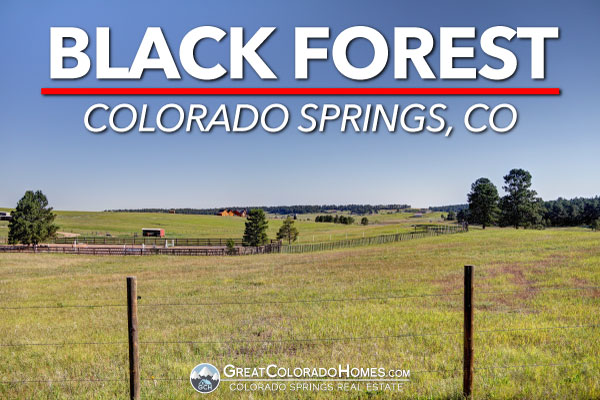 Many homes in Black Forest sit on five or more acres and are zoned for horses. Most properties have water wells, which is a significant attraction since Colorado's water costs are rising yearly. Knowing the water rights and wells rules is very important when searching for a Black Forest home. Water issues are complicated here.
Black Forest's average snowfall is around 100 inches per year. This number is significantly more than downtown Colorado Springs, which averages 50 inches of snow and is only 30 minutes away.
Being nestled in the snow-covered Pines is delightful. Roads are generally accessible as they get plowed regularly. Some secondary dirt roads may not receive this treatment, though. It's wise to research snow plowing routines for any street you plan to live on in this area.
Black Forest's elevation is estimated to be around 7,300 feet, so it receives more snow than usual. Snow cover averages about 100 inches per year here.
Colorado Springs's average elevation is approximately 6,000 feet. There is a vast difference between Colorado Springs and Black Forest's surroundings. They are very different areas that are only minutes away from each other. Views of Pikes Peak are less common deep in the forest.
Black Forest Regional Park and Fox Run Regional Park are two of the most popular parks enjoyed by people in the area. These two parks cover a landmass of 560 acres, allowing for privacy and beautifully maintained landscapes.
In 2020, the city opened up a new hiking trail over 8 miles, running through the Northeast section of Black Forest. The Pineries Open Space Trail is now one of the best trails in El Paso County. It's excellent for horseback riding, mountain biking, and general hiking.
In 2013, Black Forest received national attention when the area experienced a massive forest fire. It burned down over 500 homes and 14,000 acres of land. Many places have since been covered and grown back, but there are still signs of the black forest fire sprinkled all over the area.
Black Forest is part of zip codes 80908, 80132, and 80921. It spans the Academy D-20, Lewis-Palmer D-38, and Falcon D-49 public school districts. The most popular neighborhoods in the area would be Cathedral Pines, High Forest Ranch, and Kings Deer.
Please get in touch with us if you need a local real estate agent to help you navigate the area. We'd love to hear from you.
Check out our video of Black Forest
---
Interactive Map of Black Forest & Surrounding Areas
---