MESA RIDGE in Fountain, CO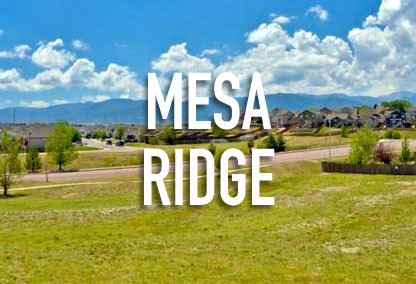 Mesa Ridge is a popular neighborhood in Fountain, CO, located on Mesa Ridge Parkway and Sneffel Street. This neighborhood's proximity to all of the shopping at Mesa Ridge Parkway is a great asset. The Mesa Ridge Townhomes were developed in 2001 and offer residents access to a pool, a pet spa, and an outdoor fire pit and grill. Mesa Ridge also enjoys easy access to Cross Creek Regional Park. This 60-acre park offers a pond, a BMX bike track, a playground, trails, and plenty of open space.
Most of the homes for sale in Mesa Ridge are between 1,500 and 3,500 square feet in size and built from 2006 to now. Sections of Mesa Ridge are still under development, with new homes being built every year.
---
Available Homes for Sale in Mesa Ridge
$430,000
3Bed | 3 Bath | 1,634 Sq Ft | 0.15 Acres

$325,000
2Bed | 3 Bath | 1,256 Sq Ft | 0.03 Acres

$450,000
4Bed | 4 Bath | 2,860 Sq Ft | 0.16 Acres

$498,500
3Bed | 2 Bath | 2,011 Sq Ft | 0.23 Acres

$469,500
3Bed | 3 Bath | 1,746 Sq Ft | 0.14 Acres

$455,000
4Bed | 3 Bath | 2,963 Sq Ft | 0.15 Acres


Pending
$440,000
5Bed | 4 Bath | 2,800 Sq Ft | 0.12 Acres

---
Click Any Neighborhood on the Map
---
MORE INFO ABOUT MESA RIDGE
Meas Ridge does not have a mandatory Homeowners Association at this time. The Mesa Ridge Townhomes do have an HOA, though. The Fountain Mesa Village Homeowners Association manages them. You can find out more about the HOA here. This neighborhood is zoned to Widefield School District 3 with Webster Elementary, Janitell Middle School, and Meas Ridge High School as the primary schools for the community's kids. Mesa Ridge is considered to be part of the Fountain MLS area within zip code 80817. This neighborhood is located 13 minutes away from Fort Carson.
---
Interactive Map of Fountain, CO
---