Fountain, Colorado
Local Real Estate Guide
Fountain, Colorado, is a small city of 30,000 people, just 20 miles south of Colorado Springs, CO. It has easy access to Fort Carson Military Base and Peterson Air Force Base, making it popular among local military personnel. Homebuyers appreciate that the cost of living in Fountain is lower than in Colorado Springs. Approximately 15% of all the homes sold in El Paso County are from this small area.
Fountain CO Real Estate Statistics
| | |
| --- | --- |
| Homes for Sale: | |
| Avg Home Price | |
| Average Home Size | |
| Average Year Built | |
---
Newest Homes for Sale in Fountain, Colorado
All Listings
$200,000- $300,000
$300,000- $400,000
$400,000- $500,000
$500,000- $600,000
$600,000- $700,000
$700,000- $800,000
$900,000- $1,000,000
$565,385
5Bed | 3 Bath | 3,082 Sq Ft | 0.16 Acres

$405,000
3Bed | 2 Bath | 1,258 Sq Ft | 0.12 Acres

$409,200
2Bed | 2 Bath | 1,108 Sq Ft | 0.11 Acres

$409,900
4Bed | 4 Bath | 1,776 Sq Ft | 0.18 Acres

$500,000
4Bed | 3 Bath | 2,544 Sq Ft | 0.18 Acres

$417,000
4Bed | 2 Bath | 1,508 Sq Ft | 0.17 Acres

$349,900
3Bed | 1 Bath | 1,080 Sq Ft | 0.19 Acres

$287,777
4Bed | 2 Bath | 1,794 Sq Ft | 0.17 Acres

$370,000
4Bed | 2 Bath | 1,784 Sq Ft | 0.16 Acres

---
Living in Fountain, Colorado
The city of Fountain, CO, is located in El Paso County. It is charming and friendly with a pleasant small-town allure. It was established in 1859 as a railroad shipping center that provided goods for local farms. To this day, the area still has a small-town feel that attracts new people to the community every year.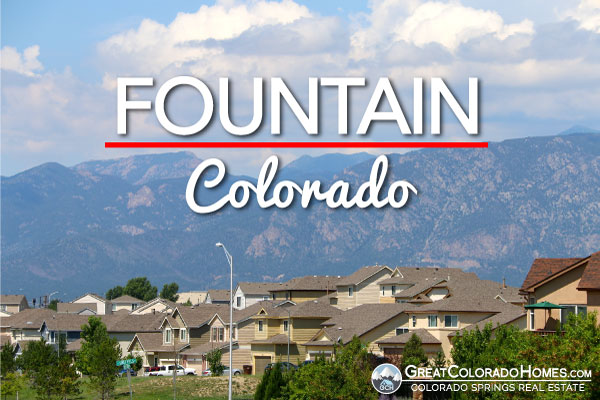 Colorado Springs suburbs Security and Widefield, together with the town of Fountain, make up the Fountain Valley community. Homes tend to be older and smaller in this area, which helps keep the prices more affordable than in northern Colorado Springs.
With close proximity to the Fort Carson U.S. Military Base and Peterson Air Force Base, Fountain is famous among military families and homeowners. Many military employees worldwide request transfers to Fort Carson due to the beautiful scenery of the Rocky Mountains. For this reason, Fountain has adopted the title "Best Hometown in the Army."
The city council does an excellent job of maintaining the local parks and trails in the area. John Metcalf Park is a perfect example of this. It has baseball fields, basketball courts, a skate park, a dog park, horseback riding, and much more. Another popular park is Fountain Creek, Regional Park. This 460-acre park has creeks, ponds, trails, a nature center, and much more. It's a valuable resource to this small community.
Fountain tends to be warmer than its neighboring communities up North in El Paso County. Its elevation is 5,545 feet, roughly 1,500 feet lower than Black Forest and Monument, just 30 minutes away. For this reason, Fountain has a more extended growing season for crops and vegetation. The average snowfall in Fountain is around 32". Black Forest is only 30 minutes North and gets over 100" per year. The elevation makes all the difference when living in Colorado during the Winter.
The Pikes Peak International Raceway is located in Fountain, CO. This is a popular racetrack for locals to come and challenge themselves and show off their supercars. The Fountain Community Theater is great for community gatherings and indoor events. Residents of the community will perform plays and musicals here throughout the year.
Fountain, CO, is considered part of the Fountain MLS area within zip codes 80817, 80925, and 80911. It's zoned to Fountain School District 8.
Click The Image To See Our Video of Fountain, CO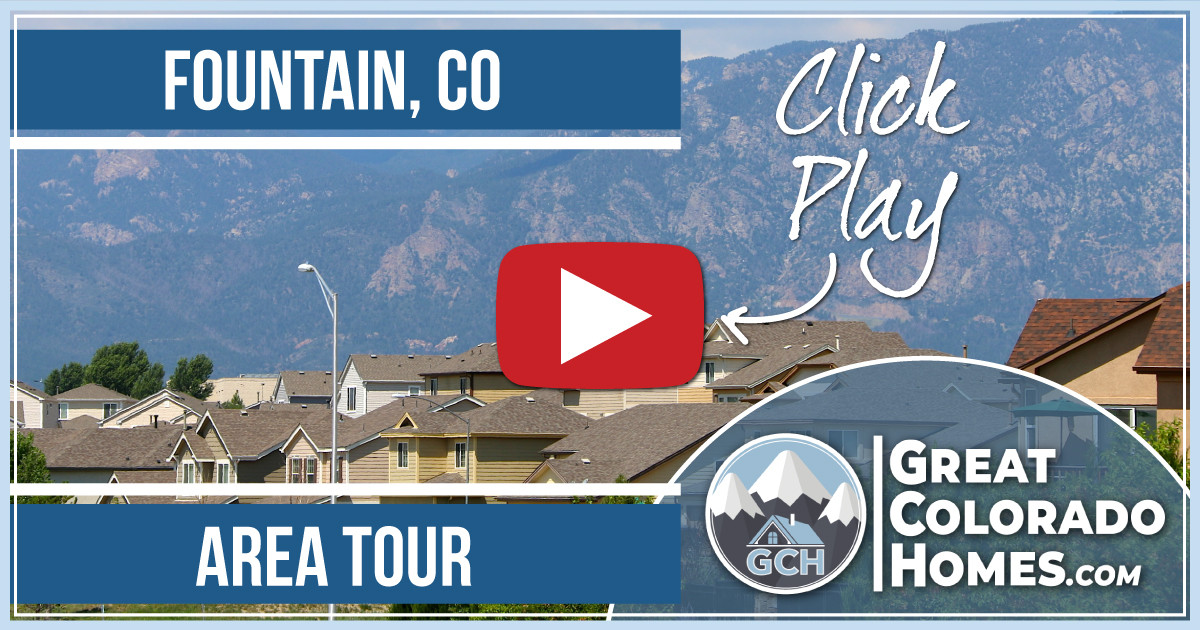 If you need a local Fountain Real Estate Agent to help you navigate the area, please contact us anytime. We'd love to hear from you!
---
Interactive Map of Fountain, CO
---