STRATMOOR in Colorado Springs, CO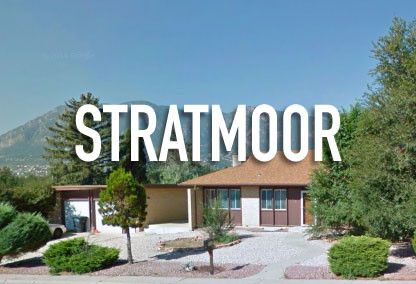 Stratmoor is located on the South side of Colorado Springs. It runs North and South on both sides of Interstate 25 with S. Academy Blvd. running right through the center of it. This area's prime location offers quick access to almost every part of the city via I-25. Pikes Peak Community College is located right in the heart of the community, making it a great place to live and go to school.
Most homes for sale in Stratmoor are between 1,000 to 2,500 square feet. Stratmoor started development in the 1950s and has had homes built within the community nearly every decade since. The styles of homes are very diverse and span many different design types. The neighborhood's proximity to downtown Colorado Springs keeps the homebuyer demand high for this community.
---
Available Homes for Sale in Stratmoor
Pending
Pending
Pending
---
MORE INFO ABOUT STRATMOOR
Stratmoor does not have a mandatory Homeowners Association. It is zoned to Widefield School District 3 with Mountain Vista Elementary School, Mountain Vista Middle School, and Harrison High School as the primary schools for kids in the neighborhood. Stratmoor is considered to be part of the Southwest Colorado Springs MLS area within zip code 80906.
---
MORE NEIGHBORHOODS TO EXPLORE