SKYWAY PARK in Colorado Springs, CO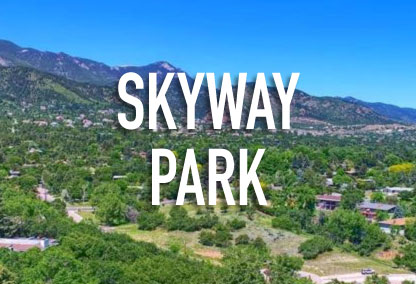 Skyway Park is a wonderful neighborhood located in the Southwest side of Colorado Springs, near the foot of Cheyenne Mountain. This neighborhood connects to Bear Creek Regional Park and Bear Creek Dog Park, which have over 500 acres of trails and open space to enjoy. Parkview Boulevard and Orion Drive are the two main roads that run through the center of the community and offer spectacular views of the area.
Many of the homes for sale in Skyway Park are between 1,000 to 4,000 square feet in size and were built between in the 1960s to 1970s. As you travel through the neighborhood, you'll realize why this area was one of the first developed neighborhoods in the city. The landscape is absolutely beautiful.
---
Available Homes for Sale in Skyway Park
All Listings
$400,000- $500,000
$500,000- $600,000
$600,000- $700,000
$700,000- $800,000
$800,000- $900,000
Over $1,000,000
MORE INFO ABOUT SKYWAY PARK
Skyway Park does not currently have a mandatory Homeowners Association. This neighborhood is zoned to Cheyenne Mountain School District 12 with Gold Camp Elementary, Cheyenne Mountain Middle School, and Cheyenne Mountain High School as the primary schools as the primary schools for kids in the neighborhood. The Skyway Park neighborhood is considered to be part of the Southwest Colorado Springs MLS area within zip codes 80905 and 80905.
---
MORE NEIGHBORHOODS TO EXPLORE
---
---
All Colorado Springs, CO Real Estate