THE SPIRES in Colorado Springs, CO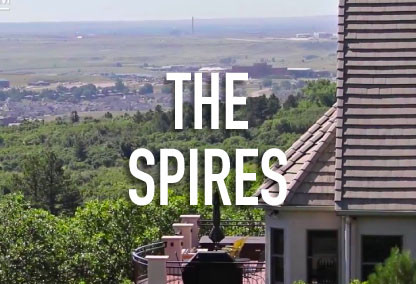 The Spires is located at the base of Cheyenne Mountain in the Broadmoor area of Colorado Springs. The rolling foothills and natural rock formations in this neighborhood create an actual mountain-living experience for the residents of this community. The Spires was developed in the early 2000s, with many unique custom homes on stunning terrain that overlook Colorado Springs and the downtown area.
Homes for sale in The Spires vary between 3,500 to 6,000 square feet. There are still a few lots in The Spires to build on, but most of the neighborhood is entirely built out. The Spires is a genuinely inspiring neighborhood in the heart of the Broadmoor area that offers a mountain-living experience like no other part of the city.
---
Available Homes for Sale in The Spires at Broadmoor
$985,000
5Bed | 5 Bath | 5,223 Sq Ft | 0.25 Acres

$2,100,000
4Bed | 6 Bath | 5,755 Sq Ft | 0.53 Acres

$1,075,000
5Bed | 5 Bath | 5,192 Sq Ft | 0.46 Acres

$990,000
5Bed | 5 Bath | 5,142 Sq Ft | 0.38 Acres

$1,179,000
4Bed | 4 Bath | 5,152 Sq Ft | 0.51 Acres

$999,000
4Bed | 4 Bath | 4,130 Sq Ft | 0.47 Acres

---
MORE INFO ABOUT THE SPIRES
The Spires at Broadmoor share the same Home Owners Association as Stonecliff. It is managed by Z & R Management. You can find out more about them through their website here. The Spires neighborhood is zoned to the award-winning Cheyenne Mountain School District 12. This neighborhood is zoned to Cheyenne Mountain School District 12, with Cheyenne Mountain Elementary School, Cheyenne Mountain Middle School, and Cheyenne Mountain High School as the primary schools for kids in the community. This neighborhood is considered part of the Southwest Colorado Springs MLS area within zip code 80906.
---
Interactive Map of The Broadmoor Area
If you need a local Broadmoor real estate agent to help you navigate the area, please get in touch with us. We'd love to hear from you!