Navigation
The 10 Most Common Home Buyer Questions
Posted by
Andrew Fortune
20,320 Views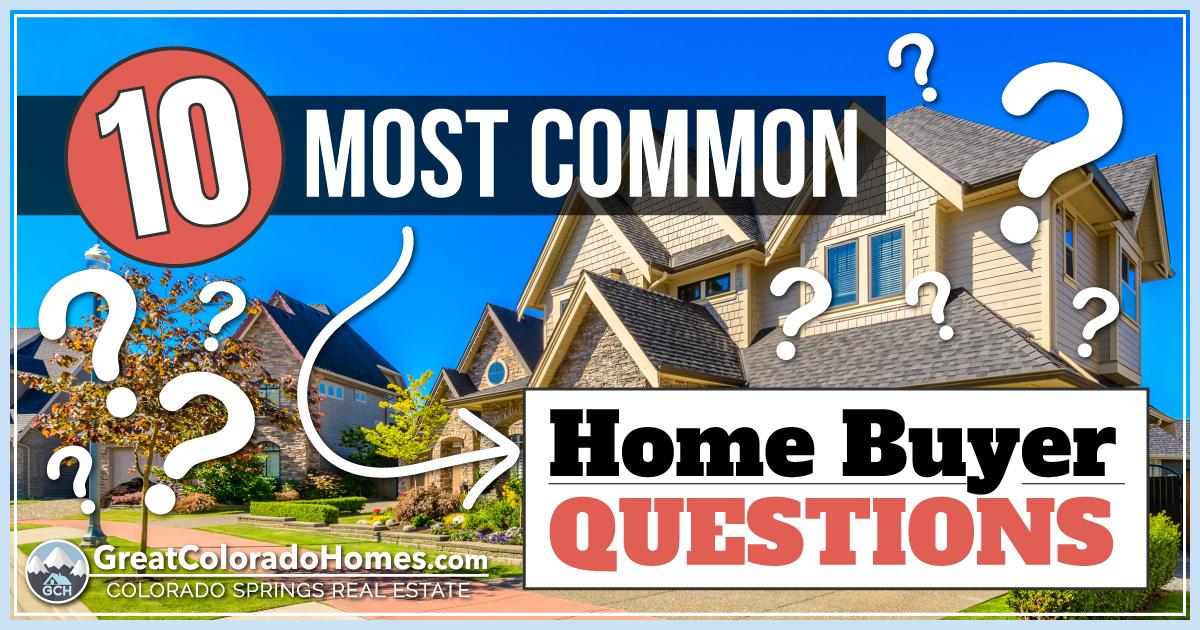 Buying real estate is exciting and terrifying, all at the same time. There are many steps to the home buying process, and each step creates a new set of questions. Knowing the answers to the ten most common home buying questions can alleviate some of the stress of buying real estate.
This article was designed to help you understand the basics of purchasing real estate. Buying a home may seem intimidating, but a good Realtor will make it much more manageable. They will care for you and make your experience as smooth as possible.
As you learn about the home buying process, here are some of the most popular questions from home buyers.
---
What's the first step of the home buying process?
Answer: The Mortgage Pre-Approval.
You will need to get a mortgage unless you pay cash for a house. To know how much home you can afford, you need to get pre-approved for a loan. This is the first step in the home-buying process.
---
How Long Does it Take To Buy a Home?
Answer: Around 30 to 45 days
The timeline for finding a house varies greatly from person to person. However, once you find a home and have an accepted offer, it usually takes around 30 days to close.
---
What Does A Realtor Do?
Answer: Almost everything.
A Realtor is a highly-valued asset when buying a home. They will walk you through every part of the home-buying process. They will educate and inform you of all your options. They will represent you throughout the transaction and beyond.
Check out our article, "Main Benefits of Working with a Realtor"
There is a difference between a Realtor and a real estate agent; many people do not know this. The National Association of REALTORS® regulates a Realtor and subscribes to a strict Code of Ethics. A real estate agent does not. Therefore, it is recommended that you work with a licensed Realtor to get the best service.
---
How Much Do I Have To Pay a Realtor as a Homebuyer?
Answer: Nothing
In most cases, you do not have to pay your Realtor anything to help you purchase a home. Instead, the sellers typically pay their Realtor a fee, and then that listing agent pays the buyer's Realtor for bringing the buyer and facilitating the transaction.
---
What's Your Best Advice for First-Time Homebuyers?
Answer: Trust the Professionals.
Beware of advice from people who do not work in the industry. Real estate is a popular topic, and almost everyone feels they have great insight to offer.
In reality, the people who know best are the people who work in the business. Good Realtors have sold hundreds (maybe thousands) of properties. They know what to expect and what pitfalls to avoid.
Friends and relatives have only bought and sold a few homes. Buying and selling a couple of houses does not make someone a well-rounded source of information. First-time buyers may become persuaded by well-meaning friends and family, only to be disappointed later. Be confident in your decisions and trust the professionals.
---
What Kind of Credit Score Do I Need to Buy a Home?
Answer: Usually 620+
A 620 credit score or higher is recommended. This score will be compared with your debt-to-income ratio. As you probably know, a higher credit score offers better lending terms. However, this is an ever-evolving topic as loan requirements are constantly changing.
Some lenders will approve buyers with a 580 score, sometimes even lower. Again, your loan officer will be the best source to give you a current answer for today's lending requirements.
---
Are There Special Home Buying Programs That I Should Know About?
Answer: Yes
There are some great home-buying programs to research. The main ones would be VA, USDA, and FHA loans. Knowing the difference between these loan types is essential.
Other local options for Colorado include The El Paso County "Turnkey" Mortgage Program and the CHFA SmartSteps Plus Purchase Mortgage Program. Both programs provide down payment assistance for home buyers.
---
How Much Money Do I Need for a Downpayment?
Answer: It depends on your loan type—usually 3% to 5% down.
The most common answer is 3% to 5% of the purchase price. FHA loans dropped their requirement from 3.5% to 3.0%. Some conventional loans require a 3% down payment. Veterans are eligible for a VA loan, which requires no money down.
Properties in rural areas may be eligible for a USDA loan, which also requires no money down. A good loan officer will walk you through all of these options.
---
What Other Fees Are There Besides the Downpayment?
Answer: Mainly loan origination and closing costs.
The downpayment is usually the most significant cost associated with buying a house. Lending fees are the second-largest cost to homebuyers. Most lenders will charge between 2% and 4% of the loan amount for loan origination fees, depending on the loan type.
Conventional loans usually have lower loan origination fees but require more money down. Adjustable rate mortgages are less common. Your loan officer will be able to help you determine how much you can expect to pay toward loan origination and closing costs. Ask them about private mortgage insurance to learn how to avoid that fee.
Interest rates are a large deciding factor in your monthly payment amount. In addition, they have a long-term effect on your overall loan payoff amount.
One unpredictable homeowner fee is maintaining everything in and around the home. For example, water heaters break, HVAC needs servicing, and appliances break down. Over time, these items will need to be replaced or repaired.
For a detailed list of all potential home buying fees, see our article titled "How To Avoid Sticker Shock at the Closing Table?"
Your mortgage lender may forget that you'll need $300 to $500 to hire a home inspector to perform a home inspection. So be sure to budget that money.
---
When do I get the keys?
Answer: At Closing
Under normal circumstances, you will get the keys at the closing. Closing typically takes an hour. Sometimes, the lender will need time to fund the loan, and you must pick up the keys after the loan has been funded. For example, if you have a Friday evening closing and the loan cannot fund until Monday, you may not get the keys until Monday.
Make sure to coordinate your closing to get the keys on the same day if that is what you need. Once you get the keys, make your monthly mortgage payment on time.
---
Finding the correct answers to your most popular real estate questions can be challenging. However, the reward for learning about real estate can often pay off when buying a home.
A good Realtor is your best source of information when buying a home. Once you have a real estate agent you trust, ask as many questions as possible. They will gladly inform and educate you through each step of the home-buying process.
Remember to have fun with your home shopping experience. It's an exciting achievement that many folks long to experience. Whether buying your first home or fourth, it's always a whirlwind of emotion and excitement.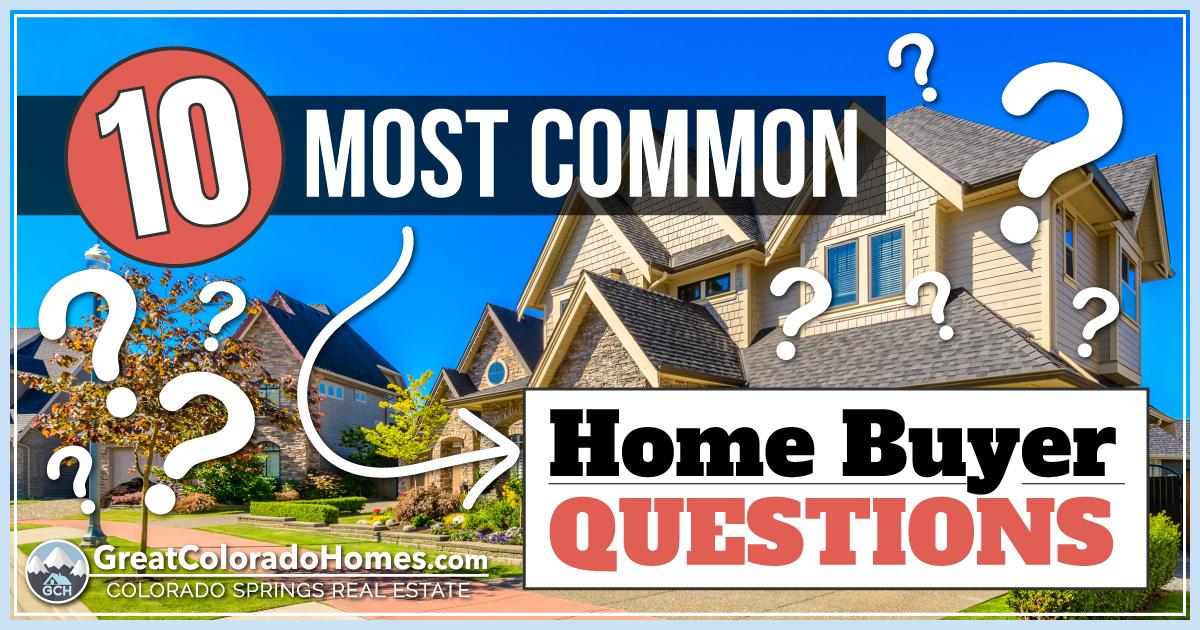 Hi! I'm Andrew Fortune, the founder of Great Colorado Homes and the creator of this website. I'm also a Realtor in Colorado Springs. Thank you for taking the time to read this blog post. I appreciate your time spent on this site and am always open to suggestions and ideas from our readers. You can all my contact info here. I'd love to hear from you.
---
Our Most Recent Blog Posts:
---