Navigation
4 Tips for People Buying a Home Sight Unseen in 2021
Posted by
Andrew Fortune
1,239 Views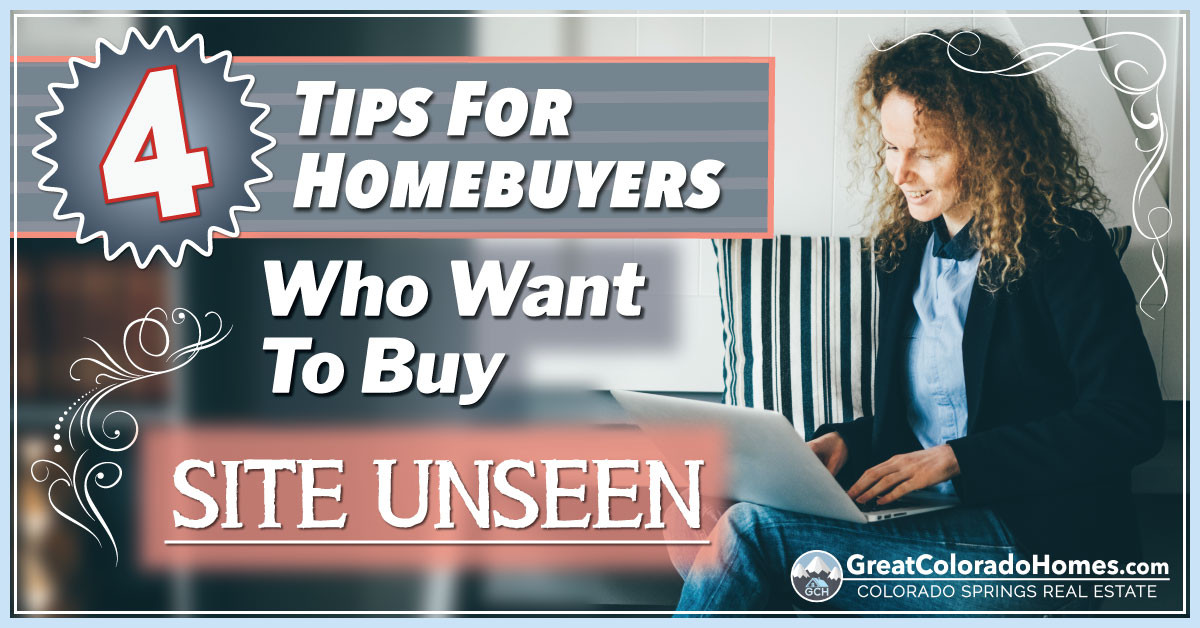 Buying a home sight unseen seems like a bad idea. After all, it's one of the most expensive purchases that consumers make. Fortunately, technology has come a long way. Buying a house sight unseen is much easier than it used to be.
Bidding wars and sight unseen offers are becoming much more common. Real estate agents are navigating new ways to make these transactions easier and more transparent.
Some of these changes are resulting in new real estate trends, such as how homes are marketed. The days of merely posting 20 listing photos and waiting for a sales contract may be over. Homebuyers are expecting more content from listing agents, such as 3D tours and video walkthroughs.
If you need to buy a home sight unseen, here are four tips to help you navigate the process. These tips work for investment properties, resale homes, and new construction residential real estate.
---
GET A 3D TOUR OF THE HOME
Zillow recently stated that their 3D home tours had grown by 600% during the COVID-19 outbreak. Check out the chart below from their website.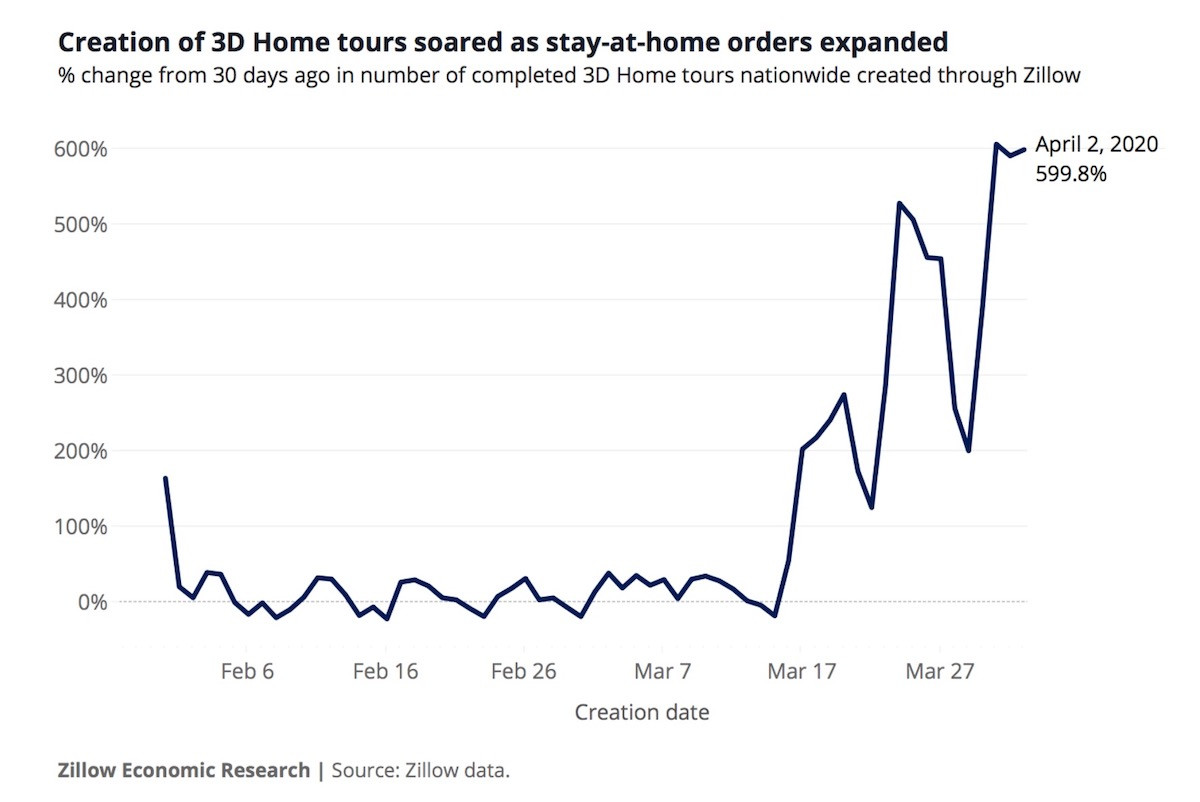 Since the need to see a home without physically being there in-person has grown, so has 3D Tour technology. 3D tours are the next best way to experience a home if you can't be there in person. It's much better than a virtual tour, which is simply a slideshow of the photos or even a video tour; because you can control the experience.
There are many different types of 3D Home Tours. Some of them use HDR imaging and are exceptionally detailed. Others use cell phone photos and stitch them together with software and may be less detailed.
If you're planning to buy a home sight unseen, I recommend requesting a Matterport 3D Tour of the home that you are buying. Many real estate photographers offer this service for around $100 to $300.
Since Matterport cameras are so easy to use, they have become the most popular 3D Tour cameras. I prefer Realvision or iGuide because they have better quality, but Matterport is the most popular.
Here's an example of a 3D tour. As a homebuyer, this technology makes buying a home much more relaxed.
A 3D Tour will reveal every aspect of the home and help eliminate surprises after closing. It's a powerful technology that is assisting agents in marketing homes with complete visual transparency. If you're buying a home sight unseen, I recommend requesting a 3D tour to help you know whether it is the right property or not.
---
MAXIMIZE YOUR HOME INSPECTION OPTIONS
Hiring a home inspector is a significant part of the home buying process. That's not news, but do you know how many types of inspections there are?
Here are just a few of them:
Common Types of Home Inspections
Meth
Radon
Mold
Structural
Electrical
Sewer
Septic
Foundation
Different parts of the country demand different types of testing. You probably wouldn't pay for a soil sample in an area that has never had soil problems. If you buy a home on the front range of the Rocky Mountains, you may want one.
Your Realtor will help you navigate the different options for inspecting a sight-unseen home. I recommend taking their advice and purchasing as many types of inspections as you need.
Don't go cheap on inspections. The cost of an inspection is pennies compared to the price of a home. You only have one shot at performing your due diligence before buying that home. Take your time and get it right the first time to prevent future headaches.
---
LEVERAGE A LOCAL REALTOR'S KNOWLEDGE
What you see online versus in-person can be surprising. It may seem like all the information you need on the home and neighborhood will be online. This is not the case, though.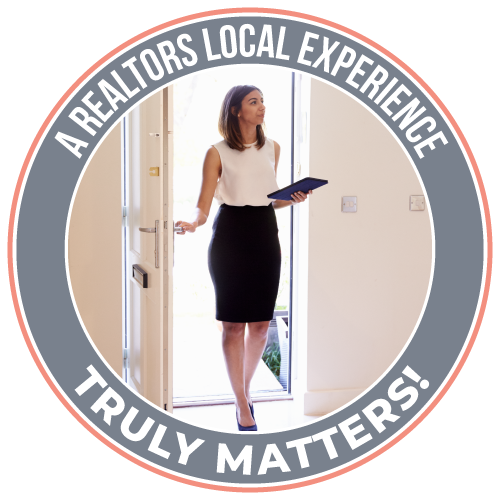 Experienced Realtors who work in specific areas will have years worth of information that you won't find online. They know the history and future plans of their communities. Having the right real estate agent on your side can alleviate many problems when buying sight unseen.
Different parts of town have different characteristics. Some areas may have parks and restaurants, while others may be newly developed and lack shopping options. You can indeed visit several regions via Google Maps, but you won't find future development plans there, among many other essential pieces of information.
Make sure to hire an agent who has worked in your area of interest for many years. They'll listen to your needs and make sure you buy in an appropriate area for you.
---
DEMAND A FLOOR PLAN
The layout of a home is fundamental. For example, having a dining room attached to a kitchen versus on the other side of the house can change things.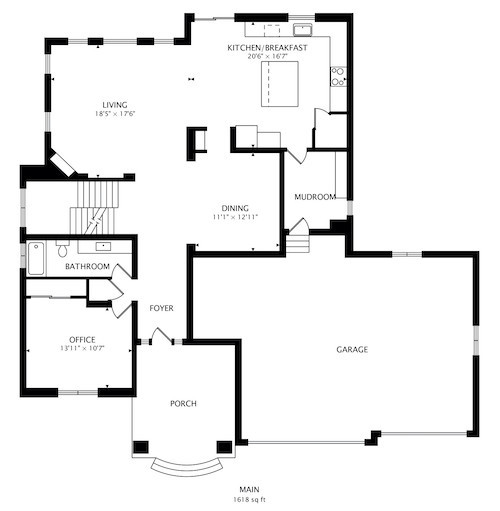 Having a printed floor plan can reveal what the day-to-day activities in a home might look like. A bedroom's proximity to the laundry room or the distance from your car to the refrigerator is all available on floor plans. Also, room sizes and dimensions on floor plans. This information is very helpful for knowing how your furniture will fit.
There are easy ways to generate a floor plan. Most 3D Tour technology does this automatically. Home Depot also offers a service to measure and create a floor plan for a fee.
If you can get your hands on a floor plan of the home that you're interested in, it will provide more clarity on the home's layout. The more info you have, the fewer surprises you're likely to experience after the closing.
---
Final Thoughts
As technology makes the home buying process more transparent, sight unseen home purchases are bound to increase. Realtors who have been using these technologies for years have systems set up to ensure a smooth home buying process. These new systems make buying a home sight unseen less risky, as agents gain more experience in this topic.
Take your time and follow the tips above for a safe, sight unseen home purchase. Lean heavily on your Realtor's guidance to ensure that you have all of the info you need to buy, sight unseen, and no problems.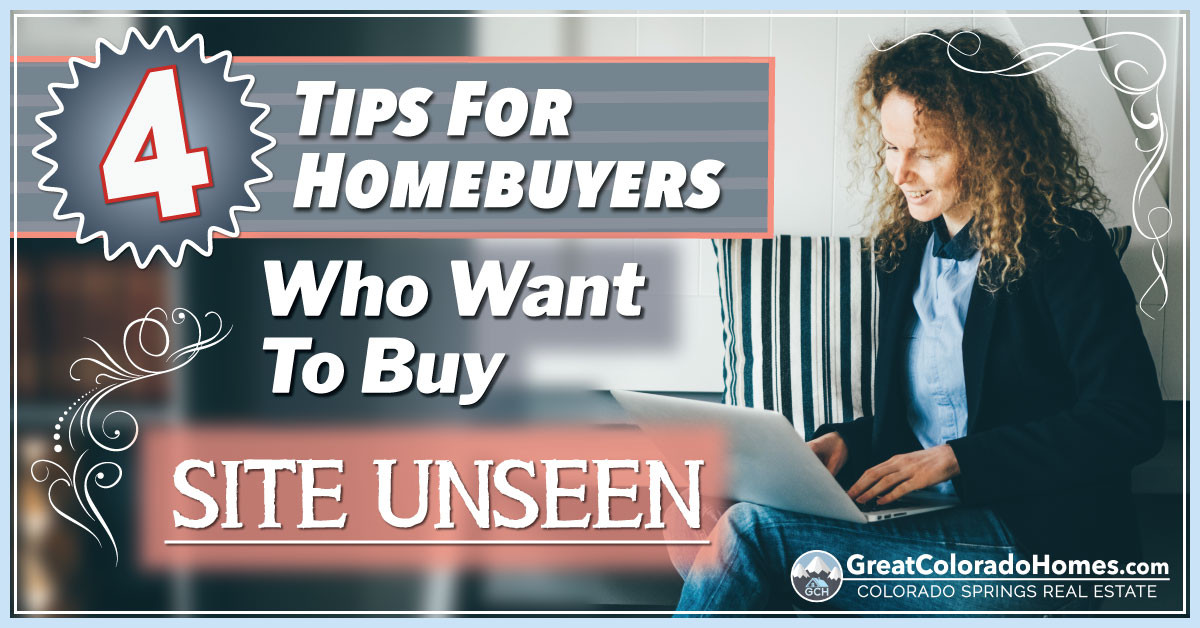 Hi! 👋 I'm Andrew Fortune, the founder of Great Colorado Homes and the creator of this website. I'm also a Realtor in Colorado Springs. Thank you for taking the time to read this blog post. I appreciate your time spent on this site and am always open to suggestions and ideas from our readers. You can connect with me on Facebook, Instagram, or contact me through this website. I'd love to hear from you.
---
Our Most Recent Blog Posts:
---