Navigation
How To Sell Your Home for the Most Money Using Digital Marketing
Posted by
Andrew Fortune
6,477 Views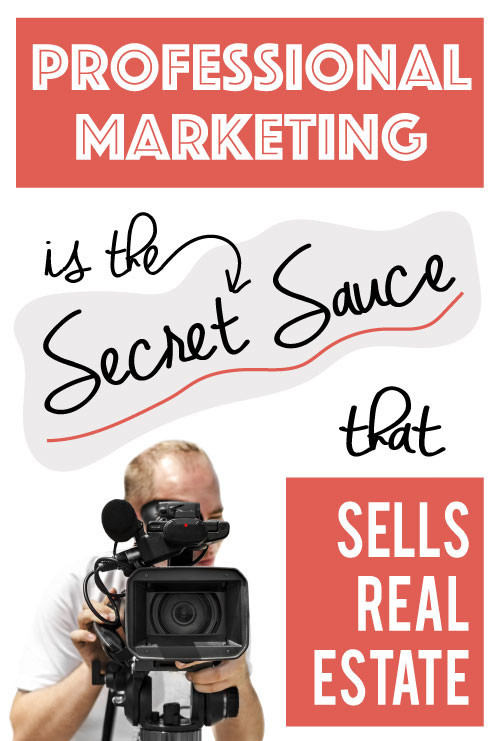 When I first started in real estate, I was taught that the most important elements of selling a home were 1.) Price and 2.) Condition. After working in the industry for many years now, I disagree. In my experience, MARKETING is equally important when selling a home.
All 3 elements are important:
Price
Marketing
Condition
There are more options to marketing a home than ever before, which is why marketing your home properly has never been more important to sell it for the most amount of money. The way a home is displayed online determines how much attention it gets and how people feel about it in comparison to other homes online.
Professional marketing is the secret sauce that sells homes for top dollar!
I've seen homes that were priced too high end up in multiple offer situations due to impressive online marketing. I've also seen homes sell for less than they are worth due to poor marketing. It's a serious factor in your home sale that needs to be done right.
---
UNDERSTANDING YOUR REALTORS® ROLE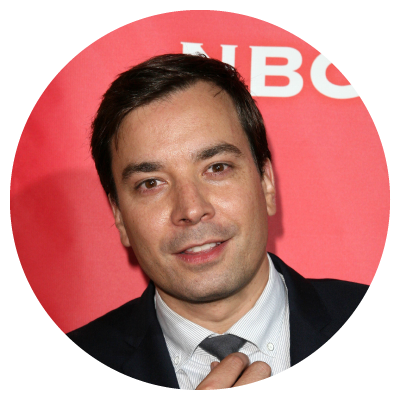 If you were asked to be interviewed on The Tonight Show with Jimmy Fallon, would you ask someone to help you pick out your clothes, do your make-up and get your hair ready; or would you just show up and see what happens? Most people would want to look their best. Luckily The Tonight Show has a makeup and clothing design crew who would do that for you. Their job is to make you look as good as possible before you are presented to the world on high definition television.
This is essentially what the role of a listing agent is, except they are doing it with your real estate. They take your most expensive possession and work their magic to make it look amazing and get the highest offer possible.
The listing price of your home and the condition are in your control. Your listing agents is in charge of the marketing. It's their #1 job!
---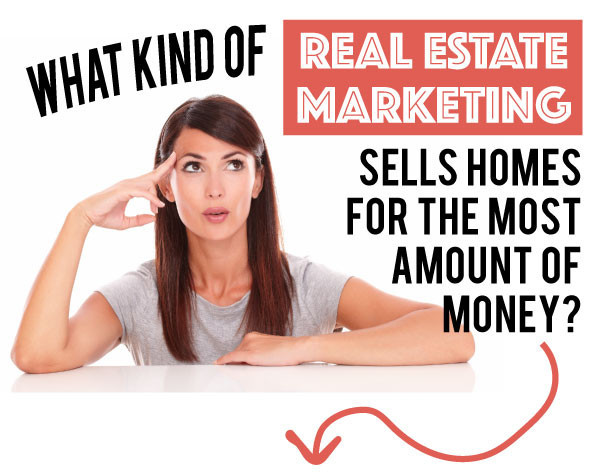 ---
VIDEO MARKETING
In my experience, video is the most powerful marketing tool for selling real estate. In fact, video is the fastest growing form of marketing across almost every industry. It's also the most complicated, which is why many real estate companies do not offer it yet. Making an effective property video that people will actually watch all the way through requires years of marketing experience.
The most common mistake people make with videos is that they make them too long and boring. The majority of consumers have an extremely short attention span when cruising the web. Listing videos need to be around 60 seconds, move very fast, and have interesting visual content. It's much easier said than done!
I use videos as quick advertisements to get people's attention and to direct them to the 3D Tour; which we'll talk about in the next section. People will spend much more time looking at a home in a 3D Tour than they will in a video. A good video combined with a 3D Tour has a very high impact on a home buyer's emotions when they're shopping online.
---
The first time I used a video to sell a home was in 2009. I made a video walkthrough (to the best of my ability) and then added this line to the MLS property description: "SEARCH PROPERTY ADDRESS ON YOUTUBE FOR VIDEO WALKTHROUGH." To this day, all of our listing descriptions start with this sentence.
This first property, on which I tested out the power of video marketing, was listed in a new neighborhood and was competing with brand new homes from builder inventory. There were 11 other homes listed in that neighborhood during the same time period, and none of them sold because they could not compete with new construction homes.
We received a strong offer within 21 days of listing (average was 90 days at the time). We later found out that the buyer took 2 weeks to submit an offer from the last time they visited the property. At closing, I asked them why it took so long to submit their offer after viewing it. They responded that they weren't sure if this was the right house for them, but they kept watching the video and it sold the home to them over and over again. Since that experience, I have heard this on many occasions from other buyers. Videos sell homes like no other form of marketing.
---
3D TOURS
When I first wrote this article in early 2015, I was not impressed with 3D Tours. The only provider of 3D Tours was Matterport, and the quality was much less desirable than it is now. The color always had a yellow tint and the 3D Tours would load very slowly on mobile devices (if at all) and consistently glitched or crashed. Since 60% of our website traffic is mobile, I couldn't buy into it.
Today there are several companies who offer incredible quality 3D tours, with the same technology used in the property photos. Here's an example of the 3D Tour listed with the home above.

This 3D Tour also creates a PDF Floorplan that buyers can view and/or download from any device. This is great for the Seller because it cuts down on unnecessary showings from buyers who are not interested in the home's layout.
You can CLICK HERE to view and download a Printable PDF Floorplan of this property.
The system we use to create these 3D Tours is through Realvision. The learning curve of this technology is very high. Significantly higher than on the popular Matterport cameras, but the quality is MUCH better!
All the scenes are shot with a DSLR camera using HDR Imaging (which we'll explain in the next section), so the tour quality perfectly matches the property photo quality. The field of view is wider and the ceiling is 100% viewable; which is crucial for showcasing interesting features like beams, coffered ceilings, or upgraded light fixtures. It also allows the user to go outside and tour the yard as well. It loads much faster than Matterport, and runs seamlessly on mobile devices.
These 3D Tours allow buyers to completely tour the home through the convenience of their mobile device or computer. It's a game changer for the home seller because the tour looks amazing, and keeps enticing the buyer to fall in love with their home. Our 3D Tour gives the Buyer full control of the pace and content of the home tour, providing a great user experience which results in exponentially more time spent looking at your home.
For the Buyer who lives out of town, often forced to purchase a home without ever walking through it, this technology is invaluable. How much more appealing would your home be if a Buyer in another state could confidently know what it's like to walk through every space in your home and yard? This technology makes your home much less of a risk for that Buyer than other listings that simply have photos.
The service isn't necessarily cheap, but your Realtors job is to provide you with the best marketing, and utilizing this tool will certainly result in a higher sales price. It's definitely worth it (and I should clarify - I don't get any compensation for promoting it). These 3D tours mixed with our videos are impossible for home buyers to ignore, especially when most competing listings do not have this level of marketing.
---
SOCIAL MEDIA MARKETING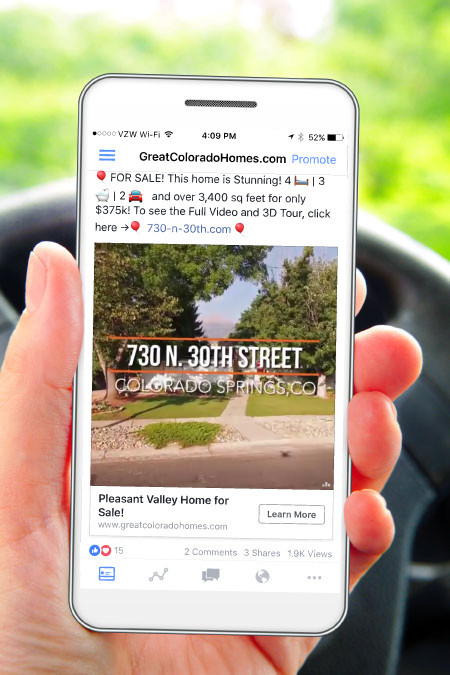 Social media is a powerful way to get the word out about your home being listed online. It can get your listing immediate attention from THOUSANDS of local potential home buyers. Currently, 79% of American adults use Facebook. Instagram is in second place at 32%. These are excellent resources to display all that wonderful marketing that your REALTOR® has done for your home.
We currently spend between $200 to $2,500 on Social Media Marketing for each of our listings. Our agents pay for this out of pocket, because they know it will result in the highest possible sales price for their seller. If a property is not selling and needs more attention, we spend more to get it sold. We've had over 20,000 views on a few of our listings from all the social media sharing and advertising (and that's in our little town of just over 400k people!). The reach is incredible.
When I list a home, I take the video and create a 60-second condensed version in a square format. The square format is important because it makes it easier to view on mobile devices and it gets more views and interactions. Here's an example of the video above in a social media format.
Social media is a technology that is constantly evolving and will always be used for marketing. Currently, very few agents pay to market their listings on Facebook, but this will likely change over time.
Once your listing is in a Social Media Ad campaign, it will stand alone in a consumers news feed. It starts playing automatically and captures local viewer's attention immediately. Social Media Ads are the best way to get your listing in front of your local community within minutes.
---
PROFESSIONAL PHOTOGRAPHY
This one should really be common sense at this point, but it still needs to be brought up. Professional photos will always be an important form of real estate marketing because they are the consumers first visual point of contact with your listing. First impressions are everything in marketing. If the photos are bad, home buyers will never pay attention to the other forms of marketing used to list your home. You can't expect your Realtor to also be a professional home photographer, but you should expect them to hire one. Below are some photography technologies that you should be aware of to help determine whether or not you're getting a professional.
HDR (High Dynamic Range) - This is a process of taking multiple photos of the same image using different light exposures, then combining the images by pulling out the best pixels of each image to balance the light properly. It allows the user to capture the best light possible and alter the image to the user's preference. HDR fixes many issues with indoor photography and allows photos to stand out from non-HDR photos online. Here's a great slideshow that demonstrates the dramatic effects of HDR: CLICK HERE
Wide-Angle Lens - A wide angle lens (around 10mm to 12mm, depending on your camera) is what I prefer on my photos. It makes the rooms look large by allowing the most amount of space to be captured by the lens. Some photographers will complain about the "fisheye" effect caused by using a wide-angle lens, which leads right into the next photo technology….
Lightroom - Lightroom is a popular Adobe program that allows users to adjust the look and feel of images. It has a feature that will level out the photo and remove the "fisheye" effect. This option, combined with a 10mm lens, creates images that capture as much of the room as possible, without distortion. I understand that there are photographers who don't like filters and like to keep the image as original as possible, but in real estate, we're not trying to win photography awards. We're trying to sell homes for top dollar, and these technologies do that with great results.
---
One Caveat I Must Mention
This should go without saying, but all the creative marketing in the world will not help your property if it isn't ready to be listed. I can not stress enough the importance of having a staging specialist consult you on what needs to be done to the property before your photos are taken. This is a service that top Realtors provide for their clients because they know the importance of it. Before we begin the process to market a property, we need to make sure it's going to show well. You will find lots of great Staging tips on our Seller Blog Tab. CLICK HERE to see a handy easy to read infographic on home staging.
---
How to Choose the Best Agent for Your Listing
With all this information about marketing technology, why would you choose to use an agent simply because you're related to them, or they are connected to you socially? Would you choose a surgeon that way? In my experience, that is the worst way to choose an agent. Unbelievably, according to the National Association of REALTORS® (NAR), this is still the most common way that people find and hire their REALTOR®. If you hire a Realtor that doesn't use the best Marketing tools, you are essentially throwing away thousands of dollars, in addition to the Commission you are paying them.
Instead of using the first Realtor you know to list your house, you should check out their marketing materials. Ask to view the last few listings they sold. Compare their work with other agents. If it doesn't compare, then don't hire them! Hiring an agent who does not utilize technology to list your house is like going to a car dealership and paying 2018 prices for a 2010 model car. It just doesn't make sense. You are hiring the listing agent to market your home online. Period.
You can search YouTube to find the local agents who are listing videos there. They are going to be the most advanced in your area. You may be surprised to find that they usually don't charge more than other agents.
---
Great Marketing Puts More Money in the Sellers' Pocket

We have so many stories at Great Colorado Homes about how these forms of marketing have benefited our sellers. Just last week we had a seller receive $20k more for his home that he thought he would ever get. Needless to say, he was ecstatic! Our listings consistently set records for highest Price Per Square Foot earned in neighborhoods all over the City.
We've received several offers on our listings from buyers only hours after the listing went live on the Market; before they ever even had a showing. They wanted to buy it just from viewing the video and 3D tour. A buyer will watch the video and interact with the 3D tour over and over again, falling in love before they ever see it in person. This is a beautiful thing for the home seller!
Don't settle for mediocre marketing when hiring an agent to list your home. Find an agent that knows how to utilize technology and market your home to its maximum potential online. It's the most important element of listing a home to sell for top dollar!
---
Here are some home selling guides to help you through the process.
---

Hi! I'm Andrew Fortune, the founder of Great Colorado Homes and the creator of this website. I'm also a Realtor in Colorado Springs. Thank you for taking the time to read this blog post. I appreciate your time spent on this site and am always open to suggestions and ideas from our readers. You can all my contact info here. I'd love to hear from you.
---
Our Most Recent Blog Posts:
---