Navigation
3 Sacrifices People Make When Hiring a REALTOR® Out Of Obligation To A Friend or Family Member
Posted by
Andrew Fortune
2,279 Views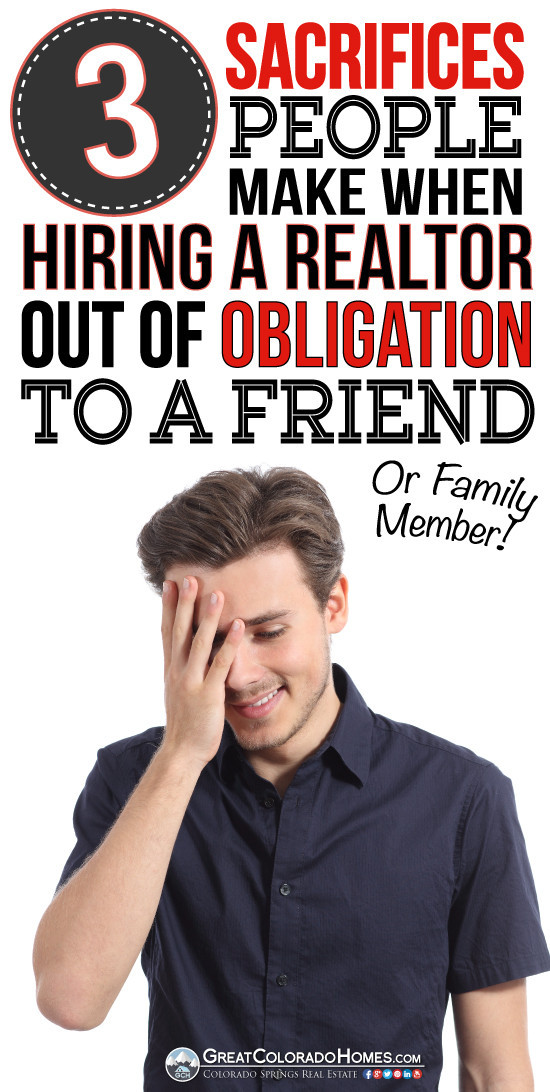 I recently received a request from an out-of-state buyer who wanted to view some homes for sale in Colorado Springs. I asked her if she was already working with a local REALTOR® and she said "Yes". She explained to me that she was feeling pressured to use an agent that a family member referred her to. I asked her who the agent was and she said she didn't know yet. Her family member was a REALTOR® in her hometown of Washington, and she was working on finding her a REALTOR® here in Colorado Springs.
Here's what was really happening: The family member (who was a REALTOR®) was looking for an agent locally who would pay her a referral fee for referring this buyer. The average referral fee is around 25% of the buyer side sales commission. The lady who contacted me believed that she was being referred to an agent who was personally known by her family member. In reality, her family member was just trying to make some extra money on the side and didn't know any agents here. That means that this buyer is being treated as a monetary item, not a real person who is trying to buy a house.
This is a common scenario. Many REALTORS® are trained to be relentless in their efforts to be a part of any transaction that is tied to someone they know. REALTORS® are encouraged to focus on their "sphere of influence". If you're in that sphere, you may be contacted often by them so that they can make sure their name comes up in any real estate conversation.
This is not necessarily a bad thing if the REALTOR® you know is a true professional and does a great job of taking care of people. But don't think that a REALTOR® is good simply because they network well. Some of the worst REALTORS® in the business are also some of the best networkers.
Choosing a REALTOR® to work with is like choosing a surgeon or hiring a lawyer. The competency of your agent can greatly impact your real estate transaction, which can greatly affect your life. Consumers can feel empowered by all of the real estate info that they find online, but the reality is that a real estate transaction is a mine field of potential problems. Choosing the right REALTOR® will benefit you in ways that you could never fully realize without working in the business and knowing what goes on everyday.
Some people feel like REALTORS® are only needed to open the door to homes on the market. They open a few doors, write a contract when you're ready, and then show up to closing to collect a commission check. This couldn't be farther from the truth. If you have ever had that experience, then you were poorly served by your agent.
A real estate transaction is an extremely complex operation with many moving parts. When things go bad, it can have life altering affects. Here are 3 things that you may be sacrificing if you hire a REALTOR® out of obligation to a friend or family member:
---
Security of Personal Information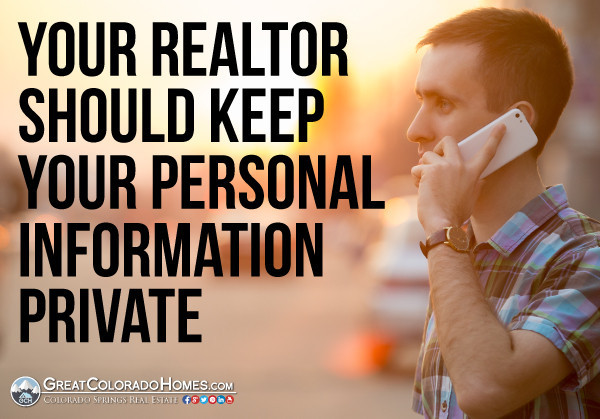 It's important that you feel secure and protected throughout your transaction. Working with an agent who is close to your friends or family can be awkward if they reveal details of your transaction that you didn't want spread around.
They may be in open communication with your friends or family members throughout your transaction. Having a neutral 3rd party separate from your personal life is a good way to alleviate this problem.
If your agent is very talkative you may feel that they could leak information about you to the other party in the transaction as well, giving them a negotiation advantage. Skilled REALTORS® know that personal information about their clients should never be exchanged to anyone without their clients consent. Some agents feel as though they can be your personal spokesperson for everything. They may even make decisions for you without running them by you, because they feel like they understand you so well. This is a terrible mistake, but it happens all too often. Before hiring a REALTOR® who has been referred to you, make sure that they have a strong business persona and can assure you that they are not "open talkers".
---
Avoiding The Hard Truths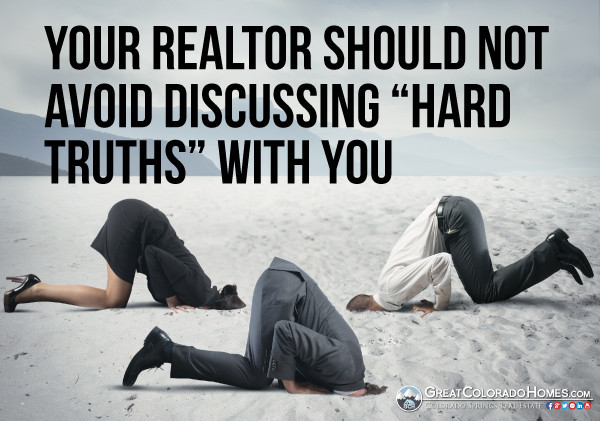 Being properly informed is a major advantage when buying or selling a home. If you fully understand a situation, you are much more likely to get the results that you want. When working with an agent who is referred to you, there is a good chance that they may not have the experience of a top local agent. They may also be less inclined to give you the "hard truths" out of concern that they may offend you, and possibly your friends or family. It's one of the difficulties of working with someone within your personal circle. Their conversations with you may be "padded" to avoid any relational drama.
There will be a non-stop flow of items to cover during a real estate transaction. If you choose an agent who is not skilled at communicating all of the details fully, you may be left confused about certain items. This can cause you much unneeded stress and even cause your deal to fall apart. Before hiring an agent who has been referred to you, make sure that they communicate in a way that you are comfortable with and seems professional. Make sure they are factual and not opinionated or emotional. Remember, you are going to be in a legally binding real estate contract with your agent and the other party. There is no room for opinions or emotional responses under these terms.
---
Navigating Legal Minefields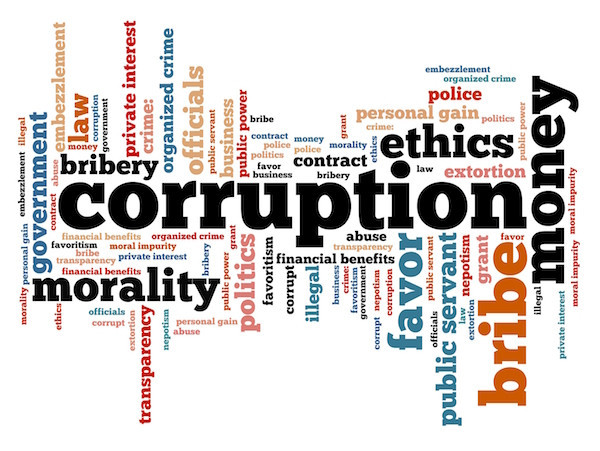 When you are working with an agent who has been referred to you, make sure that they understand the most common legal issues that can affect a real estate transaction. If your agent is directly related to you, you may need to disclose that with the other party, based on your State's regulations. Some states require this disclosure because it has such a strong influence on a Realtors decision making process.
Ask your agent if they have ever been, or are currently involved in any lawsuits connected to their business. Agents are not attorneys. There are many times when REALTORS® are asked tough legal questions that they should not be answering. When you're working with someone connected to your friends or family, they can be tempted to advise you out of personal opinion.
When heavy legal issues become part of a real estate transaction, an experienced agent knows how to maneuver through the situation without offering personal opinions that may steer you in the wrong direction. The information you receive from your agent needs to be objective without personal opinions added. Your REALTOR® should always recommend that you hire an attorney if you feel the need to. They should never discourage you from this. They should play more of an "advisor" role, rather than a salesperson or a house shopping companion role. They should follow your lead on every decision and keep you properly informed throughout the process.
Final Thoughts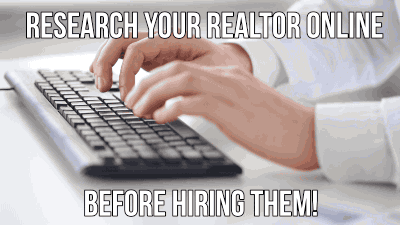 It's not wise to roll the dice and just use the first REALTOR® that is referred to you. First, determine the motivation of the person referring the agent to you. If they have used that agent first hand and had success with them, then you may have found a good agent. You still need to do your research though. If they do not know that agent personally and are only referring them because they will receive monetary compensation, you may need to move on. Perform your own due diligence and be cautious before partnering up with an agent.
Use the internet to your advantage and research any agent you find online. If they have no reviews and no web presence, ask them point blank why that is. If you sense that their answer is vague or misleading, use your common sense to determine if you should move on. REALTORS® have much more leverage over your success than you may realize. Don't hire an agent who is questionable. There are plenty of great, hardworking, honest REALTORS® in your area. Find an agent who is highly reputable and offers you the best service that you can find. You will be extremely glad that you did!
Additional Resources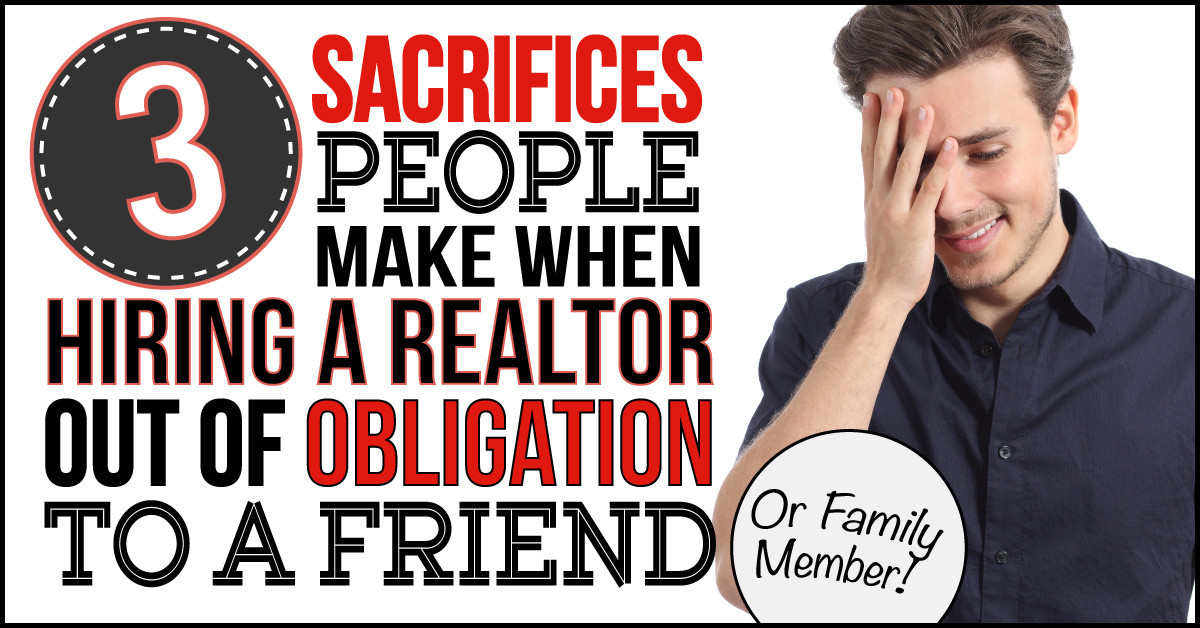 Hi! I'm Andrew Fortune, the founder of Great Colorado Homes and the creator of this website. I'm also a Realtor in Colorado Springs. Thank you for taking the time to read this blog post. I appreciate your time spent on this site and am always open to suggestions and ideas from our readers. You can all my contact info here. I'd love to hear from you.
---
Our Most Recent Blog Posts:
---