Navigation
How to Setup a Facebook Ad Campaign in 12 Easy Steps | REALTOR® Tech Tips
Posted by
Andrew Fortune
3,042 Views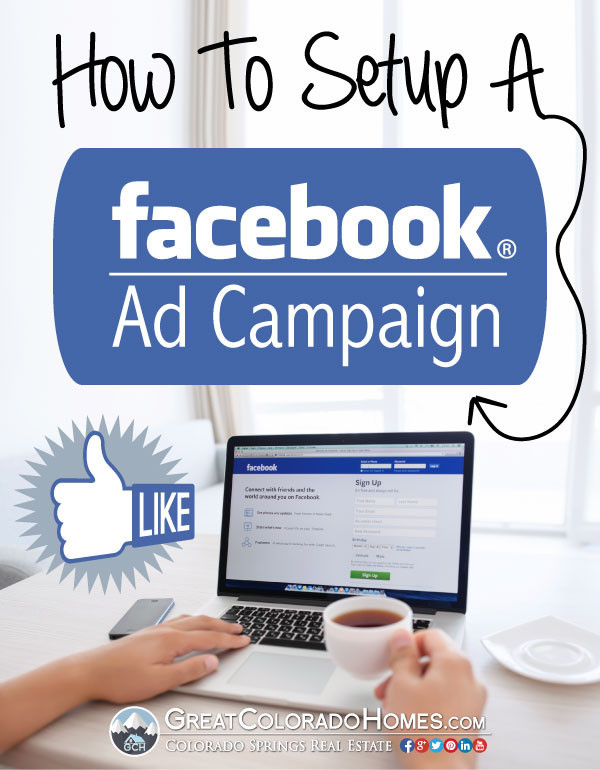 Love them or hate them, pay-per-click (PPC) ads are here to stay. As long as businesses need an audience, the internet will provide the platform... for a fee of course. There are several benefits to Facebook Ads that make them more appealing than most PPC platforms. Since Facebook is the largest social media platform in the US, it is able to collect unique personal data from many of their users. This data allows them to include "targeting" options that are not available in most other PPC ad options. It also allows you to create images and attach them to your ads, increasing your ability to uniquely market yourself using PPC. It is a great platform for branding local business and/or promoting special offers to local consumers. I do not know of any other platform that will allow you to get the word out about your business in such a controlled way. It's my #1 choice of advertising when I want to immediately promote my business to local consumers.
Facebook Ads are still fairly new, so i expect some of the steps below to change a bit over time. However, for the most part, this step-by-step Facebook Ads tutorial should be able to guide you smoothly through the process and help you get started. Usually, getting started with any PPC campaign is the hardest part. Once the campaign is up and running, you can modify and tweak it to increase conversion; that part is easy. If you have never setup a Facebook Ad campaign, this guide will save you time and possibly a lot of money as well. Knowing how to setup a successful Facebook Ad campaign feels empowering as a business owner. Take the info below and leverage it to gain more control over your marketing possibilities.
Let's Get Started Creating Your Facebook Ad Campaign:
---
1.) Start Creating Your First Ad
Login to your Facebook account and place your mouse over the dropdown arrow to the top right. Click on "Create Ads" to start your ad campaign.
Tip: If you do not have a Facebook Business Page, I recommend setting one up first. Your ad will be linked to your personal page later on, if you do not have a business page. Ads perform better when they are linked to a Facebook Business page.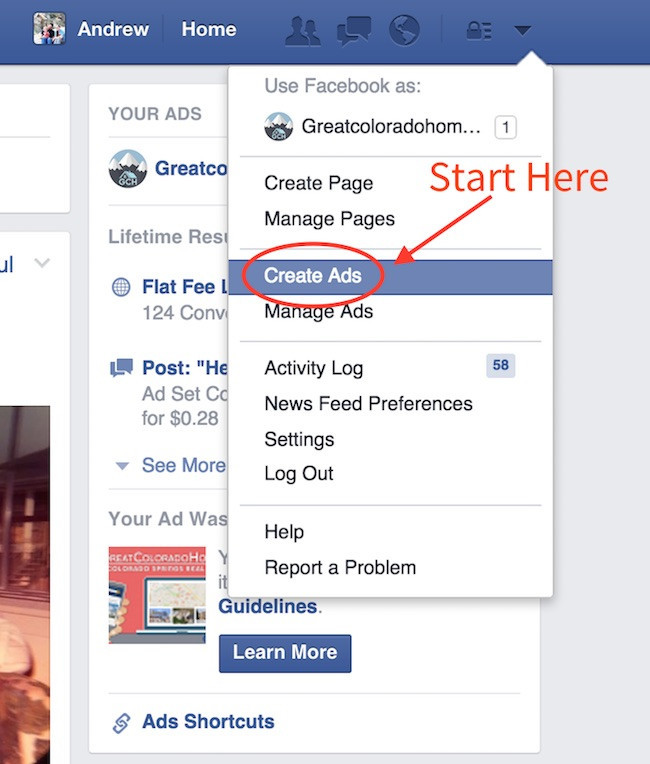 ---
2.) Choose "Send People to Your Website"
All of the options on this screen provide different value. The most common ad type is to "Send people to your website", so we are going to setup our Facebook Ad using this option. I recommend familiarizing yourself with the other options also. As you become more skilled in using Facebook Ads, you can experiment with these other options to get different results.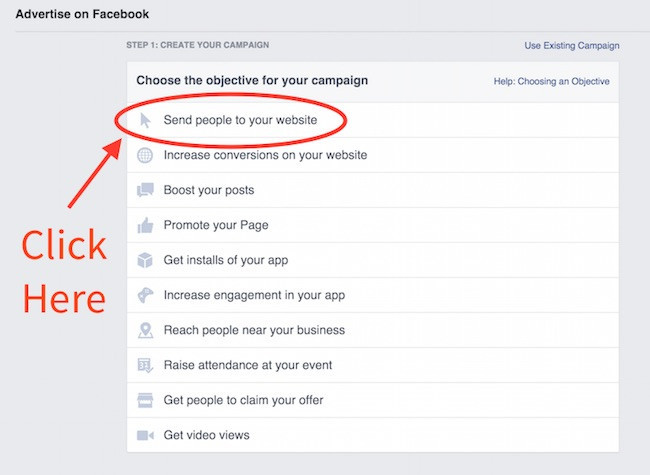 ---
3.) Enter the URL of Your Landing Page
The purpose of our Facebook Ad is to send people to a "landing page". This page will need to be customized to have a call-to-action so that you have a way of capturing your Facebook lead's information. Creating a good call-to-action can be tricky, so expect to play around with your landing page layout & options to get the best lead conversion results possible.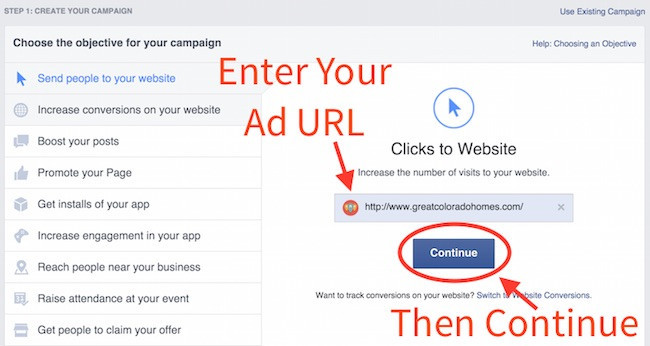 ---
4.) Setup Your Geographic & Demographic Parameters
Facebook Ads allow you many options for narrowing down your ad demographics. I am located in Colorado Springs, CO, so I want my ad to run in this city, with a surrounding 10 mile radius. You can set the radius as large as you want. For real estate professionals, this is very helpful because we are local. It makes no sense for my ad to run in Denver, if I don't work there. Take your time and setup your ad targeting to best match your needs.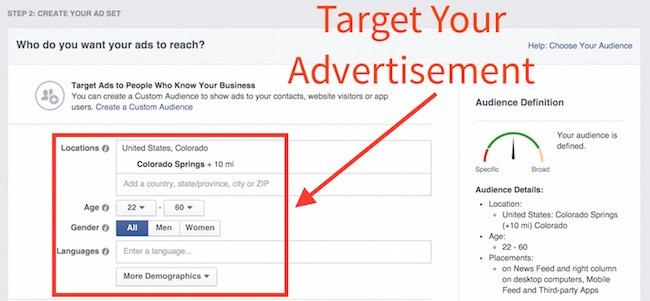 ---
5.) Target the Best Audience for Your Ad Type
Facebook Ads allow you to narrow down your audience to unique specific demographics. For real estate professionals, this allows us to target only those people who own a home, or perhaps target renters who would like to buy a home soon. This is where you can get creative and really target your ad to the appropriate audience.
I have used these options extensively and have noticed that they are not perfect. My friends will tell me when they see my ads and many times they are not in the criteria of the demographics and behaviors that I have chosen. Don't expect Facebook Ad demographics to be flawless.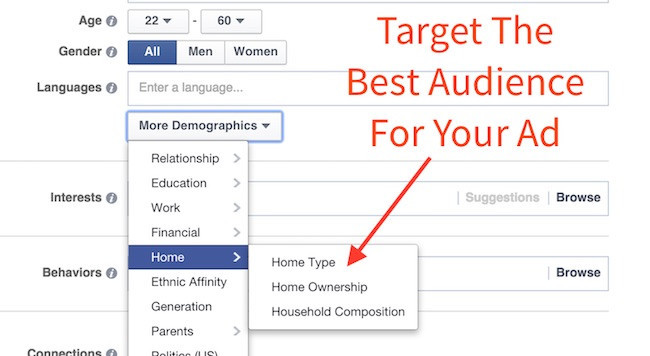 ---
6.) Target Your Audience by Their Interests
Facebook Ads allows you to target your audience by their interests. Once again, this targeting is not flawless, but it does help your ads increase the likelihood of being shown to the right people on Facebook. I expect Facebook to get better results in the very near future.

---
7.) Target Your Audience by Their Behaviors
Facebook Ads allows you to target your audience by their behaviors. This is one of the most appealing aspects of Facebook Ads. My hopes are that Facebook puts more effort into verifying this info in the future. In my experience, this section has the most inconsistent results of all the audience testing options. I've ran ads using the "Likely to move" option and had friends who just bought a house within the past year see the ads. Regardless, the concept is a great idea, so I hope it gets more accurate with time.

---
8.) Explore Include and/or Exclude Options
Here are some more targeting options that you may find useful. I do not use these options very often, but they are there to use if they fit your ad type. Familiarize yourself with them. You may develop a unique ad strategy that can implement these options.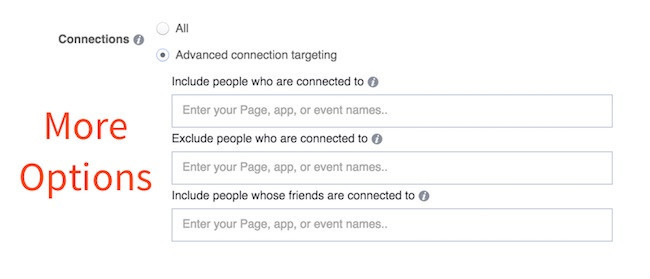 ---
9.) Set Your Daily Budget and Your Ad Bid
Now we need to talk about the financial side. Facebook Ads aren't free. You need to set a budget for it. This will be based on your ad type and how aggressive you want to be. Many of my ads are setup to run with the amounts below. This gives my ads a very strong presence in our city. You may need to spend more or less, depending on your geographic area. This section requires weekly monitoring to set the right ad budget. Be patient and monitor your results well. Adjust as needed.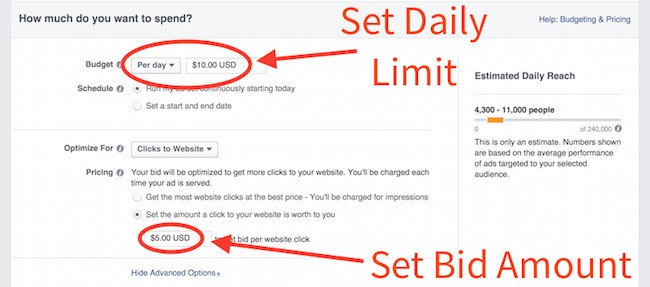 ---
10.) Upload Your Ad Image or Choose a Stock Photo
One of the great benefits of Facebook Ads over Google AdWords is that you can add images. Images grab consumers attention much faster than boring text. If you create an image with text on it, make sure that you do not cover more than 20% of the ad with text, or Facebook will decline your ad from showing. You can upload multiple images here and test the ones that convert the best. I spend more time on this than on any other part of the Facebook Ad process.
If you are not able to make your own images, you can choose a stock image from the options provided. Using the right image can make or break your ad success, so be sure to set this up right. Reach out to other professionals for advice, if needed.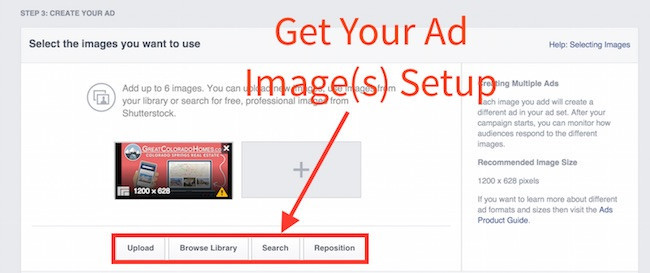 ---
11.) Write Your Ad Details
Now that you have your ad image(s) setup, you'll need to write your ad text. This includes your Headline, Body Text, Call-to-Action Button, and Link Description. My advice is to tweak this text weekly, and monitor any change in results. Getting the ad text right is a science. It takes time to properly develop this skill set.
Tip: I always remove the "partner" options from the ad results in Google Adwords and Facebook Ads. You gain extra impressions from 3rd party sites and apps that do not have the brand power of Facebook. I don't want to pay the same price for ads shown on Facebook as I do for ads shown on random 3rd party sites. I always remove the "partners" option from any pay-per-click campaign to save money and keep my click-through rate up.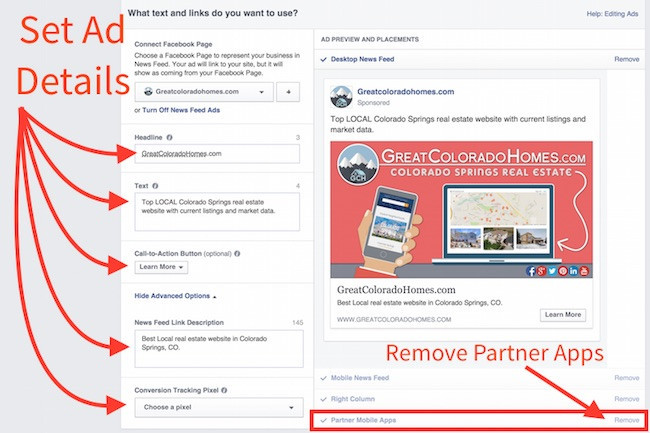 ---
12.) Place Your Order When Ready
Once you have set everything up the way you want it, simply click "Place Order" and your ad will go to review and be launched shortly. If there are any issues with your ad, you will receive a notification from Facebook that you need to alter it. If there are no issues, your ad will be live immediately. Once your ad is live, don't forget about it! I look over my ads every evening to make sure that they are producing well.

---
Need Help With Ideas for Successful Facebook Ads?
I will be launching an article on RESAAS' Blog next week. I will update this page with a link to the article once it's live. The article will discuss unique ways that you can use Facebook Ads to grow your business and attract new clients in 2015.
Stay tuned!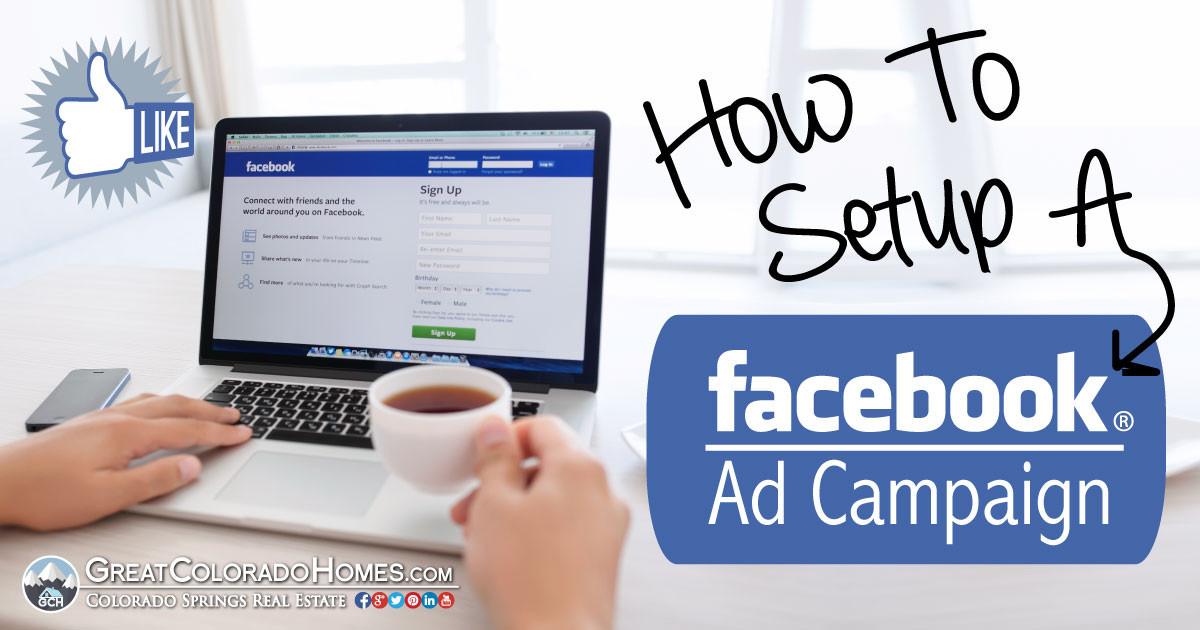 ---

Hi! I'm Andrew Fortune, the founder of Great Colorado Homes and the creator of this website. I'm also a Realtor in Colorado Springs. Thank you for taking the time to read this blog post. I appreciate your time spent on this site and am always open to suggestions and ideas from our readers. You can all my contact info here. I'd love to hear from you.
---
Our Most Recent Blog Posts:
---