Navigation
How to Write a Real Estate Listing Description [Example Ads]
Posted by
Andrew Fortune
30,113 Views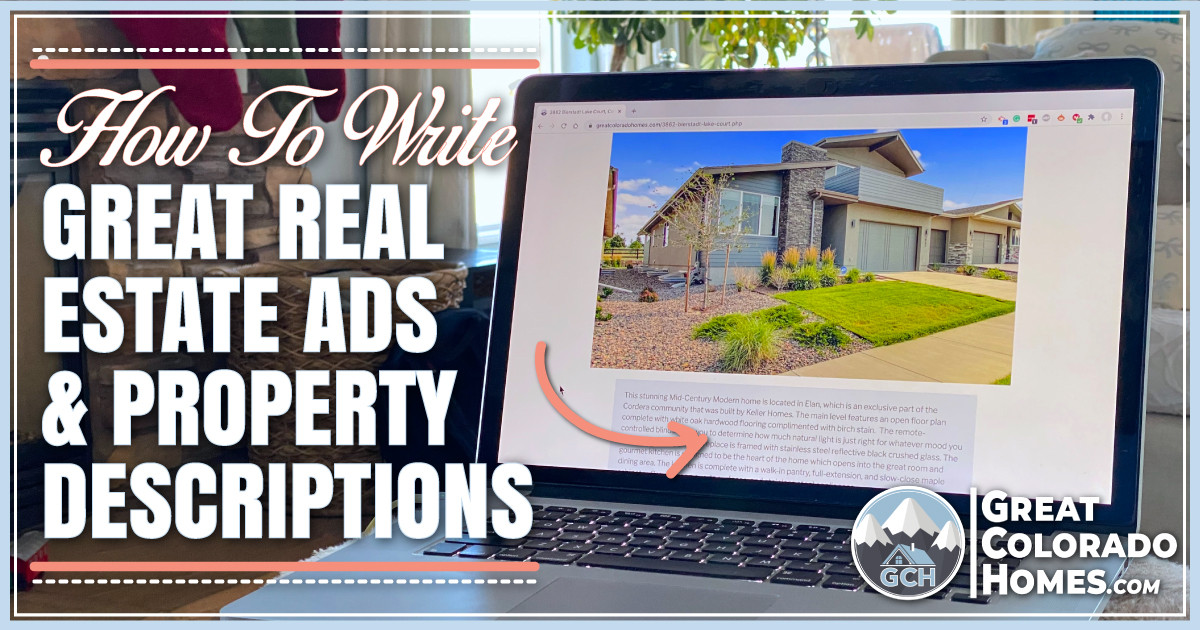 If you're preparing to sell or rent a home, your success begins with the real estate listing description and ad copy you create. When a potential buyer is scrolling through listings, you want them to stop and read your ad — and then schedule a showing. With strong descriptions, engaging narrative, and well-composed photographs, you can elevate your real estate marketing game.
This article will discuss how you can craft the best real estate copy that translates into results. Some of the suggestions are directed towards real estate advertisements, while other tips help with MLS listing descriptions. Learning how to write real estate ads and property descriptions requires practice.
Here's a quick list of nine tips to help you with the process.
It's time to explore the topics mentioned above.
---
Persuade Readers in Your Opening Statement
Your opening is a critical part of your real estate ad. Readers can choose to continue reading or move on within seconds. You want them to stick with you, so your language should invite them to read further.
Using the right descriptive words in your opening statement will help readers pay attention. Keep these statements specific and avoid too much vague jargon.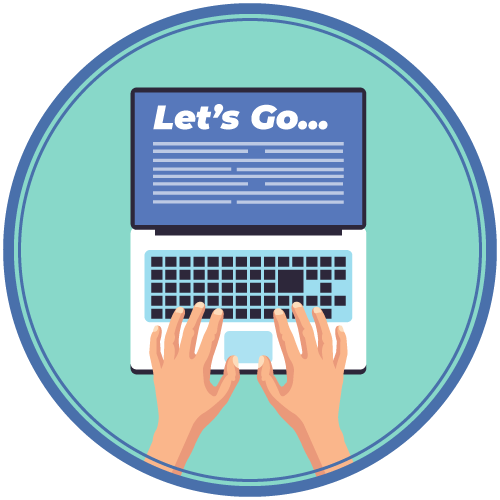 Here are a few property description examples that are boring and need work:
Check out this three-bedroom, three-bath home with a 2-car garage.
This home in Colorado Springs has a large yard.
Notice how the statements above are just basic home features, like the number of bedrooms and bathrooms. These phrases have no emotion behind them to attract buyers. Your target audience is home shoppers. It's a good idea to create property descriptions with emotional emphasis to help buyers engage with your ad copy.
Here are a few real estate listing description examples that can encourage people to keep reading.
One-of-a-kind stunning Tudor-style home on a tree-lined street, blocks from downtown.
Check out this handsome ranch on sprawling acreage with a custom 2-story barn.
Readers eager to find a distinctive style of home will take note of this first opening. Readers hoping to find a private piece of land might prefer the ranch. Ultimately, buyers want to know what makes a property unique within your opening comments. If they are bored right away, they will not continue reading and may move on to another listing.
---
Hook Your Readers with a Headline
The first thing your readers will see when they glance at a real estate ad is the headline. The headline is your chance to pull them in so they continue reading and learn more about the property. As a result, you'll need to choose words that make your headline punchy and enticing.
If you're entering the property into your local MLS, you probably won't have a chance to create a headline. Some agents will generate a mini-headline within the property description by wrapping their first text in asterisks. Here's an example:
***STUNNING Equestrian Dream Home*** Imagine owning 40-acres of pristine Colorado mountain land with over 5,000 square feet of …..
The headline carries a lot of weight when you're trying to sell properties faster than your competitor. A good practice is to use language that situates the home in a specific area and speaks to its best features. Consider these real estate description examples.
Newly Renovated Ranch with a Private Lake
Remodeled Condo With Unobstructed Views & New Hardwood Flooring
Cute Bungalow Steps from Downtown Colorado Springs
Newly Built Home with Every Upgrade Imaginable
You can define the home's architectural style, character, and location with just a few positive words. And you'll invite your prospective buyer to continue reading the body of the text to learn more.
What should you avoid doing with headlines? Don't exaggerate your text. You'll risk coming across as a sleazy salesperson or disingenuous.
Also, avoid using all-caps in your headlines — or even too frequently in the body of your text. Too many words written in all-caps can feel like they're screaming at a reader. Keep your headlines brief, clear, and confident.
Here are a few more listing description examples:
---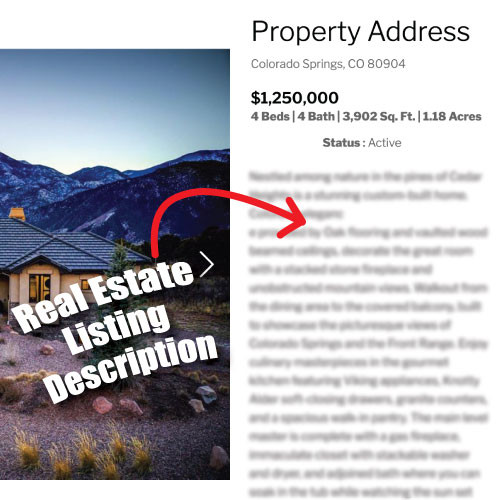 "This fully custom, elegant modern ranch-style home is located within walking distance of Ute Valley Park in Mountain Shadows. Designer choices in this stunning home set it apart from every other house in the neighborhood. The main level boasts 10-foot ceilings with exotic Brazilian cherry hardwood flooring throughout, along with six sparkling chandeliers.
The kitchen features a stacked-glass backsplash with high-end stainless steel appliances. You'll find a large quartz waterfall island in the heart of the home, which acts as a beautiful centerpiece. A stacked-quartz remote-controlled fireplace serves as artwork in the living room, set off by a wall of tall windows for plenty of natural light. The home has ceiling-mounted speakers in nearly every room, along with an amplifier that controls them all."
---
"This stunning Mid-Century Modern home is located in Elan, which is an exclusive part of the Cordera community that was built by Keller Homes. The main level features an open floor plan complete with white oak hardwood flooring complimented with birch stain. The remote-controlled blinds allow you to determine how much natural light is just right for whatever mood you find yourself in.
The 42" fireplace is framed with stainless steel reflective black crushed glass. The gourmet kitchen is designed to be the heart of the home, which opens into the great room and dining area. The kitchen is complete with a walk-in pantry, full-extension, and slow-close maple cabinetry, Gray Lagoon quartz surfaces, and stainless steel appliances."
---
Choose Your Words Wisely in Property Descriptions
Before you get to the body of the ad, make a list of your property's best features first. You don't want to use vague terms like amazing or fantastic. You'll need to choose precise words that help the reader paint a picture of the home in their head.
Use adjectives that will generate interest. This list includes dramatic, luxurious, updated, original, granite, hardwood, quaint, well-maintained, and stellar. If you're creating text for social media ads, these words will help prospective home buyers notice your listing beyond the sales price.
Appeal to the reader's emotions with useful verbs that communicate a strong sense of action. With only a small amount of room to write, you'll have to piece together an assortment of sentences that maximizes the potential. While you want to communicate excitement, avoid using too many exclamation points. You'll disrupt the flow of your prose and seem too eager.
Once you have a good list of words that you want to use to describe your multiple listings, you can start crafting your message. In your ad, the sentences should come together to tell the story of the home you're trying to sell. Your compelling real estate listing description should weave together all of the vital facts into an engaging narrative.
---
Strategically Highlight the Most Unique Features First
It's a good practice to lead with your home's best feature in the opening sentences. If the master bedroom is ample, use a word like spacious or grand to convey its size. Follow up by highlighting other vital attributes like large bay windows with natural light, original Victorian crown molding, or new upstairs carpeting.
Does your home have an oversized covered patio overlooking a spacious backyard? Highlight this feature first. No matter how modest the property, there must be at least one feature that separates it from the other listings in its price range.
Serious house hunters will know that HVAC systems and roofs can be significant expenses. If your property has an updated air conditioner or a new roof, include those details in your text later on in your description.
---
Be Detailed But Brief in Real Estate Ads
When it comes to real estate ads, you need to be specific — but also brief. Readers don't want to get bogged down by a lot of text. You'll likely have word-count restrictions with the listing service you use, as well. A good rule of thumb is to keep your listings under 200 words.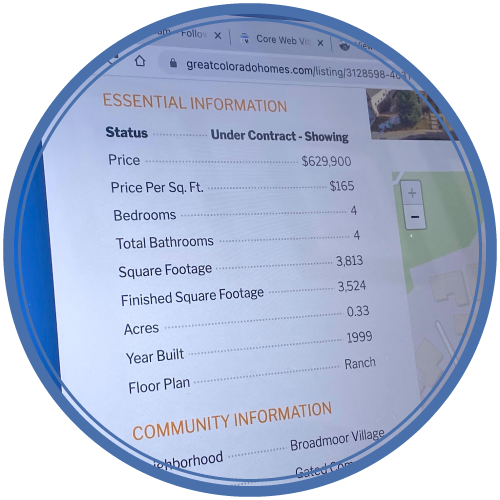 What should you pack into those words? You'll want to include essential information such as the address, square footage, and price. Also, list how many bathrooms and bedrooms are in the house and whether there is a garage. These are some of the primary points that buyers will want to know about right away when they're evaluating a real estate ad.
It's wise to include unique information such as updated kitchens, scenic views, mother-in-law suites, new windows, and proximity to major highways.
Mention the neighborhood, too. For parents seeking out the best school district, location is a huge factor. Similarly, for a young couple looking to live near active nightlife, an active part of town will be more appealing than a bland suburb. Use strong adjectives and namedrop any popular venues or attractions nearby to build interest.
---
Steer Clear of Negative Language
Even if your home needs updating or lacks a standout feature, don't mention the flaws in your ad. Whether you're writing about new construction or a 100-year-old house, content for real estate ads needs to be positive and persuasive. Homebuyers are emotional and tend to steer clear of any negativity in a property listing. There are ways to spin descriptions favorably.
A small kitchen can be rebranded as an efficient kitchen. Small bedrooms can be marketed as potential offices or playrooms. A small or non-existent yard means a future owner won't need to deal with lawn care.
If your home has new paint in a bedroom, that's a small but vital feature worth highlighting. If the house sits on a charming street, make sure the neighborhood is a significant ad feature. You don't want to exaggerate the truth when you're writing an ad. There are better ways to route the language towards more positive listing descriptions.
As you're writing your descriptions, check to make sure you're not bringing down the tone of your ad. Keep everything upbeat and always look for opportunities to make a compelling pitch. Be the cheerleader for your ad with uplifting text and style.
---
Include Promotions to Spark More Interest
Take your property descriptions to another level by considering adding a special promotion to your real estate copy. If you're concerned about selling the home quickly, a promotion could speed up the process. You'll want to include one toward the end of your ad.
Consider adding a home warranty that will cover the house for one year. This benefit can bring peace of mind to a buyer as they get settled into their new home. This promotion works well for older homes marketed in neighborhoods where young people are now buying.
Young homebuyers have less experience with home repairs. Offering a home warranty may help them gain interest.
Another option would be to pay for all or part of the homebuyers closing costs. When your buyer has many homes to choose from, this detail can help your listing emerge from the pack.
If you're flexible on the closing date, that could work in your favor, too. Some buyers might have a moving date in mind that is several weeks away. Other buyers might need to get into the house quickly. If you can accommodate either option as the seller, mention this in your ad.
---
Proofread and Proofread Again
Before you publish your ad, take the time to proofread. Even if you've spent plenty of time refining the language, you'll be better off looking at the text through a critical lens. An even better idea is to share the text with someone you trust for some honest feedback. When Realtors write creative real estate listing descriptions, they revise them numerous times before posting them live.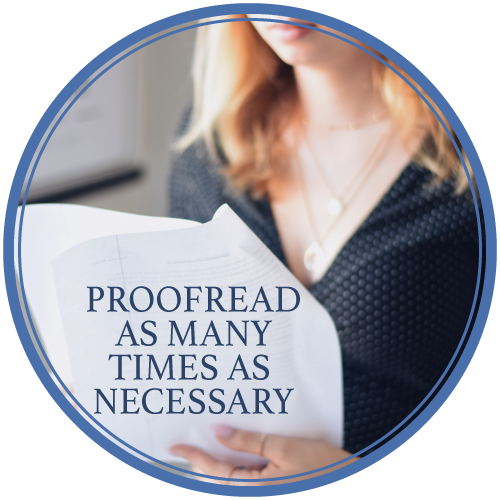 It's easy to miss issues related to punctuation or grammar, and a simple proofreading session from a trusted individual can provide the needed corrections. Your goal is to get the most out of a small amount of text and avoid confusing a reader.
If your property description appears thin, don't be afraid to look into resources for help. Sometimes consulting a checklist or the advice of another real estate agent can help you pull together the words that will strengthen your copy.
A real estate expert will be able to catch issues related to clarity — or offer suggestions to make the language cleaner. Every successful real estate business has a process for creating compelling property descriptions. They can be an excellent resource for anyone struggling with real estate advertisement copy.
---
Close with an Invitation to Reach Out
When it comes to knowing how to write real estate property descriptions, your ending is as important as your beginning. With your final few sentences, you need to captivate your reader with a final pitch. And this pitch needs to include a call to action.
When your reader finishes looking at your ad, you want them to know precisely how to move forward with the property. Where can they go to view more photos of it? How can they reach you to schedule a showing or ask questions?
Provide clear instructions as you finish your real estate ad, so the reader knows where to turn. Provide a phone number, email address, or another form of contact information on any real estate advertisements. If you have relevant social media links to show off more of the home, share those, as well.
If your home seems like a strong contender among comparable homes for sale, call it like it is. Tell readers that this is a hot home — and they need to act quickly. Your final call to action should convey a sense of urgency without being aggressive. The call-to-action is an essential part of the real estate advertising process.
---
Summary
Writing strong property descriptions is the key to generating interest in a home you're hoping to sell. Compelling real estate copy creates a clear picture of a home's best features and tempts the reader to find out more. With well-chosen words and an engaging style, you'll be able to stand out from the pack.
Here are a few more guides to help you through the process of selling your home.
How To Prepare Your Home for a Home Inspection
---
Hi! 👋 I'm Andrew Fortune, the founder of Great Colorado Homes and the creator of this website. I'm also a Realtor in Colorado Springs. Thank you for taking the time to read this blog post. I appreciate your time spent on this site and am always open to suggestions and ideas from our readers. You can connect with me on Facebook, Instagram, or contact me through this website. I'd love to hear from you.
---
Our Most Recent Blog Posts:
Check out these 22 home upgrades that have the best ROI.

Here are the most common items showing up on home inspection reports.

Find out which parts of Colorado Springs have appreciated the most.

The Mortgage Loan Process: A step-by-step guide through the entire process.

Learn about the pros & cons of buying a new construction home.
---