Navigation
The 22 Best Upgrades That Add The Most Value To Your Home
Posted by
Andrew Fortune
13,964 Views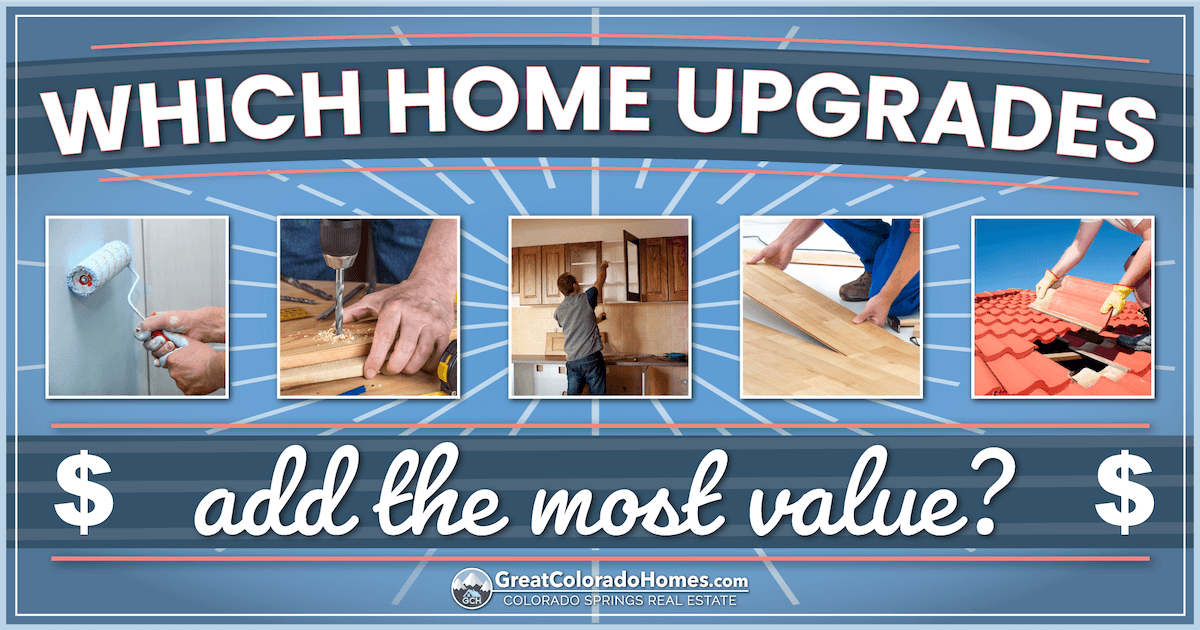 Which home upgrades add the most value and ROI when selling? We'll cover all of the current home-updating options to help you choose.
If you already know the projects that you want to do, you can use this home improvement calculator to get accurate estimates. If you need ideas and inspiration to find the best home improvement projects to add value to your home, this article is for you.
---
Table of Contents
(click any section)
---
Around 61% of homeowners are choosing to renovate their house instead of moving to a new home, due to the lack of housing inventory. Home improvement projects are very popular right now.
It's no wonder so many people are opting to do home upgrades rather than brave the complex real estate market. Almost half of all American homeowners are still living in the first home they bought. These homeowners are choosing to spend their resources on renovations and remodeling.
---
Is It Time To Renovate Your Home?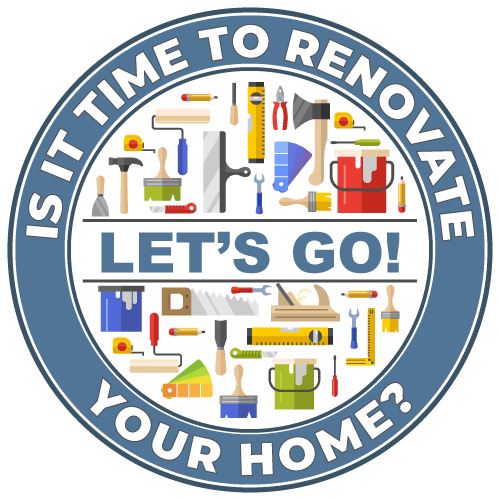 Are you wondering what home improvements add the most value? It's one of the most common real estate search terms on Google. In this post, we'll cover the many different ways to add the most value to your home.
Many homeowners now state that it's more affordable to renovate a property, versus buying a property that meets all their needs and wants. Remodeling projects can have a big impact on the livability and value of a home.
According to a survey from Houzz, people spend an average of $13,000 per year on home remodeling and renovation projects. That's far cheaper than the median home price increase, which rose by 13% since last year. Some home improvements can yield immediate savings through cutting costs on utility bills by replacing old windows, doors, and insulation.
If you plan to sell your home soon, it's likely that you could benefit from a remodel or a few basic upgrades. If you want to move but can't keep up with the crazy housing market as a home buyer, you may want to consider remodeling your current home and waiting a few years before buying again.
---
The 5 Best Upgrades to the Interior of Your Home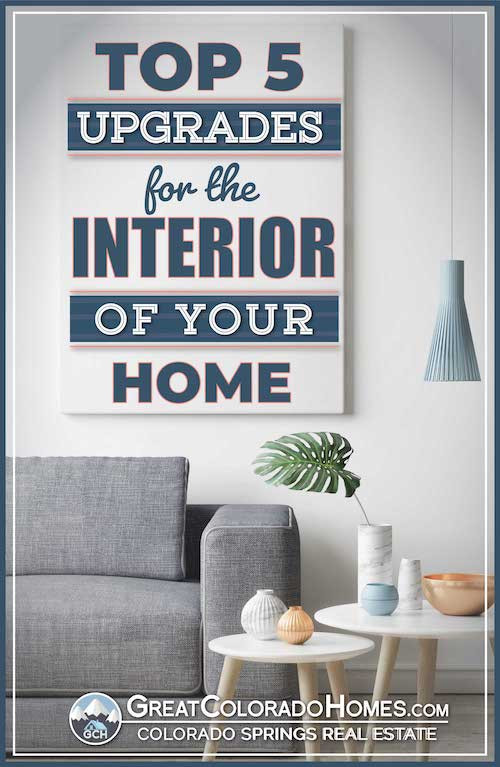 Most buyers are looking for homes that have a sleek, modern aesthetic with an open floor plan and plenty of natural light. Many older homes need some remodeling to help them meet these demands.
The key to doing any remodels is to try to keep costs down and avoid massive overhauls that have a bad rate of return. You'll want to focus more on functionality, rather than making the bathroom or kitchen overly luxurious.
Remember, the more you spend to renovate an area, the harder it becomes to earn back as much on your ROI.
---
1. Updating the Kitchen
The kitchen may be the most valuable home renovation you can do. Buyers often look at the kitchen first, before deciding to look at a home in person. Most buyers want a kitchen that's already updated so they don't have to worry about remodeling after moving in.

Small kitchen remodels can return 77.6% of the money that you spend, while a large remodel only returns 58.6%. Be strategic when you choose how much of your kitchen you want to replace.
There is a wide range of possibilities when it comes to remodeling a kitchen. Whether it's focusing on replacing the light fixtures and adding a fresh layer of paint, or installing granite countertops and new cabinets.
Remember, minor kitchen remodels will recoup more of their cost on average than a major renovation. Some of the most valuable updates you can make to your kitchen include adding a new stainless steel sink and faucet, replacing the flooring, and getting new appliances. If your cabinets are solid wood, you might consider refinishing them if your budget allows.
---
2. Get that Bathroom Upgraded
A bathroom remodel doesn't have to be extreme to add value to your home. You can update the flooring, fixtures, toilet, and lighting and earn back much of what you've spent and more.
Many master bedrooms have en suite bathrooms. This master bathroom has the highest rate of return in comparison with the other bathrooms. If your current master bathroom is not connected to the master bedroom, you may consider a remodel that will connect the two. This will add instant value to your home.
Replacing old light fixtures, countertops, cabinets, toilets, and flooring can also increase the appeal of your home. Bathrooms have the second-highest rate of return on investment, behind kitchens.
---
3. Refinish or Install Hardwood Floors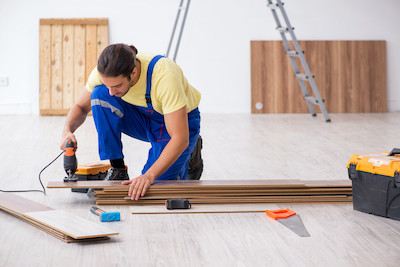 Hardwood floors are one of the most popular and desired types of flooring. Wood flooring has been popular for many years and continues to steadily add value to homes.
If you own pets and your carpets look a bit dingy, replacing them with hardwood flooring will be money well spent. Refinishing or installing hardwood floors usually recoups all of the costs and then some.
---
4. Replace Old Carpet
Old carpet is a big turnoff to home buyers as it stores dirt and shows stains. Replacing the carpet is one of the easiest ways to make your home look and smell new again.
Carpet is much less expensive than hardwood flooring. It is not as durable as wood, but it is much easier to replace. If you have places in your home where the carpet is more than 3 years old, we recommend replacing it to get the most value out of your home.
---
5. Paint the Walls in a Neutral Tone
Painting rooms is always an easy way to add value. Many homeowners can do the work themselves and the cost of paint is inexpensive in comparison with other upgrades.
Stick with lighter, more neutral palettes that will appeal to a wide range of buyers. This makes it easier for a buyer to bring their existing belongings into the home without anything clashing.
Painting helps make a room feel fresh and emphasizes natural light. If your walls are already painted in neutral colors, determine if the molding, trim, or windows need a fresh layer of paint.
---
The 3 Best Upgrades To Add Square Footage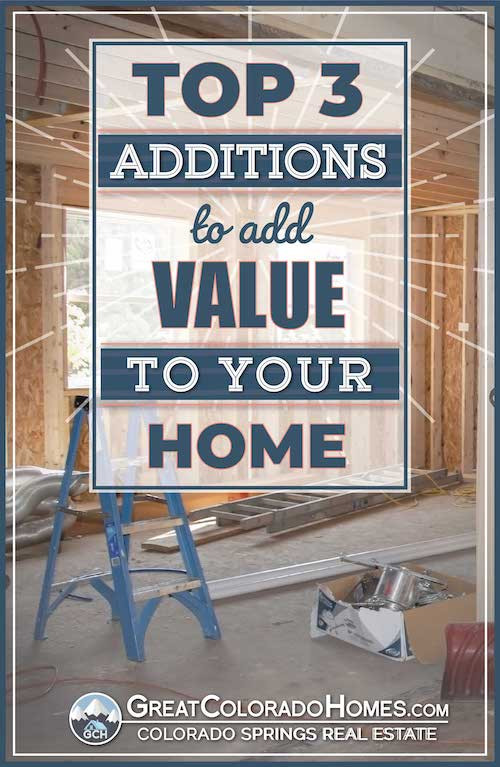 In 2020, about 44% of real estate agents shared that people cited a desire for more space as their reason for moving.
Homeowners have an increased need for ample space and extra square feet. This desire has only gone up in the wake of the coronavirus pandemic. There are more millennials taking care of aging parents these days. There are also more children over the age of 18 moving back in with their parents due to the rising cost of living.
With that in mind, here are some of the best home improvements for resale that help add extra space to your home:
---
1. Create An Open Floor Plan
Many older homes are built with closed floor plans that compartmentalize space. This style was popular many decades ago but is no longer a popular trend.
Removing unnecessary interior walls allows a home to feel bigger and more spacious overall. Load-bearing walls need extra support pillars, but most of the interior walls of a home can be moved around.
Open floor plans allow for more creativity in design and decoration. They also allow more natural light to come in. Buyers prefer designs that are spacious and open in areas like the kitchen, living room, and dining room.
Keep in mind that a home requires structural support. If you knock out the wrong wall, you could end up facing a cracked or sagging ceiling. Be sure to consult a contractor before you go wild with a sledgehammer. Removing walls requires an understanding of the structural integrity of your home.
It's hard to put a monetary value on this type of project because the results will always vary based on your home's layout. Overall, this is one of the most impactful projects you can do to add instant value to your home.
---
2. Finish the Basement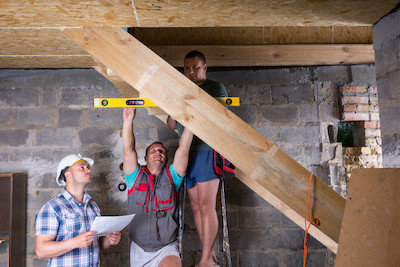 Finishing out a basement that is unfinished adds useful square footage that instantly increases the value of your home. You can expect a finished basement to fetch a 70% ROI on what you spent.
Remodeling your basement can transform that unused space into a new home theater, additional living room, an office, or extra bedrooms and bathrooms. These upgrades can push your home into a higher price bracket not attainable without that extra finished square footage.
There are several factors you'll want to consider before you dive into remodeling your basement. This type of project will often involve flooring and drywall, painting, adding light fixtures, and much more.
While deciding what to do with your basement, first consider the light sources down there. You'll want to allow natural light to enter into rooms whenever possible.
Basements are a natural source of mold growth due to lingering dampness. You'll also want to consider the best arrangement to allow airflow to keep moisture from building up in remote areas.
---
3. Extend Your Kitchen or Living Room
Adding a second story or a sunroom to a home is popular in remodeling magazines, but those are costly additions that don't yield a high rate of return. If you're going to extend an exterior wall or ceiling, it's important to know the best options to get the most value.
Increasing square footage on the kitchen or living room creates the highest and best use of your remodel budget. If you already have a kitchen remodel planned, consider going one step further and extending a wall or two.
The heart of the home is the living room, so extending the square footage in this area is never a bad idea. Large open living areas tend to be the most popular home designs in 2021. If you know that your home needs more room and you want to extend your living space, start with the living room.
---
The 8 Best Upgrades To Improving Curb Appeal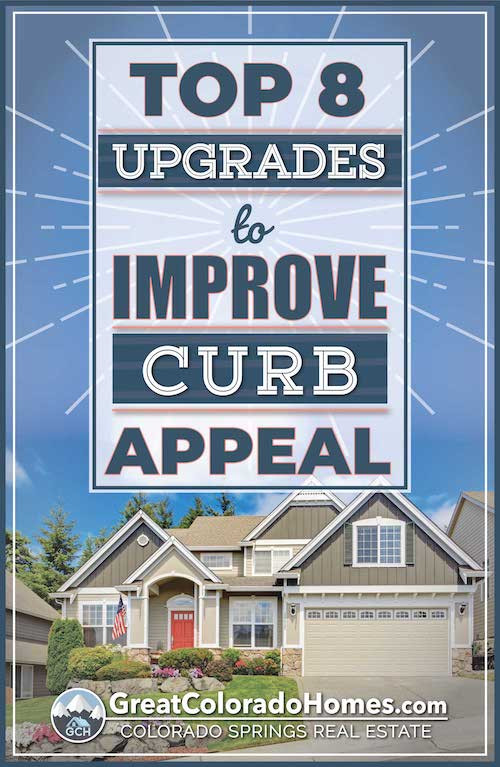 If you've spent any time reading about homeownership and renovations, you've likely come across the term "curb appeal". Curb appeal is the visual representation of your home while looking at it from the street.
Curb appeal has one of the highest rates of return because it is the first impression of your home. It sets the tone before seeing the inside of the home.
Here are several different ways you can improve your home's curb appeal:
---
1. Landscape the Front Yard
The most common way to improve curb appeal is landscaping. Over 94% of real estate agents believe curb appeal boosts your home's value and ability to sell fast, and that includes landscaping. Great landscaping suggests to home buyers that your property is well-maintained throughout.
Part of landscaping a property includes keeping the lawn mowed short, pruning shrubs and trees, applying mulch, and planting perennials and annuals. However, take care to not go too far and cut back too much of your vegetation.
Some homeowners won't be interested in having to spend too much time outside maintaining the landscaping. If you plant a garden that requires weekly attention, this could be a major turn-off to certain buyers.
Focus on easy-to-maintain perennials and shrubs. In dry climates where water is not as plentiful, zero-scaping might be your best option. Choose plants that are low-maintenance and will grow back each year without much work. Make sure to get the right pants for your geographic location.
Another key factor to take into consideration for your landscaping is year-long interest. It's best to add plants that offer color throughout the various seasons. If you focus on plants that only flourish during spring and summer, but then look like dead twigs throughout fall and winter, you'll be left with a barren appearance in those seasons.
---
2. Garage Door Replacement
Replacing your garage door with a more updated model can recoup the majority of the cost. This is especially true of homes with older elevations. A modern garage door can make a house look decades newer right away.

According to this new study, a garage door can yield the highest return possible.
When shopping for a garage door replacement, you'll want to focus on durable materials. This will include materials like aluminum, steel, and wood composites. If the garage is attached to the home, then you may also want the door to have insulation and an energy-saving glaze.
It may be wise to consult a designer to help you choose the right door. Bold options can be distracting while plain options may not get the maximum amount of impact. A good designer will know how to match the lines of your home with a unique garage door that makes it stand out and add curb appeal to your home.
---
3. Stone Veneer On Exterior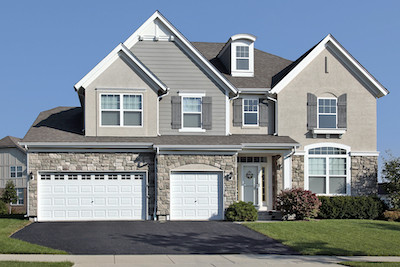 Adding stone veneer to the outside walls of your home can earn an excellent ROI. Homes with stone tend to have a luxurious exterior that suggests a higher value than basic stucco or siding.

in the same study referenced above, adding stone veneer had the second-highest rate of return at 92.1%.
A high-quality stone veneer will imitate real stone while costing less money to install. This stone is man-made and shaped with molds, making it very easy to work with. This is a great way to improve the look of an outdated home.
You don't have to add stone to your entire house to get a good cost to value ratio. Adding stone to a small area is more than enough to recoup a hefty return on your investment. You can just install the stone on beams supporting the front porch. You can also add stone to the lower portion of your vinyl siding, rather than a whole wall.
By taking on this project, you'll be able to update an old exterior and bring it to life in a way that very few upgrades can offer.
---
4. Steel Front Door
Replacing the front door has always been one of the best upgrades to increase value with minimal financial costs. The front door is the first item that you touch when entering a home. It conveys emotion in a way that not many parts of the home can compete with.
It's wise to choose a bright color that is eye-catching in contrast to the rest of the exterior. Red is one of the most popular colors for front doors on new homes.
Steel doors are in high demand as they offer strong benefits when it comes to energy efficiency and security. If you're in a cooler climate, they are perfect for blocking out the cold temperatures.
---
5. Add a Porch or Deck
A wooden deck or patio addition is an excellent way to boost curb appeal. Many memories are made outside on the front porch, so it tends to boost the emotional appeal of a home.
Building a deck or porch requires a contractor who knows how to avoid wood rot and build to city code. Composite decking is preferred in most cases because it does not rot and does not require painting or staining.
If you plan on adding a concrete patio, consider using stamped concrete. This is a method of adding decorative finishes to the contract to simulate the look of tile or stone. Stamped concrete is a newer method of finishing that creates an impressive look that is popular with home buyers today.
---
6. Update Old Windows or Add New Ones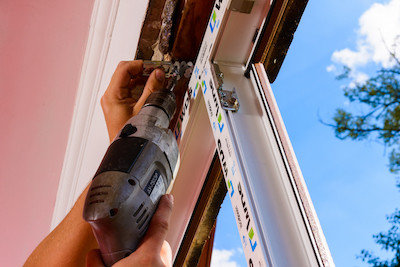 If the windows look old or are deteriorating, you may want to replace them. This can be especially true in homes that are next to high-traffic areas. New windows will keep the outside noise down to a minimum. This can change the entire feeling of your home.
For those on a budget, there are vinyl window replacements that can offer great energy efficiency. Sometimes people choose new windows that clash with their siding. This can cause your remodel to backfire and turn off prospective buyers. Consult with a window specialist for the best results.
Older homes tend to have smaller windows, so you may benefit from adding larger windows to your home to let more light in. This will cost more money but will have a large impact on the brightness of your interior, which will increase the value of your home.
---
7. Refresh the Exterior Paint
Contrary to popular belief, you don't have to repaint your entire home to help it look new again.
If you're operating on a tight budget, you can focus on the areas where there's more flaking or chipping of paint. Pressure wash the exterior in these areas before painting them. This step will help l remove old dirt and mold.
Once you've cleaned the exterior and scraped away the old paint, choose a shade that matches your current color and then touch up all of the rough areas. Another option is to add a coat of paint to the front door and trim. This alone can help update the look and feel of your home with minimal effort.
---
8. Plant a Tree
If you've finished your landscaping and still find that your front yard is empty and gets too much sun, consider planting a tree. If you plan to continue to live in your home for several years before selling, this is an excellent long-term investment.
Shade trees take time to mature, but once they do, they can help cut cooling costs by 35%.
Shade trees are also good for the environment. Trees help to provide habitats for the native wildlife. You'll be able to appreciate the beautiful chirps of songbirds while boosting your curb appeal.
---
Does a new pool increase the resale value of a home?
Adding a new underground pool to your property can also add lots of great memories. It's important to note that pools are viewed differently by homebuyers in certain regions of the United States.
When someone adds a pool to their home in Florida, Texas, or anywhere that does not have snow in the Winter, you can expect to get 50% to 90% of your money back. If you build a pool in Colorado or Wyoming, you're probably going got have a hard time finding a buyer for your home.
Pools in these areas only get used 3 to 4 months out of the year and the maintenance costs are much higher due to fewer companies available to service them. It's wise to talk to a local Realtor in your area to determine whether a pool is a good investment for your home.
---
The 3 Best Upgrades That Address Maintenance Concerns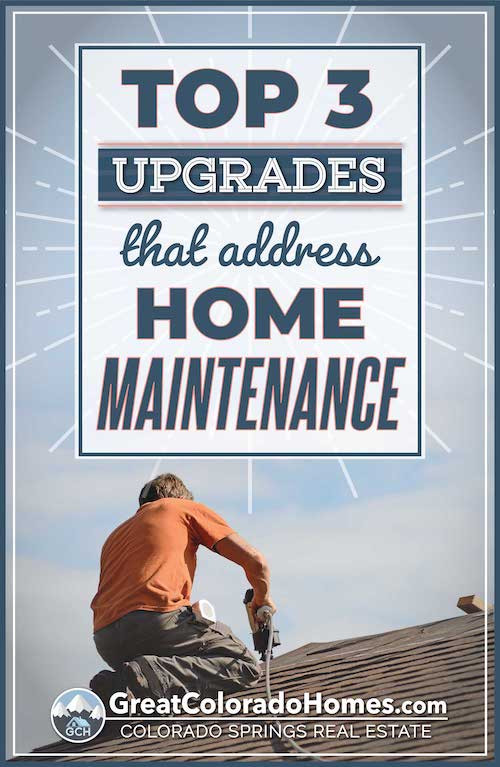 If you're living in a home that's over 15 years old, there are likely areas that might be in need of maintenance work. Don't think any small detail will be overlooked by a potential buyer. Buyers perform a home inspection before purchasing and this will likely uncover most issues.
While buyers are shopping for a new home, the last thing they want to worry about is whether they'll need to replace the roof soon or have to rebuild a rotting deck. These are big-ticket items that can be costly and may be a deal-breaker.
Making certain repairs around the home now can help you increase your asking price in the future.
---
1. Replace the Old Roof
While having the roof redone on your home isn't exciting, it's a necessary maintenance task. This is especially true in areas that experience intense hails storms. Old roofs pose the risk of allowing water to seep through and cause expensive structural damage.
How do you know if your roof is at the end of its life expectancy and needs to be replaced? Most roofing companies will inspect your roof for free. Some roofers may try to take advantage of you, so we recommend having at least 3 roofers give their opinions so that you can compare feedback.
If you replace your roof, you can expect to recoup about 107% of the cost when you sell. Buyers are going to prefer a home with a new roof over one with a roof that's over 15 years old.
You may also want to consider solar panels for your roof. These are in increasing demand for new homeowners in newer developments. Metal roofs go well with solar panels and will offer a lot of energy savings and longevity.
---
2. Add New Attic Insulation
Another home renovation that isn't readily seen is to add attic insulation. This can offer you immediate cost savings in the form of your monthly energy bill dropping. It may not be something that buyers notice right away, but you will notice the money you save on energy costs. This is a cost-effective way to save money and reduce wear and tear on your HVAC system.
---
3. Bring in a New HVAC System
One of the first things that buyers ask about is the HVAC system. They'll want to know how old the system is so they can gauge if they'll have problems with it after moving in. Nothing is more frustrating than moving into a new home and then having the HVAC system die during that first summer or winter.
Home inspectors are trained to inspect the furnace and air conditioning units for damage. It's common for them to note that the HVAC system needs cleaning and servicing. We recommend having your system cleaned and serviced before putting your home on the market.
Some parts of the country do not require air conditioning. As the temperature rises every few years, these older homes become harder to live in during the summer months. This is especially true of homes high up in the mountains.
If your home was built without air conditioning decades ago, we recommend adding a ductless air conditioning system to your home. These systems are affordable and will take care of this concern, allowing you to sell your home easier when the time is right.
---
The 3 Top Upgrades that Embrace Efficiency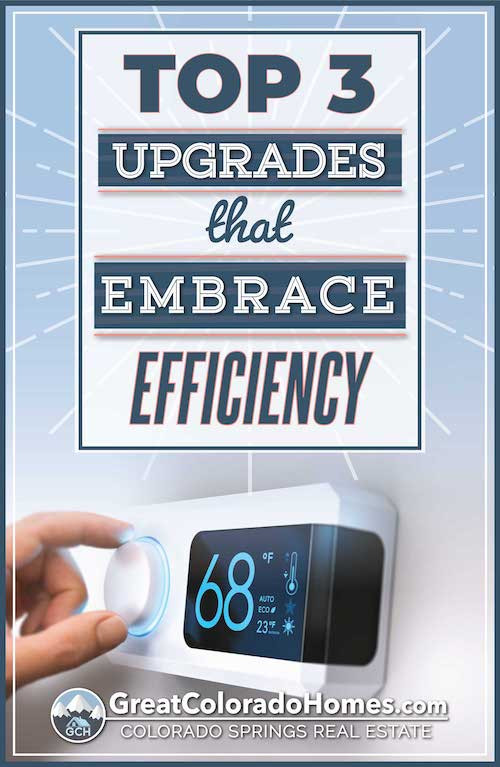 Green homes are growing in popularity among new homeowners. Being able to save energy while creating less non-biodegradable waste is important.
People want a home that comes with smart features to automate simple tasks. As we march further into a more advanced digital age, prospective buyers want ways to connect their phones to their homes and monitor systems. They want automation that decreases wasted energy and increases efficiency.
---
1. Smart Home Technology
Smart enhancements and security technology are growing in popularity for newer homes. More and more people are craving home automation, where they can monitor security camera feeds on their phones while they're away.
Other popular smart upgrades include thermostats, lighting, and wireless security cameras. All of these upgrades can be managed with an app on a smartphone.
Smart upgrades focus on increasing a home's comfort as well as its energy efficiency. Millennials are focusing the most on smart technology and have a preference toward homes with these features already built-in.
---
2. Energy-Efficient Windows
Windows are the number one source of air loss for HVAC systems. These days, the majority of home buyers are looking for Energy-Star rated windows. These types of windows come with triple-pane glass that is insulated to form a strong barrier against heat and air loss.
If you have old double-hung windows in your home, consider replacing them with vinyl windows that are insulated. These will stop heat flow and also reduce outside noise in your home. They will make your entire home feel more comfortable and updated.
---
3. Energy-Efficient Appliances
If you're considering offering appliances with your home, then be sure to target appliances that have the Energy Star symbol. Many homeowners are looking for homes that are ready-made to move in and start living life from the get-go. Many first-time homeowners often do not have essential appliances like refrigerators or ovens.
Appliances with the Energy Star symbol are more energy-efficient and don't sacrifice their performance level. These are desirable as essential home features and can help recover your costs when selling your property.
---
Final Thoughts
As homes improve technology, efficiency, and innovation improve our homes every decade, it's challenging to keep a home up-to-date. The homeowners who strive to keep up experience the most enjoyment out of their homes.
This article covered most of the options available to add the most value to your home. It's wise to continue gathering information from local contractors, realtors, and homebuilders before performing any major renovations.
Since most regions in the US have different demands for housing options, we recommend studying a cost vs value report for your areas. It will give you the best options for your home's value. You can also check out the National Association of Realtors Remodel Report as a resource.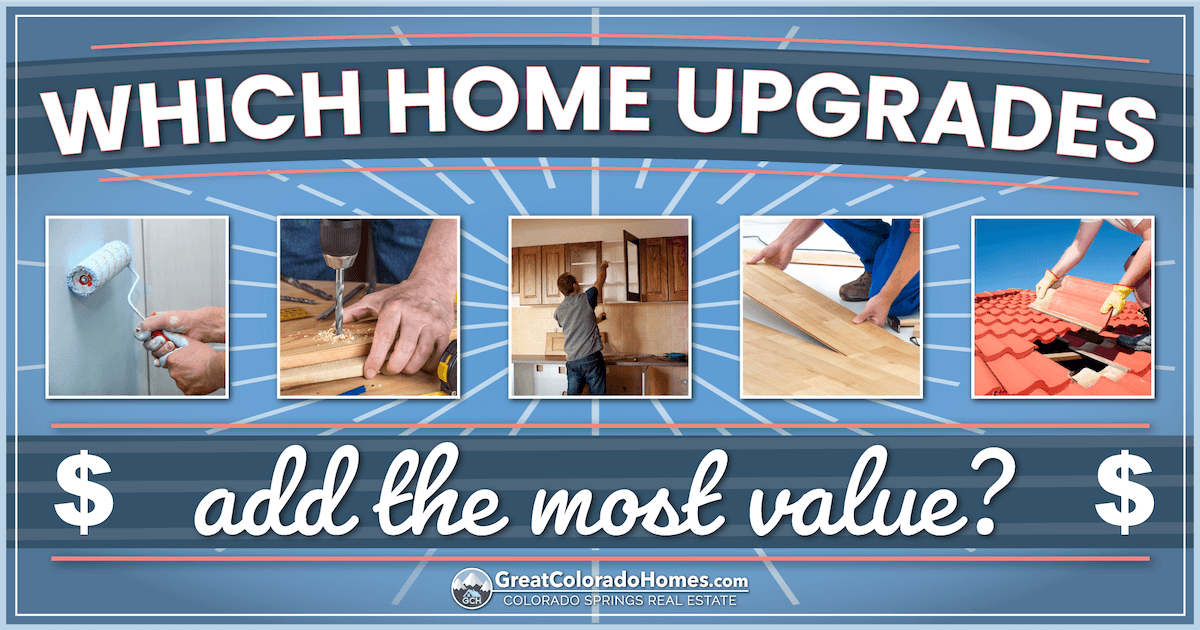 ---
Hi! 👋 I'm Andrew Fortune, the founder of Great Colorado Homes and the creator of this website. I'm also a Realtor in Colorado Springs. Thank you for taking the time to read this blog post. I appreciate your time spent on this site and am always open to suggestions and ideas from our readers. You can connect with me on Facebook, Instagram, or contact me through this website. I'd love to hear from you.
---
Our Most Recent Blog Posts:
---