Navigation
10 Things You'll Love About Living in Colorado Springs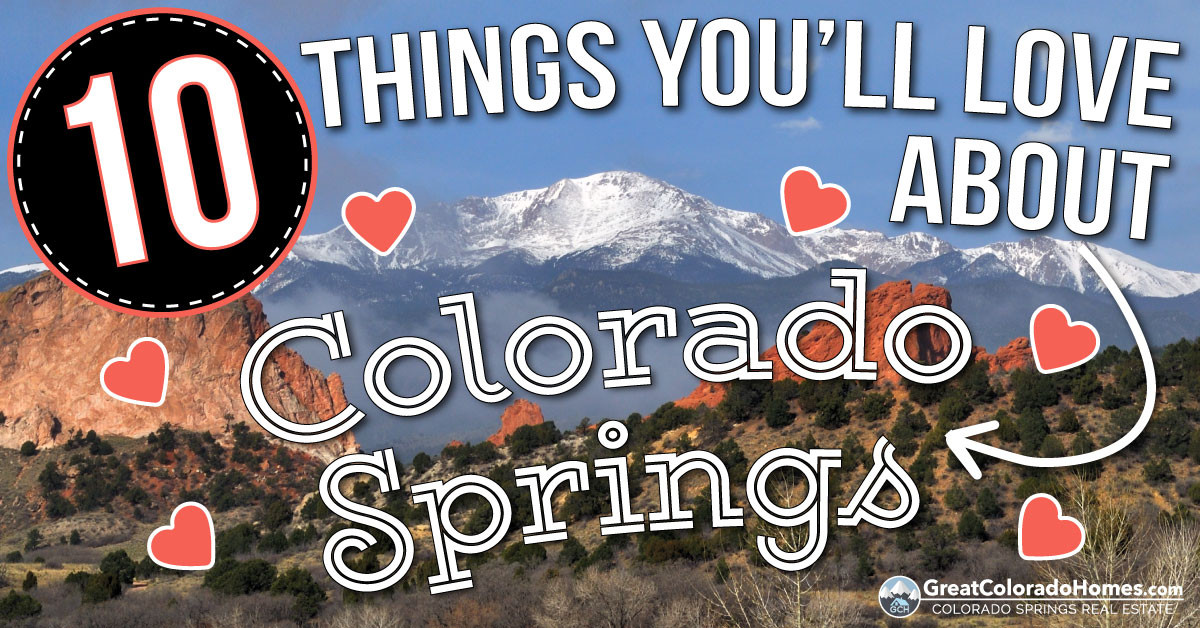 I love living in Colorado Springs, Colorado. It's is one of the greatest cities on Earth. Seriously, it's amazing. I moved my family and my small business to Colorado Springs in 2014 and have never looked back. My quality of life has been improved dramatically.
US News and World Report recently ranked Colorado Springs as the #1 most desirable place to live in the US. To people who live in Colorado Springs, we know how special it is. We have watched it grow very fast over the years. It's a special place that holds the heart of many people.
If you're considering moving to Colorado Springs, chances are high that your quality of life will be better here. We've created this article and infographic to help explain some of the reasons why many people love living in Colorado Springs, Colorado. It's an easy city to fall in love with.

THE GREAT OUTDOORS
Colorado Springs has some of the best outdoor activities in the country. Outside Magazine named it one of the Top 10 Best Big Cities for Active Families. They also named it America's Best City Overall.
There are parks and trails scattered throughout every part of Colorado Springs. Many of the trails are connected, so you can hike or ride to your heart's content, through what seems like an endless amount of trails.
There are also excellent camping spots in the mountains, just minutes from downtown Colorado Springs. Tourists travel here every year to experience camping in the Rocky Mountain. There really is nothing like it.
---
LOCAL EVENTS
The size of Colorado Springs makes the local events big enough to remember, but small enough to enjoy. The Air Force Academy graduation ceremony is one of the highlights of the year, with the Thunderbirds air show visible from miles around.
Colorado Springs has many large events as well.The Broadmoor World Arena and the Pikes Peak Center for the Performing Arts are two of the main concert venues in the area, with performances by legends like Jerry Seinfield, Rod Stewart, and many more.
There are also MANY local farmer's markets, festivals, parades, and gatherings throughout the year spread out all over Colorado Springs. In the summer months, there are so many events on the weekends that it's impossible to keep up with them all.
---
HEALTHY LIVING
It's common for people living in Colorado Springs to naturally lose weight when they move to here because the elevation causes your body to work harder. We also have a very dry climate, which requires people to drink more water. I personally lost 60 lbs when I moved here from Houston, TX.
The stunning beauty of the area, mixed with a supreme climate, encourages people to get out of their homes more often and experience nature. Hiking, biking, walking, and climbing are part of the experience of living in Colorado Springs.
To top it off, Colorado Springs offers many healthy dining options throughout town that make eating healthy exciting & effortless. It's simply a part of the culture of this city. Colorado Springs was named the 2nd Fittest City in America by Men's Fitness Magazine.
---
COMMUNITY
At first glance, Colorado Springs may seem like a large growing city that has moved on from the good ole days of local small-town community. That couldn't be farther from the truth. Colorado Springs is a city that encourages local community. With weekly local farmer's markets, and a full week devoted specifically to small businesses, the sense of community here is very strong.
Since the emergence of Facebook Groups, many people are able to move here and easily connect with like-minded people. From hiking with dogs, to homeschool groups, to cooking groups, there is never of a shortage of people to meet and share life with.
---
AFFORDABILITY
According to the US Census Bureau, the median house value between 2014-2018 in Colorado Springs was estimated to be $248,700. The median house value for the whole State of Colorado during that same time period was $313,060. That means real estate in Colorado Springs cost roughly 21% less than the average for the State.
Many out-of-town home buyers relocating to Colorado Springs are surprised to find out how reasonably priced our homes are here. Our property taxes and homeowners insurance are also much less than Texas, California, and New York. With all of these things considered, living in Colorado Springs is very affordable in comparison with other popular cities in the U.S.
If you would like to view the types of homes currently available in each price range, simply click on one of the links below to view them.
Popular Colorado Springs Real Estate Searches
---
SUSTAINABLE ECONOMY
When a large percentage of a city's economy is based on one or two corporations, the financial health of the city is only as strong as those companies. Businesses with less than 500 employees make up 92% of the local economy in Colorado Springs. This means that our economy is not supported by one or two large businesses, which helps strengthen our economic sustainability.
The support for small businesses in Colorado Springs is very strong. There is one week out of the year where all of the local residents are encouraged to only shop small businesses for the whole week. It's a mindset that the city has adopted and supported for many years. The U.S. Military has a very strong presence in the city as well, which also helps boost our economy every year.
---
4 FULL SEASONS
This is a topic that comes up often in conversations with people who have recently relocated here. People living in Colorado Springs can take this fact for granted because we're used to it. Our 4 seasons are all very distinct. Summer, Winter, Spring, and Fall all have their unique traits and predictability.
Our tourist season never really stops because each season offers unique & exciting opportunities. The Fall brings spectacular golden mountains covered in changing Aspen trees. Winter offers world-class skiing. The Spring and Summer mean camping and hiking that is second to none. With each season comes new experiences that make living in Colorado Springs is amazing.
The Dry air here means the low temps aren't as cold and the high temps aren't as hot. Even milder temps in a more humid area. We enjoy mild climate year-round, with an occasional blizzard or hail storm sprinkled in to keep it interesting.
Here's a breakdown of the temperature averages: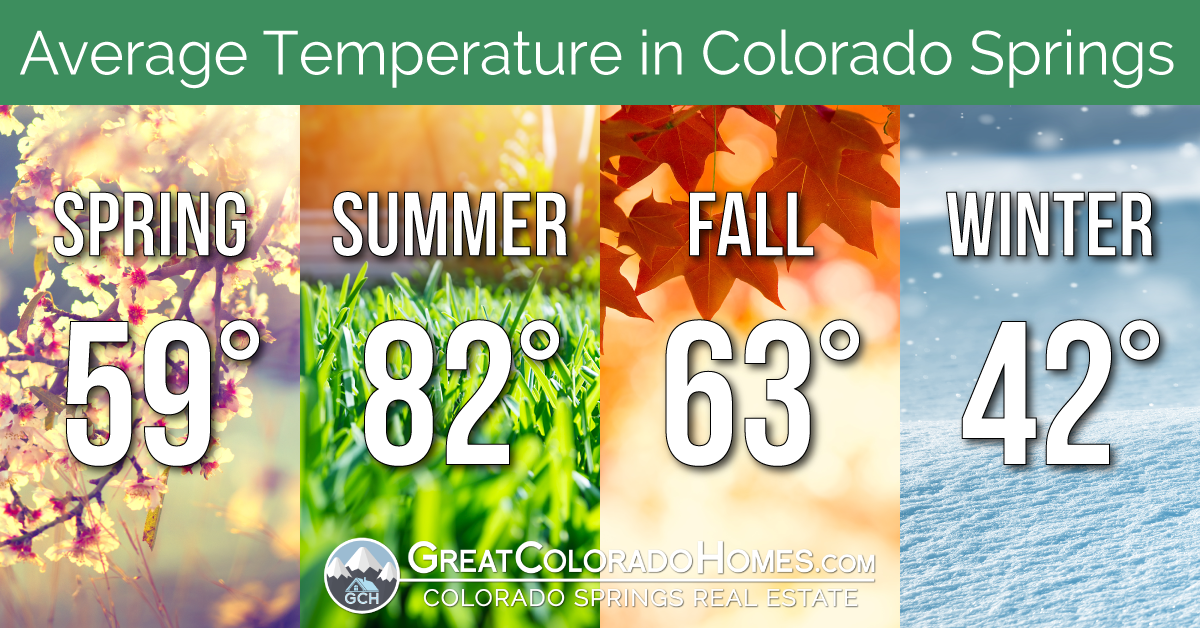 ---
AIR QUALITY
Colorado Springs was voted the 5th best air quality in the nation in this SafeWise report. Our elevation and dry climate provide a much better air quality than other parts of the country. Check out this picture on Realtor.com showing the visual difference between Los Angeles and Colorado Springs.
It's common for people from other cities to notice the air quality difference right away. The air in Colorado Springs is dry and mild with very little smog. This is great for people with health problems who need fresh clean air. It's also great for athletes and Olympic trainers, of whom many train right here in Colorado Springs.
---
SMALL TOWN CHARM
One of the greatest things about Colorado Springs is that it is big enough to offer all of the amenities of a large city, but small enough to make you feel like it's a small town. Most city downtown areas are only used for business, but Colorado Springs downtown is equally a tourist spot, super charming and full of great shops, bars, and restaurants.
Within a few miles of Downtown, you'll find Old Colorado City and Manitou Springs. These areas have some of the most enchanting streets to walk on and are idyllic for locals and tourists alike. In the Summer months, these areas are typically crowded, because tourists enjoy revisiting them every year.
The Broadmoor area is more of an upscale historic part of town that has an intrigue like no other. Be sure to check out the Broadmoor Hotel and the Cheyenne Mountain Zoo on that side of town. They are both stunning must-see attractions.
---
HISTORIC LANDMARKS
For a town of nearly 500,000 people, Colorado Springs has it's share of Landmarks, both National and Local. The most notorious National Landmark is Pikes Peak, whose beauty inspired the poem "America the Beautiful" and was therefore nicknamed "America's mountain". When the Gold Rush took place in the early 1900's, travelers would use Pike's Peak as a beacon to guide them to the area. Standing at 14,114', this monster of a mountain is always within visual range. It's the most prominent feature of Colorado Springs and is admired by travelers from all over.
Garden of the Gods, also located in Colorado Springs, is considered to be one of the most photographed tourist destinations in America. It is a vast park with stunning red rock formations, unlike any other public landmark. The park is free to the public, with paved walkways around the main formations, and 15 miles of more rugged trails for hiking or horseback riding.
Seven Falls, The Cliff Dwellings, Cave of the Winds, and the Royal Gorge are a few other incredible, unique places that are sure to impress. There are also endless hiking and biking trails to lesser-known areas in the mountains that locals enjoy, which are equally as impressive as the more famous Landmarks, in their own ways.
Living in Colorado Springs is a wonderful experience. My whole quality of life has been dramatically improved since my family and I moved here. Take the time to visit and understand the city before moving here. It will cause you to fall in love with Colorado Springs!
---
Hi! I'm Andrew Fortune, the founder of Great Colorado Homes and the creator of much of the content on this website. Thanks for taking the time to read this article. Please feel free to share this article with someone who might benefit from it. I appreciate your time here on this site and am always open to suggestions and ideas from our readers. Feel free to leave a comment in the box below.
---
Our Most Recent Blog Posts:
❤️ Here are 5 things that you'll need to buy a house in 2020!
---