Navigation
15 Pros & Cons of Buying a New Construction Home
Posted by
Andrew Fortune
25,924 Views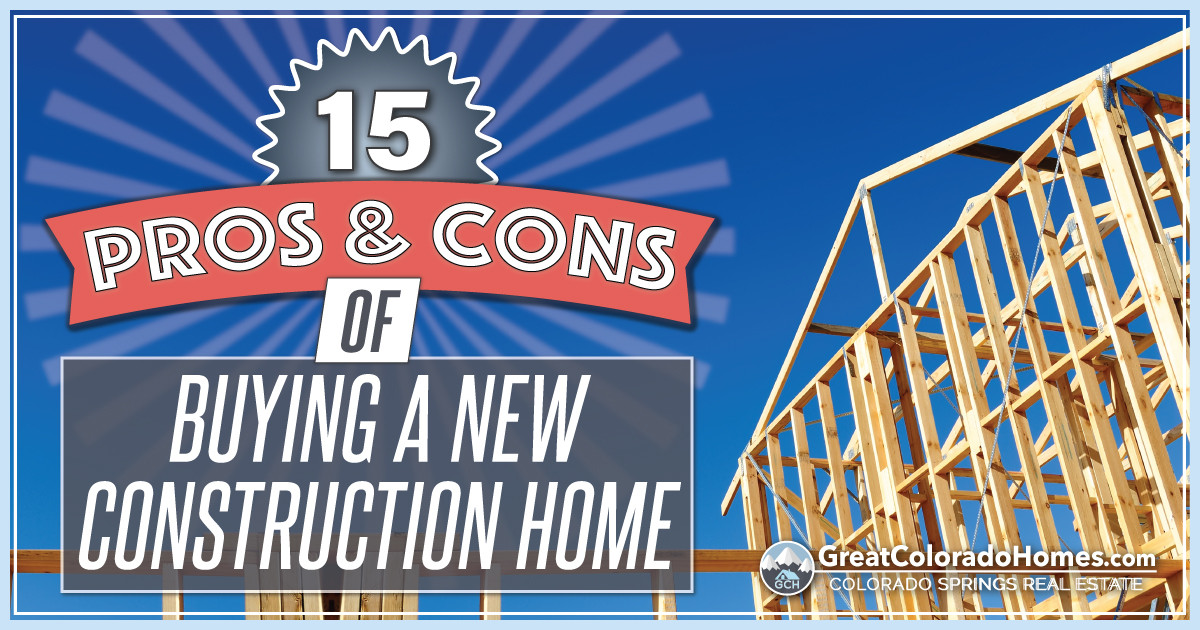 Due to their numerous advantages, there is a high demand for newly built houses. These homes provide an opportunity to create a personalized living area by allowing flexibility in choosing floor plans, construction materials, and custom-made cabinetry.
This article will also discuss all the cons of buying a newly built home below. Before purchasing new construction, consider these potential drawbacks and advantages.
The home-buying process is lengthy but can be made easier with proper knowledge. If you plan to build a new construction home, here's what you need to know about the pros and cons.
Table of Contents
(click any section)
---
The PROS of New Construction Homes 👍
---
Personalize & Customize With New Construction Home Buying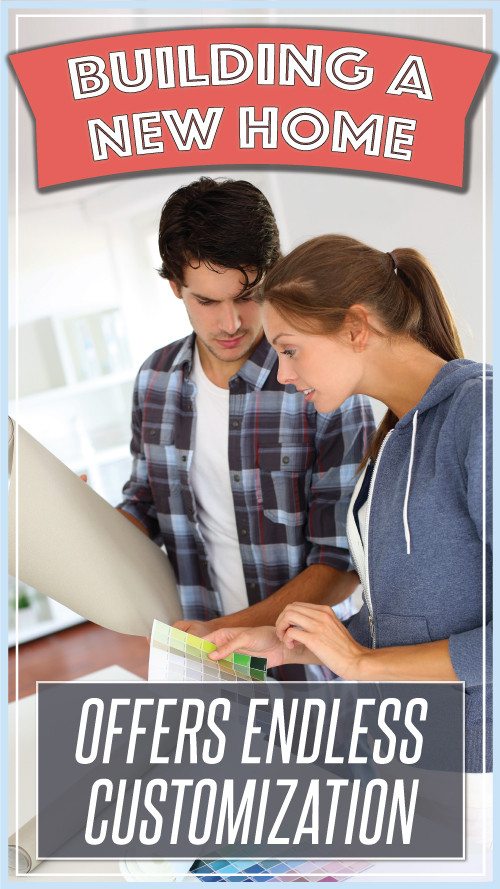 Building a new home offers endless customization. Customizing your new home is one of the most exciting parts of building new construction. A custom, tailor-made home provides a unique opportunity for builders to showcase their creative talent and craftsmanship. It also allows you to express yourself with finishes that reflect your tastes, preferences, and personalities.
Existing homes rarely allow you to change the house's layout. You can remodel and change the old fixtures and finishings at best. Buying a customized new home may be very appealing if personalizing your next home is at the top of your wish list.
A New Construction Home Is Extra Clean
Want clean living for you and your family? Newly constructed homes offer the most sanitary solution possible for buyers. Knowing that no one has ever lived in your home is excellent. New houses provide all the latest materials and sealants, making it impossible to find a cleaner option.
There are some drawbacks to the new materials, which we'll mention in the cons below. Overall, living in a brand new house that no one has ever lived in will eliminate any nasty surprises you might find when buying an existing older home. Buying new construction is the cleanest option.
No Need For Updating With New Home Construction
Architecturally speaking, a new custom home is like a blank canvas just waiting to be created as the buyer sees fit. When you purchase your custom masterpiece, there's no need for updating because the products used are taken from current design trends.
When purchasing an existing resale house, the previous owners could have chosen design choices, such as colors or flooring patterns, decades before the home sale. Many times, this leaves the new homeowner with the desire to update certain features.
When building a new-contruction home with everything you want from scratch, there are many design choices that you get to make on your own.
New Home Construction is Energy Efficiency
The new energy-efficient houses constructed today can make everyday living much more manageable. Rising utility costs will be a concern in 2024. The efficiency benefit from new construction causes utility costs to be lower than average. This benefit causes buyers to worry less about monthly electricity and gas bills.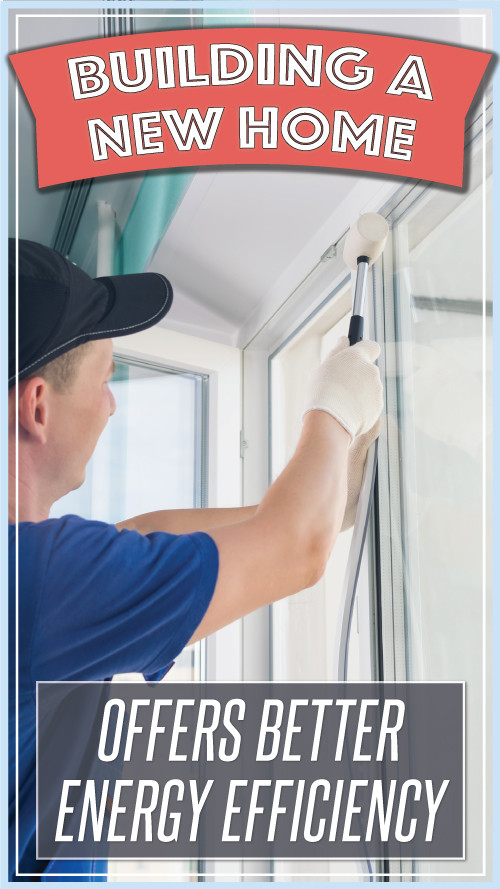 New construction homes offer better energy efficiency. These new construction houses are energy-efficient for many reasons, such as vinyl windows, new door trim and seals, and better insulation between walls to keep out drafts. These products can reduce the need to heat and cool your home significantly. The savings help to offset the higher cost of a new home in the long run.
New Homes Have Less Maintenance
New construction homes can have less maintenance than buying an existing home. You won't have to worry about your roof aging and leaking when it rains, and you'll have no fear of the air conditioner breaking in the middle of summer.
When things break down, they are typically covered by the builder's warranty, which we'll discuss next. You can enjoy all the perks of living in a brand-new home without maintenance headaches.
Many older homes have outdated light fixtures, flooring, and appliances. This is one of the main reasons that home buyers enjoy new homes. When everything is fresh and clean, life seems easier with less stress.
Even though new construction homes have brand new everything, we recommend getting a third-party home inspection anyway. Most people will only get a home inspection on pre-existing homes. After the cost of building, who wants to pay for a home inspection?
Since a home inspection only costs around $350 to $500, it makes no sense to skip it. It can save you ten times that amount if anything is found to be defective. It's well worth buying a home inspection on any home you consider.
New Construction Comes With Home Builder Warranties
New construction home buying typically offers warranties you could never get on a new home. You can buy a home warranty later, but that only covers a few items. Your homeowner's insurance will cover significant events, but a builder's warranty goes beyond that.
Many home builder warranties cover anything that happens to the home within two years of the date of purchase. Since the contractors are already working on new homes in the neighborhood, they can be repaired immediately.
I've lived in a new construction home and was very impressed when I needed them to fix something. It was much more manageable than dealing with a home warranty or filing a homeowners insurance claim.
Not all home builders are equal, and their warranties can vary dramatically. Check reviews on the builder you're considering by looking at their profile on the Better Business Bureau (BBB) website and ask around the community for additional feedback.
Home Builder Financing Incentives Make It Easier To Buy
Many home builders offer unique in-house financing that rivals most 3rd party mortgage lenders. For example, they may use their in-house funding to contribute $5,000 off your closing costs. Since they are already making money off your home purchase, they have the extra margin to offer financing incentives that an outside source can't provide.
Homebuilders can offer in-house financing and buy down your interest rate, which is very helpful when rates are high. New home builders use this advantage to sell homes to new home buyers in a challenging real estate market with high mortgage rates. A high credit score will help you qualify for the best financing options.
With all that said, it is wise to shop around to ensure your mortgage offer is the best. Builder incentives change as the market switches from a seller to a buyer's market. Mortgage markets are competitive, and there are always new ways to package loans with the best incentives.
The CONS of New Construction Homes 👍
---
Buying New Construction Is More Expensive Than A Built Home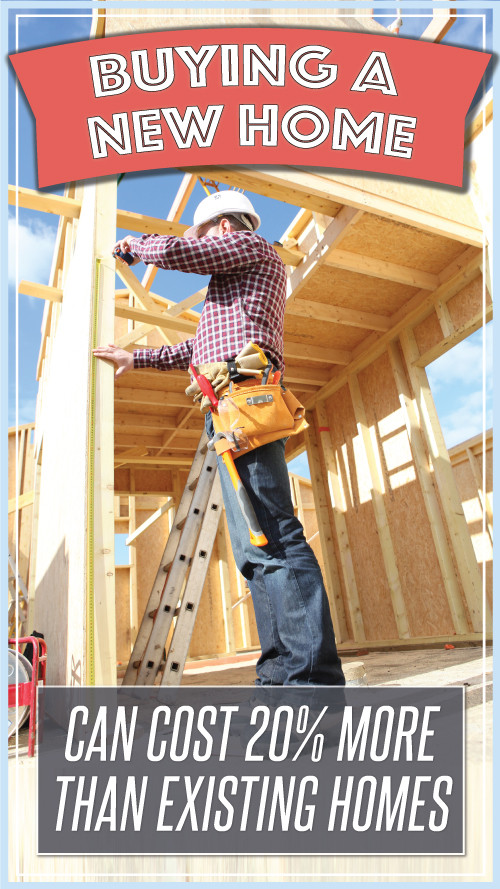 Buying a new construction home can cost 20 percent more than an existing home. On average, new construction costs around 20% more than buying an existing home. This number changes based on the area and price range of the house. Many people accept higher prices because of all the pros mentioned above. You will have to determine whether a 20% increase in price is worth it to you based on your needs.
It's common for rookie homebuyers to walk through the builder's model homes and want their new home to have all the upgrades. In reality, the model home will be much more expensive than the traditional properties in the community. Homebuyers pay more for square footage when they build a new house.
When you visit the builder's office, prepare yourself for the surprise of high prices on model homes. It is advisable to enlist the assistance of a real estate agent to guide you and manage your expectations, mainly when dealing with custom-built homes. They have the expertise to help you cut costs and save money.
New Build Homes Have Less Mature Landscaping
When developers create new neighborhoods, they typically tear down all of the vegetation in the area. They do this because it's the most costly way for them to break ground and get started.
When a new home is built, you may have to pay extra for new landscaping. This expense can be costly as the average landscaping project for a home is around $3,000 to $16,000. These additional costs come out-of-pocket in most cases.
Older neighborhoods tend to have much larger trees and shrubs, as the vegetation has had decades to mature over time. Some homebuyers prefer to buy in established communities for this reason.
You Have Limited Options When You Buy New
The home builders' display rooms provide extensive product choices featuring top-quality materials. However, if you desire a product type not included in their showroom selection, it is unlikely to be accessible.
New home builders like to stick with their most commonly used products and materials. This decision decreases the chance of defects and time spent learning new product installation methods. Don't hesitate to ask the builder for more information about their preferred products.
With typical home buying of an existing home, you can hire a contractor to install any purchased products from third-party vendors. There is no limit to the number of custom items you can add to an existing home within the range of local building codes.
Additional Expenses & Construction Loans
When buying an existing home, you can buy it for the set price without any other expenses. Buying a new construction home means more costs than just the purchase price. Construction loans have a different process than the typical mortgage on an existing property.
Some states require a certificate of occupancy that can regulate electrical wiring codes, structural specifications, and energy efficiency requirements. The extra steps usually mean additional costs in the end.
Calculating the overall cost of a newly built dwelling is difficult until its completion. This lack of certainty presents a budgeting obstacle due to the potential inclusion of miscellaneous expenses that builders add before finalizing the property's purchase.
Brand New Homes Have Off-gassing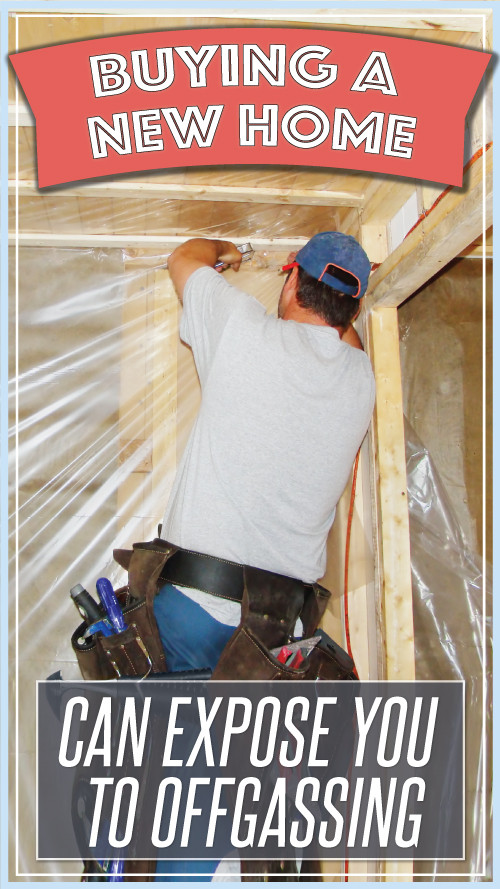 Purchasing a newly built residence can subject you to toxic fumes. The pleasant aroma of a new house that many individuals adore might harm your well-being. Formaldehyde, a frequently emitted chemical from the new wood in homes, is typically employed to preserve deceased bodies. This substance is highly detrimental to your health.
It's not just carpets and curtains that are the culprits of your allergies. It's also the chemicals in the new house you're considering buying. With over 10,000 potential chemicals off-gassing in a new home, it can take up to 10 years for these chemicals to vent fully. If you're sensitive to chemicals, research before committing to home-building.
Volatile organic compounds (VOCs) are the culprit in new home construction. You can search for the term online to learn more about it. The National Association of Home Builders has some helpful information on this topic.
Buying New Construction Can Have A Longer Timeline
Many people find buying an existing home is the best option because of the unpredictable home-building timeline. With a new house, you must wait 3-12 months before moving in. This issue can be a challenge for people who are in temporary housing. It's also hard for couples who may have already sold their family home and have no permanent residence.
If you buy an existing home, you can move right into your new place within 30 to 45 days of signing the sales contract! This ease of purchase makes the new build process less appealing if you need to buy a house immediately.
New Construction Neighborhoods Have Higher Taxes
New construction neighborhoods often have higher taxes than older ones because they need more established infrastructure. Many new developments must take out loans from the city to install roads, electrical grids, and infrastructure required to maintain the new neighborhood. This loan for these utilities is paid yearly from the community's taxes.
Many homebuyers are often surprised by the high cost of property taxes in new construction communities. A recent study conducted by WalletHub found that, nationally, the average homeowner spends $2,690 per year on property taxes. New construction property taxes can be twice that amount. Adding high property taxes to your monthly mortgage payments may be enough to disqualify you from getting a construction loan.
New Home Communities Can Have Strict HOAs
Homeowners Associations (HOAs) are becoming more popular every year. If an existing homeowners association wants to add a new rule, they must vote on it. Since it's much easier to create HOA rules upfront than add them later, new construction neighborhoods tend to require the most strict HOAs.
When new developments are created, they design all homes and lots to maintain uniformity. These new neighborhoods typically have smaller plots of land with more regulations than older communities. When a homeowner does something extreme to their property, it negatively affects the immediate neighbor's property values. This scenario causes new HOAs to be rigorous right from their conception.
---
Conclusion
Home buying is complicated. Buying a home is one of the most significant investments you will ever make, and it's essential to do it right. When purchasing a new construction home, you can shape your vision for your dream home.
You can choose from many floor plans that professional architects and interior designers have labored over. You also get to build exactly what you want into your house: custom cabinets or countertops, hardwood floors in every room, or even an extra bedroom if there isn't enough space for your growing family.
As you process the list of pros and cons above, you should know whether building a new home is a good option for you. Take your time and consult with a real estate agent to get the best results. A Reatlor's experience and guidance will help you through the buying process and eliminate confusion as you build your new home.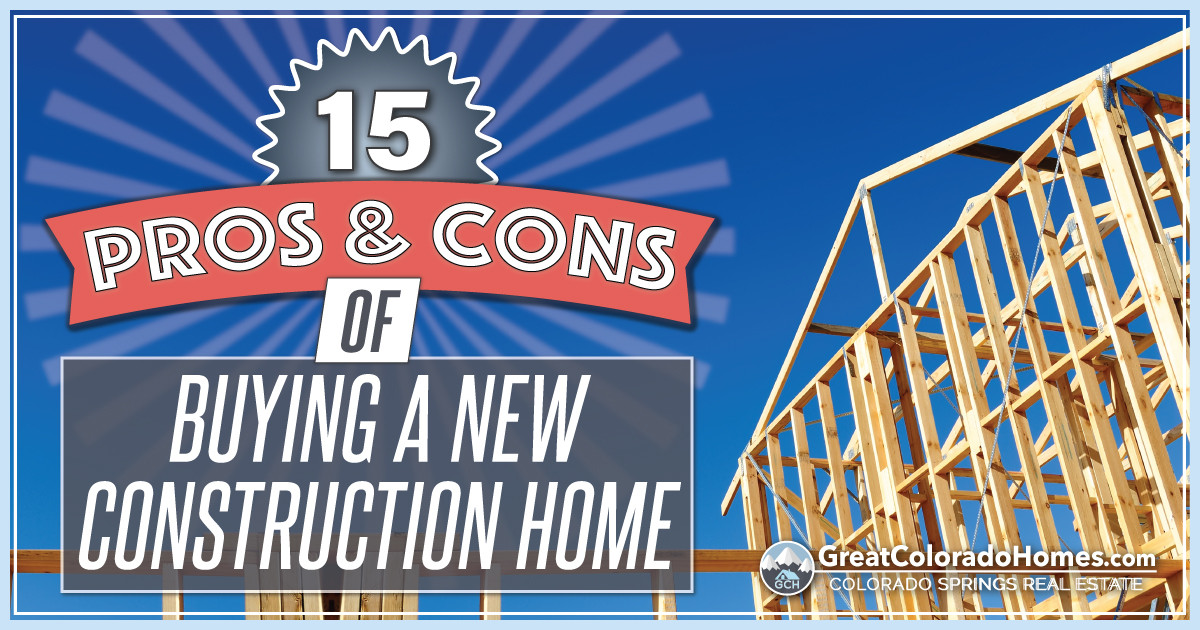 Hi! I'm Andrew Fortune, the founder of Great Colorado Homes and the creator of this website. I'm also a Realtor in Colorado Springs. Thank you for taking the time to read this blog post. I appreciate your time spent on this site and am always open to suggestions and ideas from our readers. You can all my contact info here. I'd love to hear from you.
---
Our Most Recent Blog Posts:
---