Navigation
The 5 Most Popular Neighborhoods in Colorado Springs
Posted by
Andrew Fortune
4,132 Views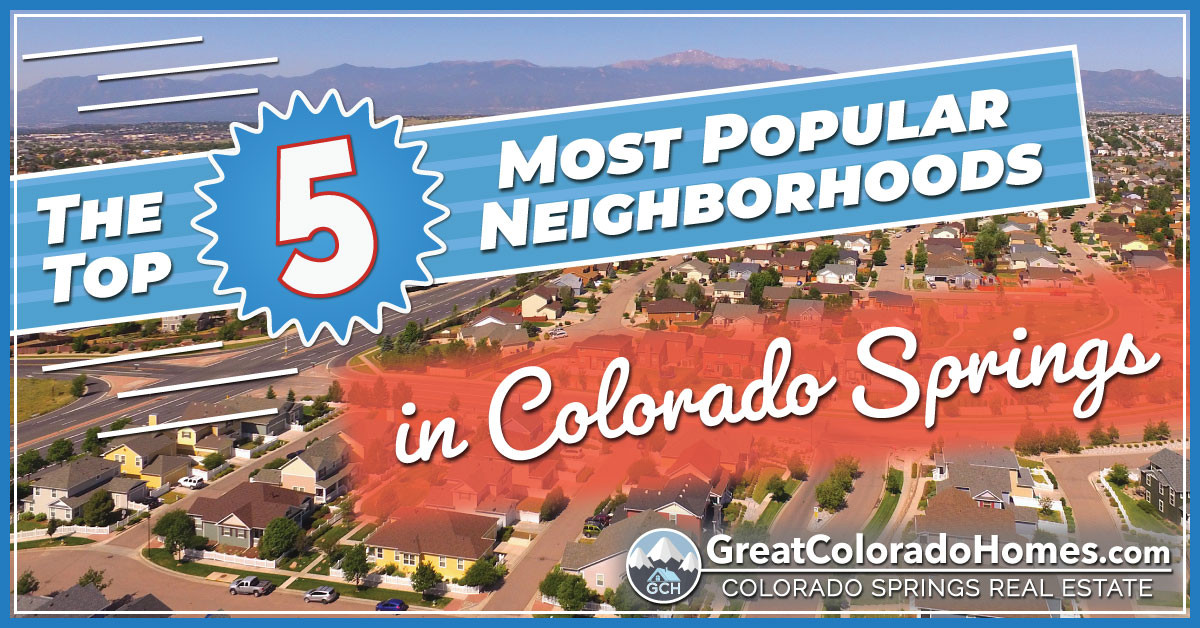 Colorado Springs is one of the most popular places to live in the United States. It's located where the Great Plains meet the Rocky Mountains, making it one of the most geographically diverse cities in the country. With this kind of unique geography, Colorado Springs offers a collection of diverse neighborhoods with distinct characteristics to explore.
In this post, we will cover some of the most popular neighborhoods in Colorado Springs. Rather than making this an opinion piece, we have researched our local MLS to determine which areas sold the most homes last year. We organized our results below. These neighborhoods are heavily trafficked and constantly growing in size. They continue to develop and flourish each year, becoming staples of our local community.
If you're considering living in Colorado Springs, you'll want to know about these neighborhoods, whether you live in them or not. Chances are high that you'll eventually meet someone from one of these neighborhoods. This is because they house a large portion of the population here in Colorado Springs, and they all have their own unique characteristics and amenities.
Here Are The 5 Most Popular Neighborhoods in Colorado Springs
---
LORSON RANCH
⭕️ Homes sold in past 12 months: 408 homes
⭕️ Average home size: 2,663 sq. ft.
⭕️ Median sales price: $452,000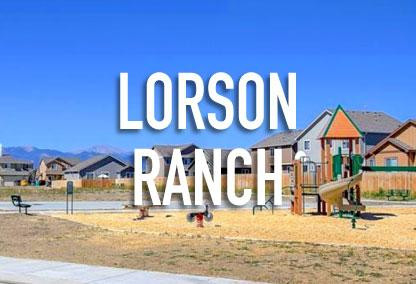 Lorson Ranch has experienced immense activity over the last few years. New construction took off in 2019, making it the neighborhood with the most sold homes. The development of this community has been impressive to watch over the last few years, with new schools and parks continuing to develop.
Lorson Ranch's location makes it very popular with the military community in Colorado Springs. This is one of the reasons it has grown so fast. In addition, the new preschool through 8th grade Grand Mountain School campus opened up in 2019. It has added another considerable boost of growth to this great neighborhood. To see a video of the area, click the link below.
---
MERIDIAN RANCH
⭕️ Homes sold in past 12 months: 318 homes
⭕️ Average home size: 3,245 sq. ft.
⭕️ Median sales price: $550,000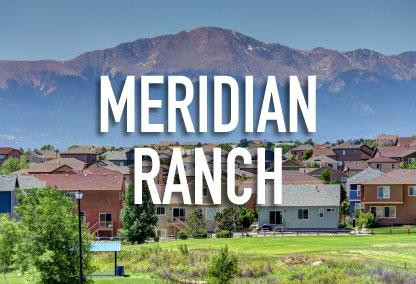 Meridian Ranch has been growing in popularity for several years now. It's located on the Northeast edge of town in the Falcon area. Meridian Ranch has some of the best amenities of any neighborhood in the city. The excellent amenities and affordable home prices have caused the Falcon area to explode with recent growth.
Meridian Ranch is built around the Antler Creek Golf Course, one of the most heavily trafficked courses on the front range mountains of Colorado. As Meridian Ranch grows, more commercial businesses are planting roots there. These new developments have further accelerated the growth of this community and the entire Falcon area at large.
---
WOLF RANCH
⭕️ Homes sold in past 12 months: 316 homes
⭕️ Average home size: 3,507 sq. ft.
⭕️ Median sales price: $630,240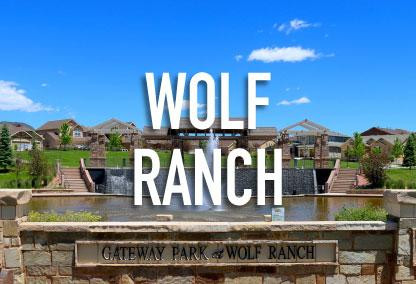 Wolf Ranch is a thriving community. Every year it continues to grow while maintaining the desirable aspects of its initial development. The parks, trails, and community centers attract many new homeowners to the neighborhood and its convenient location.
Multiple builders in the Wolf Ranch community take pride in making it less "cookie-cutter" and more unique than some of the other more prominent neighborhoods in Colorado Springs. The original designs help Wolf Ranch maintain its popularity year after year and its great amenities like Gateway Park and the recently added pool. As the neighborhood expands, more parks and community centers will be added yearly.
---
STETSON HILLS
⭕️ Homes sold in past 12 months: 315 homes
⭕️ Average home size: 2,312 sq. ft.
⭕️ Median sales price: $455,000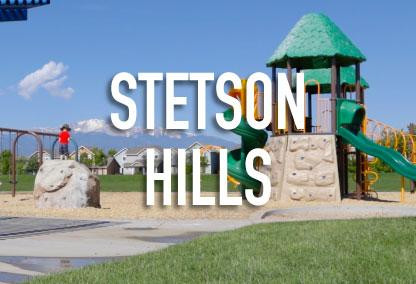 For this article, we are considering Ridgeview at Stetson Hills and Stetson Hills as one entire neighborhood. To anyone unfamiliar with this area, you would be unable to tell where one community zone begins and the other ends.
Before Lorson Ranch became the #1 spot for popularity, Stetson Hills was #1 in homes sold for many years. This neighborhood is conveniently located in the Powers Corridor, with quick access to shopping and restaurants. Stetson Hills also has some of the best parks in the city (see our video). These are two main reasons this community grew so big in such a short amount of time. Also, the home prices are affordable and offer more than most communities in the area.
---
BANNING LEWIS RANCH
⭕️ Homes sold in past 12 months: 303 homes
⭕️ Average home size: 2,872 sq. ft.
⭕️ Median sales price: $510,000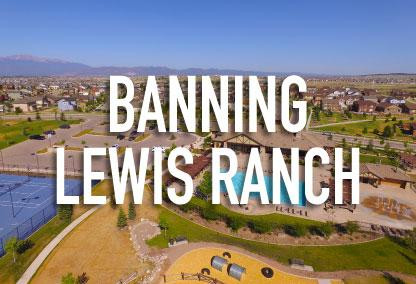 Banning Lewis Ranch has a unique vibe unlike any other neighborhood in Colorado Springs. It was inspired by Irvine Ranch in California, with fantastic architecture and thoughtful street layouts. Their award-winning community center and attractive amenities have brought about growth in this community at breakneck speeds.
Banning Lewis Ranch is one of the most talked-about neighborhoods in the city, as it tends to raise the bar on design options. However, its location, parks, trails, amenities, and home styles are reasons it is one of the most popular neighborhoods in Colorado Springs every year.
---
The most popular neighborhoods in Colorado Springs account for most of the homes sold within our city. These neighborhoods represent the heart and soul of our community, as they are home to so many Colorado Springs residents. If you have questions about these neighborhoods, please get in touch with us anytime. We would love to hear from you!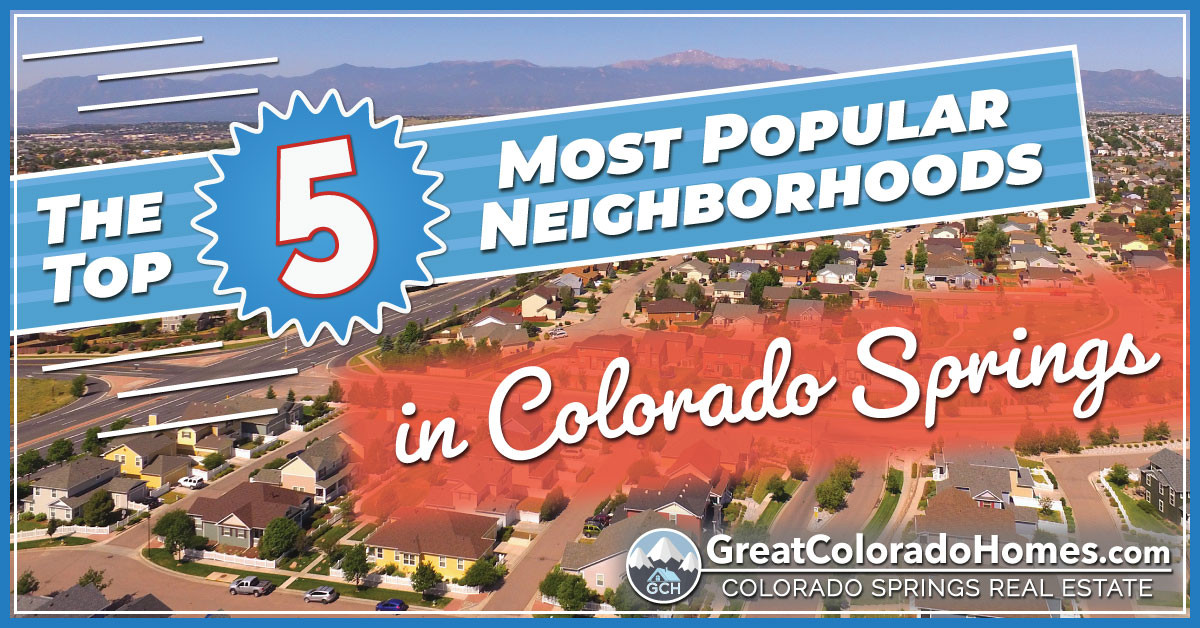 Hi! I'm Andrew Fortune, the founder of Great Colorado Homes and the creator of this website. I'm also a Realtor in Colorado Springs. Thank you for taking the time to read this blog post. I appreciate your time spent on this site and am always open to suggestions and ideas from our readers. You can all my contact info here. I'd love to hear from you.
---
Our Most Recent Blog Posts:
---