Navigation
The Ultimate Home Deep Cleaning Checklist & Guide
Posted by
Andrew Fortune
8,673 Views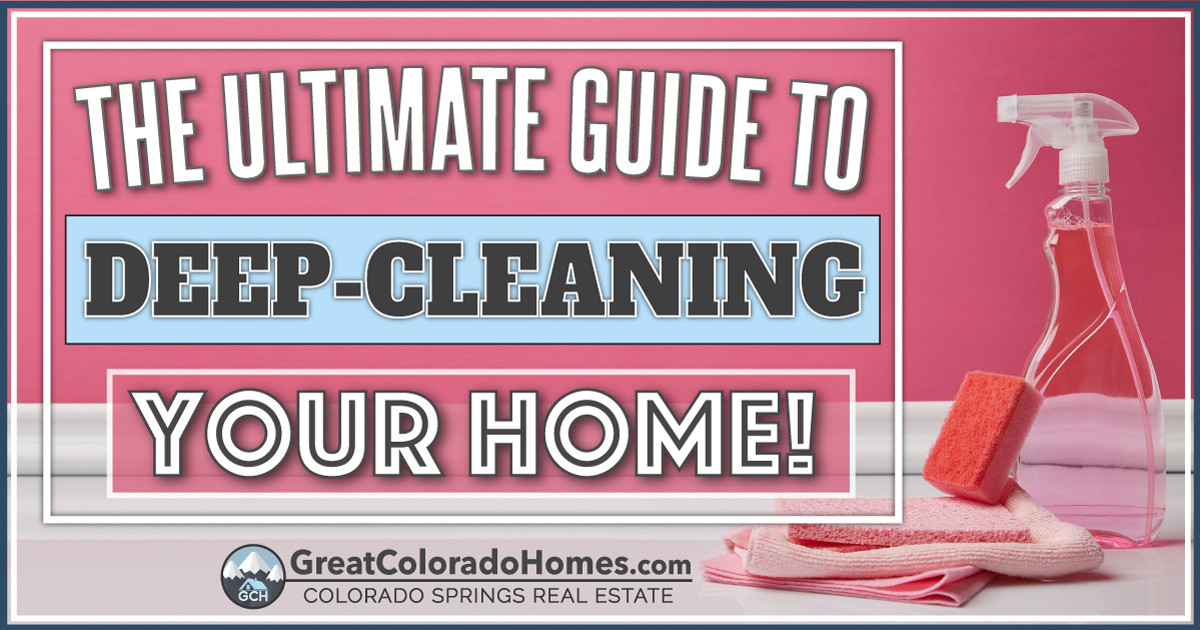 Americans spend over six hours cleaning their homes every week. Yet, many still wonder if their homes will ever be clean enough. Cleaning seems like an arduous responsibility that takes time and effort.
It can feel overwhelming if you don't know where to begin, especially with so many different methods out there. So, where do you start? How often are you expected to keep up with it?
Read this guide on deep home cleaning with this spring cleaning checklist.
Table of Contents
(click any section)
---
---
How Often Should You Deep Clean Your Home?
There are many different ways you can schedule and integrate deep cleaning into your home cleaning regimen. People often decide to do it in the spring. Nicknamed "spring cleaning," spring represents new beginnings, so it's perfect for getting rid of junk built up around the house.
However, you don't have to wait until the season rolls around to get started. Deep cleaning can happen at any time.
Even if your schedule is more hectic than the average person, you can still implement a deep cleaning schedule by focusing on one room per month or 1 to 2 tasks a week while considering the size of the house and the amount of work.
For example, if you have 10-12 rooms in your home, that means your deep cleaning list will take a full 12 months on the monthly schedule.
Nevertheless, getting your home in order is all that matters.
---
Before You Get Started
Before you jump in, make sure that you've set yourself up for success. Start by identifying what you want to achieve and how much time and energy you have for your goals.
Here are some ways you can prep to streamline your deep cleaning routine.
If You Schedule It, Then Do It
As stated, you choose a cleaning schedule based on your daily responsibilities of work, life, and family. But when the time comes to complete cleaning tasks, ensure yourself that you'll do them right then and there. This commitment will prevent procrastination, which can accelerate finishing the list.
Be realistic with the time you allow yourself to clean, and remember, you don't have to do it all in one day.
Care of Children and Pets
The biggest distractions with any home task are child and pet care. Make sure you're distraction-free by enlisting the help of grandparents and sitters to keep the kids busy and out of the designated areas you intend on cleaning.
If an additional caretaker isn't an option, you can keep your kids busy by including them in the fun. Small children can handle small tasks like picking up toys, and you can even get creative and make it fun by turning it into a game with prizes they could win.
How to Work Each Room
Jumping into a room and cleaning can quickly get overwhelming without any plan to tackle the mess. So instead, you should have a general outline of action that'll work for any space.
For example, you can clean each room starting left to right, back to front, and top to bottom for maximum efficiency.
Prepare Your House in Advance
Decluttering while deep cleaning can drag out the process longer than necessary. Instead, declutter your home before conducting your deep clean dive. Get rid of apparent trash throughout the home by carrying trash bags room to room, leaving no drawer or cupboard unturned.
In the rubble, you may find salvageable items. If you don't feel comfortable tossing them out, consider giving them a new home by giving them to loved ones, hosting a garage sale, donating to local shelters and organizations, or repurposing them to become reusable for later.
Once that's taken care of, finish up by taking a basket and filling it with misplaced items found throughout the home. Then go around putting them back where they rightfully belong.
Pace Yourself
Within your plan, it's easy to forget that you're not a cleaning machine. Don't forget to plan breaks to eat, drink water, and rest. This step will prevent burnout and keep you energized throughout the process.
You don't have to do this alone. You can also prevent overexertion by enlisting help from family and friends. For example, you can give everyone a zone and cut the cleaning time in half.
---
A Checklist of Things You'll Need for Deep Cleaning
Now that you've prepped and planned your home for cleaning, you'll need to ensure you have everything you need to perform each cleaning task. Here's everything you'll need to get the job done.
Tools and Equipment
? Rubber gloves
? Your choice of all-purpose cleaner and disinfectant spray
? Glass cleaner
? Baking soda
? White vinegar
? Dish soap
? Sponges
? Scrub brush
? Plastic bucket
? Broom
? Dustpan
? Vacuum
? Mop and bucket or steamer
? Ladder
? Microfiber cloths
? Furniture polish
? Water hose
---
Appliances You'll Use
? Washing machine
? Dryer machine
? Lawnmower
? Leaf blower
? Dishwasher
? Power washer (recommended but not required)
? Stain remover/Furniture vacuum cleaner
Don't worry if some items on this list are not directly accessible. For example, if you don't have a dishwasher, washing by hand is perfectly fine, and most cleaners have replacements that are easy enough to make at home with a couple of natural ingredients. Lemons, for example, are great for scrubbing tough microwave scum.
Most big brand department stores offer home cleaning equipment rentals that are cheap, plus you can return them when you're done and not have to worry about your closet filling up with cleaners and vacuums.
---
Internal Home Cleaning Checklist
This internal home checklist covers multiple aspects of each room to ensure the best possible thorough cleaning. Feel free to disregard or customize the steps to fit your needs if any steps don't apply.
---
Entryway
? Wipe the internal side of the front door
? Wash walls and pictures by wiping with a damp cloth
? Dust entryway furniture
? Clean rug/welcome mat
? Organize shoes
? Dry floor cleaning with a vacuum or broom
? Wet cleaning of the floors and baseboards
Entryway Cleaning Tips To Try
Did you know that washing your walls helps you breathe better? This issue happens because dust and allergens stick to the walls and stay there for years without proper care.
You can solve this by wetting a microfiber cloth and wiping the walls in downward motions. No towels? A barely damp mop works just as well.
---
Living Room
? Wash throw blankets and pillows
? Wash window curtains
? Vacuum upholstered furniture, couches, and chairs (lift cushions)
? Dust tables and entertainment centers/flat surfaces
? Dust decor pieces (pictures, art, etc.)
? Polish wood furniture
? Wipe down artificial plants
? Wipe down screens (TV, computers, etc.)
? Wipe keyboards and remote controls
? Empty and wash trash bins
? Dry floor cleaning with a vacuum or broom (carpet included)
? Wet cleaning of the floors and baseboards
Living Room Cleaning Tips To Try
Your living room is the hub and center of your home, so it tends to become one of the dirtiest spots in your house. You can change this by doing basic cleaning daily to prevent dirt buildup.
Fabric couches and rugs tend to hold a lot of dirt and odor. Sprinkle baking soda and let sit for 1 hour before vacuuming. It will get rid of any odors and help pick up more dirt.
---
Kitchen
? Place dirty dishwasher-safe dishes in the dishwasher (wash non-safe dishes in the sink)
? Clean the stovetop and inside of the oven
? Wash the inside of the refrigerator
? Wipe the external of the refrigerator
? Wipe down all countertops and flat surfaces
? Wipe the microwave inside and out
? Wipe and degrease all other appliances
? Scrub and disinfect the sink
? Clean the garbage disposal
? Dump trash
? Clean and disinfect trash cans
? Wipe down the outer side of the cabinetry
? Scrub grout
? Clean oven and stove vents
? Dry floor cleaning with a vacuum or broom
? Wet cleaning of the floors and baseboards
Kitchen Cleaning Tips To Try
Your kitchen space will be the most extensive part of your deep cleaning process because it's an area where potentially harmful bacteria can grow. But you can save some time by implementing some easy hacks.
Scrub the countertops and backsplash with soapy water for faster cleaning and wipe down with a cloth when done. You should also throw lemons into the garbage disposal and run them for 3 minutes. This step will eliminate and help prevent any future smells.
Your dishwasher becomes dirty after a few cycles. Empty the dishwasher and run it on the highest setting with a bowl of vinegar. This tip will cleanse the system thoroughly and prevent bacteria from growing.
Lastly, to save time, check for a self-cleaning option on your oven, and let it run while you finish the rest of the kitchen.
---
Dining Space
? Wash tablecloth linens and napkins
? Wipe and disinfect dining room table and chairs
? Dust and wipe sideboards and china holding areas
? Dry floor cleaning with a vacuum or broom (carpet included)
? Wet cleaning of the floors and baseboards
Playroom Cleaning Tips To Try
Always remember to sweep, mop, and disinfect areas where food is present. The amount of time you spend occupying this space will determine the length of time it takes to clean. If daily cleaning is already included in your regimen, a simple sprucing will do the trick.
---
Playrooms
? Wash and disinfect toys
? Wash stuffed animals
? Wipe and disinfect any toy bins and holders
? Dust and wipe flat surfaces
? Dry floor cleaning with a vacuum or broom
? Wet cleaning of the floors and baseboards
Playroom Cleaning Tips To Try
By now, any broken trinkets and toys have been thrown away during the decluttering process. So now you set out cleaning the bins and re-organizing the toys to be neat and uniform.
When the kids come to play, fill them in on the new order of things and make cleaning up afterward fun with rhymes and songs.
---
Office Space
? Wipe flat surfaces
? Dust decor and accessories on the desk
? Wipe down screens (TV, computers, etc.)
? Wipe and sanitize keyboards
? Dust bookshelves
? Vacuum office chair
? Dry floor cleaning with a vacuum or broom
? Wet cleaning of the floors and baseboards
Office Cleaning Tips To Try
Your office is where the most productivity occurs, so it's essential to keep the space tidy and organized. Keep junk mail to a minimum and throw it away as soon as it enters the home.
You can keep separate folders for important occasions and file them away once finished. This step will prevent giant stacks of paperwork from building up on your desk.
---
Bedrooms
? Clean mirrors and glass surfaces
? Wipe all flat surfaces
? Dust headboard (vacuum if upholstered)
? Wash and change bed sheets
? Wash curtains
? Clean inside drawers and cabinets
? Wipe walls and pictures with a damp cloth
? Vacuum and flip mattress
? Dry floor cleaning with a vacuum or broom (carpet included)
? Wet cleaning of the floors and baseboards
Bedroom Cleaning Tips To Try
Your bedroom, a space that should be relaxing and calming, can become a nightmare when not thoroughly cleaned. Strip the bed entirely and sprinkle the mattress with baking soda when deep cleaning. It will freshen up any odors and help lift dirt built up in the fibers.
After sitting for 1 hour, vacuum up the baking soda, check for mattress stains and clean with a damp microfiber towel. You can repeat these steps for fabric-based furniture like headboards and corner armchairs.
Remember to change your pillows annually. Then, when it's time to wash them, make sure to dry them to prevent any mold from growing inside.
---
Bathrooms
? Takedown and wash shower curtains and liners
? Deep scrub shower and tub (including showerhead)
? Clean out the drains
? Clean bathroom vents and exhaust fan
? Wipe sinks and countertops
? Deep scrub toilet bowl
? Wipe inside cabinets and drawers
? Wash towels
? Clean shower mats
? Restock toiletries
? Clean mirrors
? Empty trash
? Disinfect the trash can
? Dry floor cleaning with a vacuum or broom
? Wet cleaning of the floors and baseboards
Bathroom Cleaning Tips To Try
It can be challenging to keep up with bathroom maintenance, leaving soap scum and hard water stains to grow on every wet surface. You can eliminate tough stains with your choice of cleaning solutions, but if they aren't strong enough, try soaking your shower head and fixtures with vinegar and baking soda.
These ingredients break down tough stains without the harsh chemical smells. This same method can clean dirty grout and won't erode any adhesion like some other cleaners.
Another tip to keep in mind is regularly cleaning your shower curtains and liners. Most plastic-based liners can be placed on a delicate wash cycle in your washing machine and reused to save money. Remember to remove any metal clips and hang them to air dry.
---
Closets
? Remove closet contents
? Wipe walls and shelves with a damp cloth
? Dry floor cleaning with a vacuum or broom
? Wet cleaning of the floors and baseboards
? Return and organize closet contents
Closet Cleaning Tips To Try
Closet clutter can add up quickly if you don't pay attention. Prevent mess by organizing items with bins and labels and giving them designated spots within the closet. If everything has a home, it'll be easier to find when you need them later on.
---
Laundry Room
? Wipe the outside of the washer and dryer
? Run a washing machine cleaning cycle
? Clean lint trap
? Wipe internal dryer machine drum
? Dust and wipe shelving
? Fold and put away clothing and linen
? Dry floor cleaning with a vacuum or broom
? Wet cleaning of the floors and baseboards
Laundry Room Cleaning Tips To Try
While rushing to complete daily laundry, many people forget that, like all appliances, upkeep of your washer and dryer are required to keep them running well. They pose significant health and fire hazards if improperly maintained.
You should clean the lint trap before drying every load. It's also a good idea to clean the exhaust ventilation annually. It occasionally sucks up lint and blocks the vent from moving hot air out of your home.
Similarly, washing machine drums need to be scrubbed and cleaned to prevent mold buildup. Most newer washing machine models come with a self-clean feature. If yours does not, you can invest in a washing machine solution or can spray vinegar in the drum and run it on the hottest setting.
---
Garage
? Remove storage off the garage floor
? Dry floor cleaning with a vacuum or broom
? Wet cleaning of floors with soapy water and a scrub brush
? Hose down with water
? Organize storage bins
? Wipe all flat surfaces
Garage Cleaning Tips To Try
Your garage is a great multi-purpose storage space. Keep it organized by categorizing seasonal and daily used items for easy access. Tools and car items can be placed along the walls with tool holders, and always make sure to properly clean or dispose of car fluids to prevent local pollution.
Throughout the House
As you make your way through your deep cleaning checklist, universal home features should be included in the cleaning. One of those features is your windows.
Your windows and window treatments collect a lot of dust. Take time in each room to wipe them down with a damp microfiber towel and a window cleaner of choice. Don't forget to remove and rinse the protection screens.
Other features you should pay attention to include your light fixtures. This includes ceiling fans, chandeliers, lamps, and every light source in your home. Most are hard to reach, so grab a ladder, gently dust, and wipe until any dust is gone. You can also hire a cleaning service for areas that are too hard to reach.
---
External Home Cleaning Checklist
Cleaning up the curb appeal and property surrounding your home is necessary and often required by regulated home associations. Now that you've thoroughly cleaned the inside of your home, you'll want the outside to match as well. Here's a checklist on how to spruce up your front, side, and backyard exteriors.
---
Front and Side Yard Spaces
? Pick up trash
? Sweep or blow away debris
? Power wash the front and sides of the house
? Landscape flowers and bushes
? Mow lawn
? Pull weeds
? Power wash (or scrub) the driveway
? Organize any outside furniture
? Wash and sanitize outdoor trash bins
Front Yard Tips To try
When cleaning the outside of your home, it's best to do it on a day with clear skies. Grab a ladder and take your time going through each task diligently and safely.
Start from the top of your house and work your way down to ground level. Finish off with a good rinse of all your tools and equipment.
---
Backyard
? Power wash the backside of the house
? Power wash or scrub the porch
? Wipe outdoor furniture
? Clean outdoor grill
? Clean pool (if applicable)
? Mow lawn
? Pull weeds
? Landscape flowers and bushes
? Organize backyard sheds
Backyard Tips To Try
Your backyard is your outdoor oasis of recreation fun. Unfortunately, it's usually only cleaned once a year before summer begins. You can kickstart the summer months early by maintaining the upkeep year-round.
You can save even more time by investing in covers for your outdoor furniture and grill, so they're protected from rain and rough weather.
---
Things To Remember
When cleaning the external areas of your home, take note of the areas that are hidden from eye view. These areas include your roof, gutters, shutters, and crawl spaces. These areas can become caked and clogged with leaves and foliage, increasing your chances of damage should lousy weather occur.
You can hire trained professionals to examine these spaces and provide the necessary care for them without compromising your safety.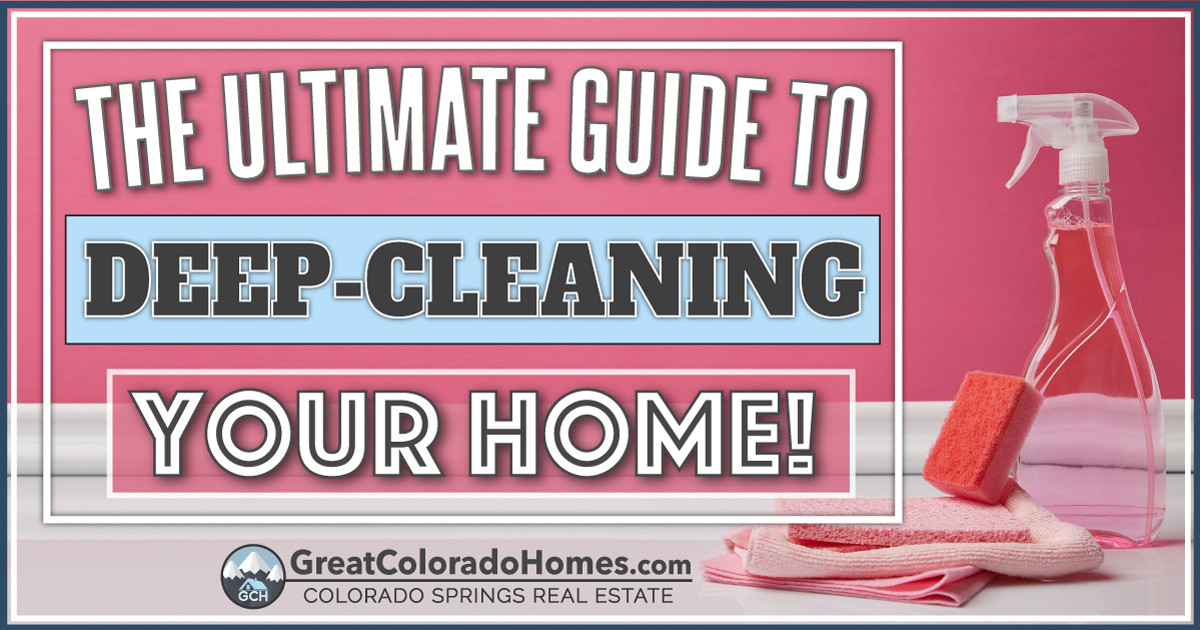 Hi! I'm Andrew Fortune, the founder of Great Colorado Homes and the creator of this website. I'm also a Realtor in Colorado Springs. Thank you for taking the time to read this blog post. I appreciate your time spent on this site and am always open to suggestions and ideas from our readers. You can all my contact info here. I'd love to hear from you.
---
Our Most Recent Blog Posts:
---