Navigation
18 Ways To Get Your Offer Accepted & Win a Bidding War
Posted by
Andrew Fortune
18,150 Views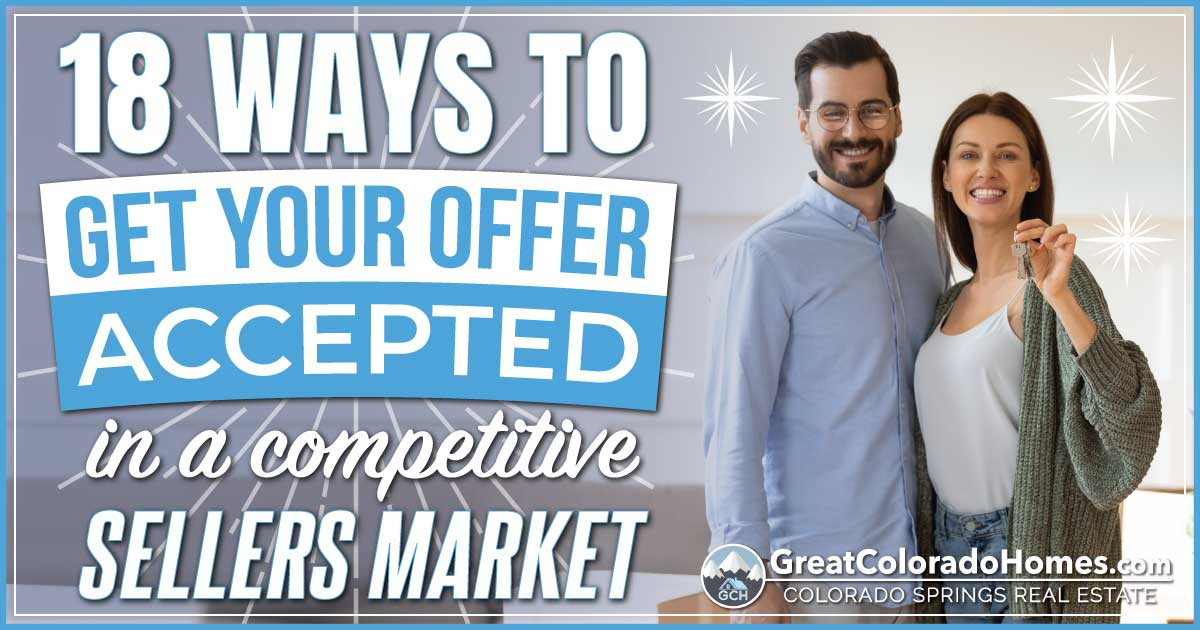 How do you get an offer accepted on the house in a competitive real estate market? It's the number one question for homebuyers competing against other offers. Real estate agents scramble to figure out how to win against multiple offers and get their clients that dream home. The pressure builds when housing inventory levels are low.
Competitive housing markets require creative real estate negotiation tactics. Waiting to win a bidding war on a home takes patience. I have owned and operated a real estate brokerage in Colorado Springs for many years.
My agents tell me crazy stories of how this market affects their clients. I've looked over hundreds of sales contracts and understand Realtors' most prevalent tactics to get their offers accepted.
Below is a list of the top strategies for crafting a substantial offer when buying a house in a seller's market. You can use any combination of these methods to strengthen your contract when purchasing a home.
Table of Contents
(click any section)
---
1. Offer An Escalation Clause
An escalation clause states that buyers will escalate their offer above the highest sales price submitted. The buyer's offer price is automatically escalated without the need to amend an existing contract. This clause usually has a maximum escalation amount. This tactic keeps your offer at the top when a bidding war occurs.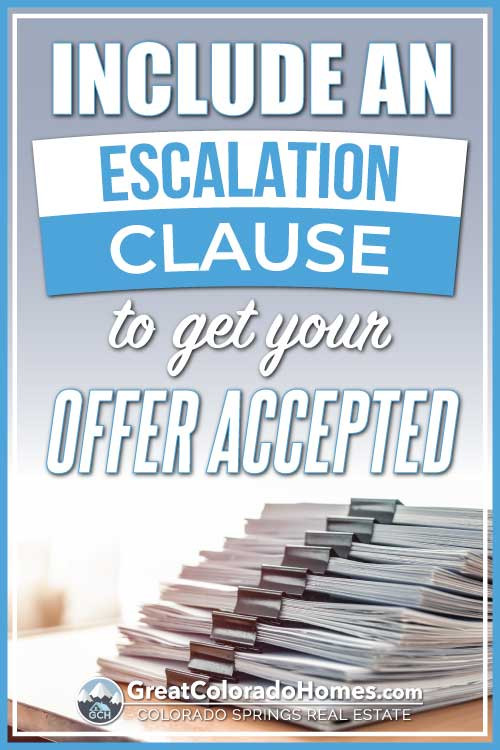 Here's an example:
→ Homebuyer A has offered $500,000 on a $490,000 home, with an escalation clause to $3,000 above the highest bid.
→The house gets 30 offer contracts, and the highest bid is from Buyer B at $550,0000.
→As a result, buyer A's contract sales price is automatically escalated to $553,000.
This method is one of the most common tactics used to outbid the competition in a highly competitive market.
It would be best to use an escalation clause only when you can afford to escalate your offer. The pros of an escalation clause are that they immediately put your bid at the top of the list. The cons are that the listing agent can manipulate them. An escalation clause can cause you to pay more than your initial offer price.
If a seller's agent receives an escalation clause, they can solicit the other buyers to keep increasing prices. Once they have maxed out the purchase price, you're stuck paying a specific dollar amount over that price.
Escalation clauses became standard in 2018 and have since become the norm in many real estate markets. However, they can be a legal nightmare if improperly structured. Ensure your real estate broker understands this concept well before using this aggressive method.
2. Offer A Leaseback
A leaseback allows the seller to lease the property from the buyer after closing. Moving out of a primary residence can be risky before the transaction is funded and completed. This method allows the seller to sell their home and move out afterward, eliminating the risk. In addition, leasebacks offer security to the seller that they only need to move once the deal is finalized.
There are multiple ways to structure a leaseback. You may ask for a security deposit and daily fees to pay your mortgage while the seller maintains occupancy. In a competitive market, you can waive these details to make your offer even more attractive.
Ensure your real estate agent writes all the terms into the contract or provisional lease agreement. Leasebacks can be a nightmare if they're not handled properly.
3. Include an Appraisal Gap Clause
Appraisal gaps are among the most common strategies home buyers use to get their offer accepted in a bidding war. An appraiser will likely value a home for less than its contract price when homes appreciate faster than appraisers can justify. The low appraised value can cause a deal to fall apart entirely.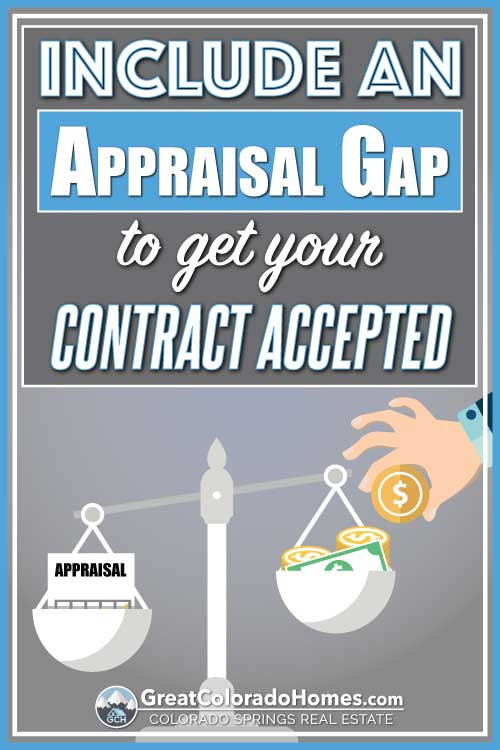 It can be challenging if a home is listed at $500,000 and ends up under contract at $550,000. If the appraised value comes back at $500,000, the buyers may need to bring an extra $50,000 cash. The seller may need to drop the contract price to $500,000 to close the deal. Sometimes, the contract falls apart because no resolution can be found.
Buyers must have extra funds to fill the gap between the appraised value and the contract price. They also waive their appraisal contingency. This perk gives the seller extra assurance that they won't be able to drop their home price.
If you're a seller and accept an appraisal gap, ask for proof of funds that the buyers have the extra cash. Some buyers will offer the appraisal gap out of desperation, but they have yet to make plans to proceed.
If you're a buyer offering an appraisal gap, take some time to understand this method's ramifications. First, you are paying much more than fair market value. Second, you may be stuck with an overpriced house if you do this right before the real estate market tanks.
4. Offer More Earnest Money
Earnest money is offered with a sales contract to help the seller justify taking their house off the market. It proves that the buyer "earnestly" wants to purchase the property beyond the contract alone. Different states have different terms for earnest money deposits, but it's typically between 1% to 2% of the sales price.
Contact contingencies allow buyers to retrieve their earnest money if the deal falls apart for different reasons. These reasons may include home inspection issues or financing problems. In addition, earnest money disputes are a common issue in real estate.
You show strong intent if you offer more than the requested earnest money amount. You can also make your earnest money "go hard." This term means you will waive all contingencies to retrieve your earnest money if the deal does not close. This tactic shows serious intent to buy, pushing your offer above others that are less serious.
5. Use a Reputable Local Mortgage Lender
One of the first things listing agents do is verify the mortgage lender and pre-approval letter. If the listing agent is a high producer, they will know many local lenders. Some lenders have bad reputations for sabotaging deals. If you use one of these lenders, the listing agent will likely share that information with their sellers.
Ask your Realtor for advice on the best lenders to use to get your offer accepted. This point is even more critical in smaller cities when making an offer. Real estate professionals tend to notice each other more frequently in smaller towns. Your Realtor and mortgage broker's experience and reputation can substantially impact your contract's strength.
6. Offer to Pay the Sellers Moving Expenses
Consider offering a monetary value to help pay for the seller's moving expenses. This is a unique strategy that is rare, which makes it more effective.
The higher the contract price rises above the listing price, the more likely the transaction will experience appraisal value issues. When you offer money for moving expenses, the seller gains the financial benefits without being added to the home's sales price. This tactic bypasses the appraisal and mortgage process, making it appealing to knowledgeable sellers.
7. No Personal Letters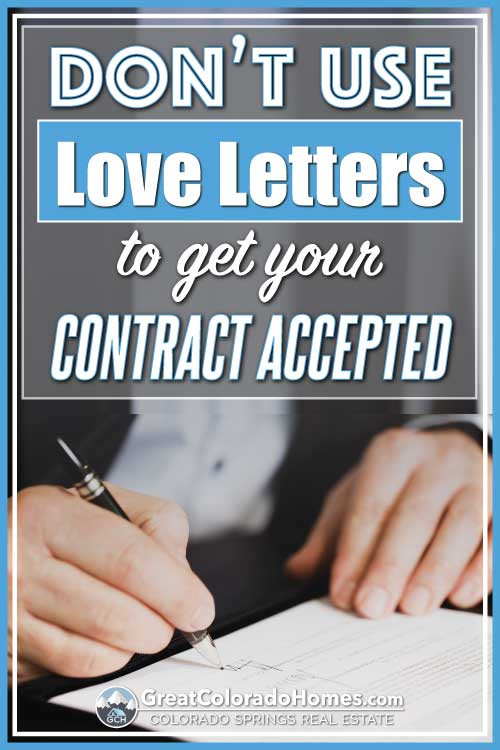 If you read through other blogs on this topic, you'll see suggestions for writing a personal letter to the sellers. Unfortunately, that advice is old information, as listing agents now view these letters as problematic.
Some Realtors will encourage buyers to write a personal letter to create an emotional bond with the seller. The buyer's agent would include this letter in their offer, along with pictures and personal details about their client. Unfortunately, this practice caused fair-housing lawsuits. The buyers would assume the seller rejected their contract due to race and social class.
Once these lawsuits started popping up nationwide, agents were advised by the National Association of Realtors (NAR) to avoid these letters. NAR suggests agents only submit relevant contract details with no personal information exchanged about the buyer. As a result, real estate agents now avoid these letters. Most listing agents will not even present a personal note to their clients in today's legal environment.
Attaching a personal letter to your offer creates extra tension for the listing agent, which will not help you.
8. Close on Their Terms
Every seller has different circumstances that motivate them to sell. For example, one seller may sell their primary residence through a relocation company, while another may sell an investment property. Both of these sellers will have different terms that are appealing to them.
Having your Realtor contact the listing agent before submitting your offer is wise. Your agent can ask the seller's agent precisely what their client wants in a contract. If your agent can get this information, you can tailor your offer to the most appealing terms for the seller. This method will always put your bid at the top of the list.
9. Be the First to View and Submit an Offer
Some sellers want to avoid a bunch of contracts to work through. If you're the first buyer to submit an offer, you may entice the seller to accept your contract.
To be the first buyer, you'll need an aggressive realtor to schedule showings within minutes. You and your Realtor must be on a "saved search" to notify you of new listings. Once you see a promising new property, you must stop everything and schedule it immediately.
Since you don't get to meet the sellers and read their body language, you have to use the few signals you get to make your offer.
10. Offer to Pay All Title Insurance Fees
It's customary for sellers to pay for the buyers' title insurance in many states nationwide. However, having sellers choose the title company and pay for the buyer's title insurance policy is a strange custom. This practice has been scrutinized over the years and may change soon. Title fees are typically between $500 to $1,500, varying from state to state.
To help your offer stand out, consider paying these title fees to alleviate that burden from the seller. If you're in a highly competitive market, the chances are high that other competing buyers will do the same thing.
11. Waive the Inspection Contingency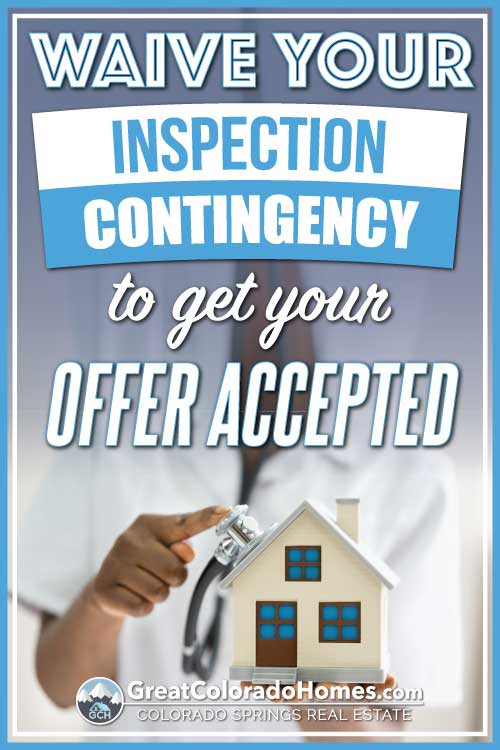 Once a home goes under contract, the work continues. The next step is to perform a home inspection. This process is stressful for the sellers because they cannot control the outcome of the home inspection.
Ten different home inspections could yield ten different results. Sellers are on pins and needles in anticipation of the results.
Some buyers will offer to waive the inspection process. This step is risky and requires plenty of research. It's also a highly effective move that can yield positive results. Consider if this aggressive tactic may be something you should use.
12. Remove the Financing Contingency
Most contracts require the buyer to receive their earnest money back if the financing falls apart. If this happens, the seller puts their house back on the market and starts the whole process over.
The buyers get their earnest money back if the financing falls apart within the contract financing deadline. The sellers have to start over with no benefit from the process. This scenario is exhausting for sellers and listing agents.
To alleviate the sellers of this concern, you may choose to waive your financing contingencies. This step allows the seller to inherit the earnest money if something goes wrong with your financing. This strategy appeals to sellers and helps strengthen your reputation as a strong buyer. As a result, the method is becoming standard practice in highly competitive markets.
13. Larger Downpayment
When sellers review contracts from buyers, they consider the downpayment as a sign of financial strength. Buyers putting more cash down have more money in the bank to access. Low appraisal value or expensive repair costs are less likely to sabotage a deal if the buyer has more cash.
Consider increasing your downpayment to show the seller you are financially secure. If you're using a VA loan, consider structuring your contract to show you have extra cash to make the deal work. Sellers are likely to choose a buyer with the most money accessible to increase their chances of meeting the closing date.
14. Have Your Lender Pre-Underwrite Your Loan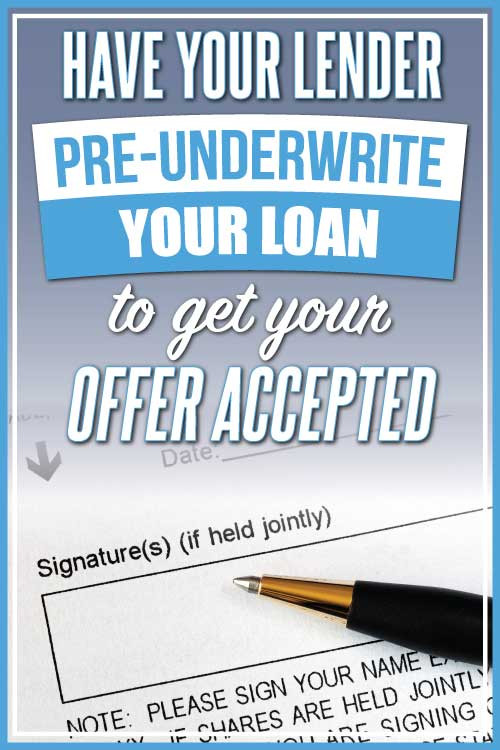 The mortgage loan process is always at risk of sabotaging deals. Buyers may hide negative financial details later discovered during the underwriting process. This issue is a concern for listing agents and sellers.
Consider using a reputable local lender who will pre-underwrite your loan to alleviate this concern. This method lets the listing agent and seller know you have been thoroughly vetted and have the highest chance of closing on time. This tactic is creative and effective when mixed with other methods at the negotiation table.
15. Use an Experienced Realtor
I own and operate a real estate brokerage in Colorado Springs. There are over 6,000 Realtors registered in our local MLS, but our city will only have around 1,000 closings this month. That leaves 2,000 transaction sides for 6,000 agents.
Our agent count has nearly doubled since 2014. This tension creates an environment where plenty of inexperienced agents are actively working in one market.
If you're stuck with an inexperienced Realtor, you may miss out on good homes for many months. Instead, choose an agent who is closing transactions monthly and knows the current market well.
Some Realtors can even help you find homes not listed on the market. The agent you choose will directly affect your success in buying a home. Remember to consider their influence and ability.
16. Keep your Offer Clean and Simple
Over the years, I've seen more additional information written into contracts than ever before. But unfortunately, the practice of writing further details into a contract can keep an offer from being considered.
When listing agents review buyers' contracts, they look for signs that convey the other agent's competency and flexibility. When buyer agents copy and paste contract text into blank fields, that Realtor may appear challenging to work with. Also, every word added to the contract gives attorneys more leverage in a lawsuit if one gets filed.
Some agents will fill a contract with unnecessary jargon. For example, phrasing that lists all people on a real estate agent's team makes a contract bloated. An amendment can be created dictating this information later if the brokerage requires it.
Extra verbiage about closing costs, contingencies, and the purchase price is unnecessary. The initial offer contract needs to be clean and free of wasted text that is unnecessary for the initial offer.
Keep your contracts clean and easy for the seller to understand. It will convey signs that you and your agent can efficiently work with. Only add extra words if they are necessary and help strengthen your contract.
17. Position Yourself to be Flexible
It's essential to stay flexible to meet the seller's unique demands. Every seller has different needs. If you are positioned to move fast and meet their requests, you can beat other competing buyers.
You may need to get creative if you have a house to sell before buying another property. Sellers with multiple offers on their property will not accept contracts contingent on another home selling. Sellers are looking for the least amount of contingencies and delays possible.
Consider selling your home and renting an Air BnB or short-term rental to give yourself flexibility. It may give you the edge to entice the seller to accept your contract.
Some companies offer to buy your home after finding another house but charge for it. Lenders and Realtors are getting more creative as the demand for homes rises yearly. Take some time to research companies in your area that offer services to buy another home before selling your property.
18. Close Extra Fast on Vacant Homes
If you're making an offer on a vacant home, the seller will want to close as soon as possible. No one wants a vacant home sitting empty for very long.
Position yourself to close as fast as possible on vacant properties. Since mortgage lenders are the ones who specify the time needed to complete, you'll need to coordinate your timeline with them. Having your mortgage pre-underwrite your loan will help with this. Hire a lender who can close fast so that you have some leverage on vacant properties.
Summary
As a homebuyer in a competitive market, you will experience stress and pressure each time your offer is rejected. Watching other buyers win homes that you want is exhausting. These real estate negotiation strategies will help you feel more empowered the next time you make an offer on a home.
The tactics above range from mild to extreme. You can mix and match different variations of these tactics based on the circumstances. Send this article to your Realtor and use it as a reference point for your next offer submission.
Stay positive and continue to work on your contract drafting skills using the methods and tactics above. Eventually, you will secure a home and get it under contract.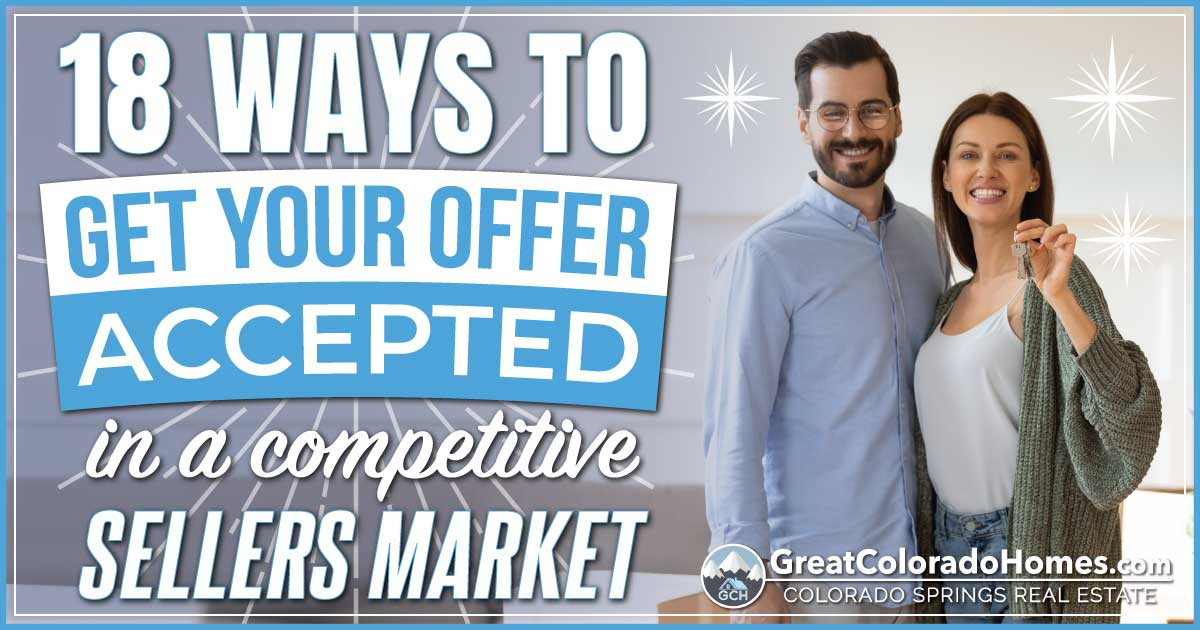 ---

Hi! I'm Andrew Fortune, the founder of Great Colorado Homes and the creator of this website. I'm also a Realtor in Colorado Springs. Thank you for taking the time to read this blog post. I appreciate your time spent on this site and am always open to suggestions and ideas from our readers. You can all my contact info here. I'd love to hear from you.
---
Our Most Recent Blog Posts:
---