Navigation
The Mortgage Loan Process: A Step-By-Step Home Loan Guide
Posted by
Andrew Fortune
4,725 Views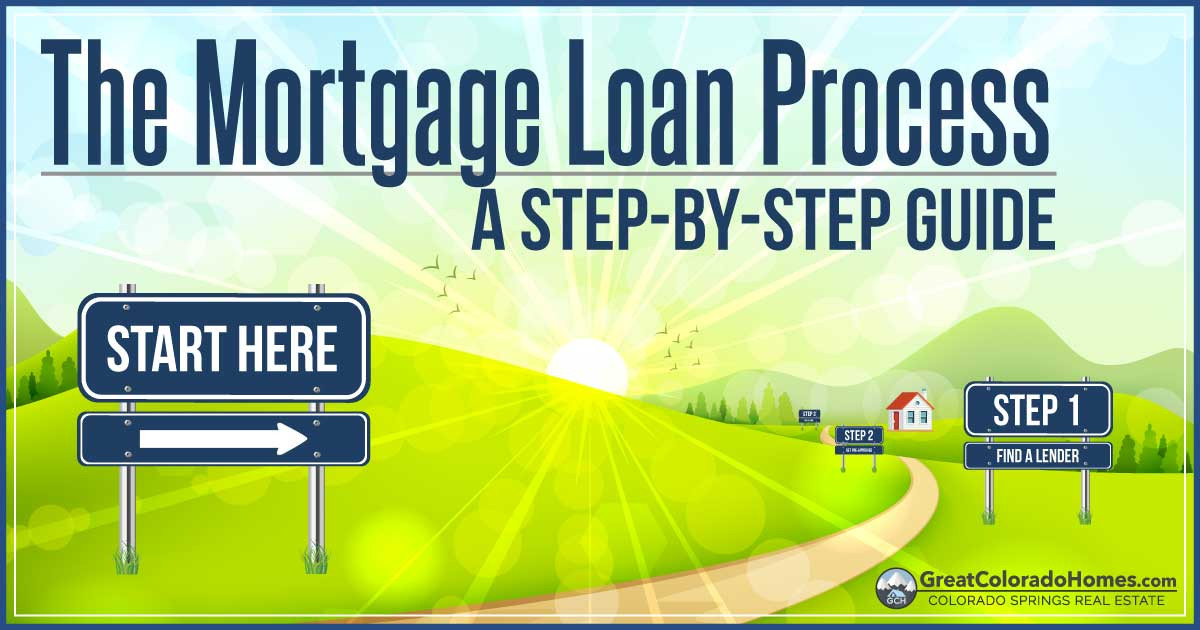 Most people need a mortgage to buy a home. However, for many, the mortgage loan process can be confusing. Therefore, we created this guide to ease any fears and anxieties you may have while preparing to purchase a home.
A lot goes into the mortgage loan process, so we've compiled a 10-step guide to help. We'll cover all of the tasks needed to obtain a mortgage to buy a home. We'll also explain the steps your mortgage lender will take while they're working on your loan.
Here's a quick reference guide to all of the details that we will cover in this article.
Table of Contents
(click any section)
---
---
PRE-HOME SHOPPING STEPS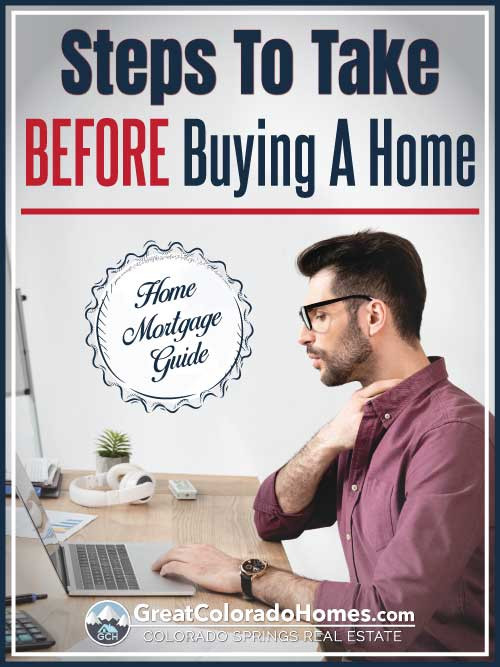 The details under this section will explain the activity that happens before you start looking for a home. These are the steps that you need to take before starting the house-hunting process.
---
1. Choose a Lender
A mortgage lender is a lending institution that pays for your home upfront. You will pay them back later over the life of the loan. Most lenders will offer you different incentives, whether it's a slight difference in the interest rates or closing costs. Ask for all of their fees upfront.
Be aware that most lenders have a minimum credit score requirement to ensure that they get paid back over time without defaulting. If your credit score is below 620, you may need to pause your loan process and raise your credit score first. Lenders reward applicants with high credit scores by offering them lower interest rates and closing costs.
---
2. Choose A Loan Type
Lenders offer different types of home mortgage loans based on qualifying terms.
Here are the most common residential mortgage loan types:
● Conventional
● FHA
● VA
● USDA
FHA (Federal Housing Administration) loans are available to people with credit scores above 580. This loan is backed by the government and allows lenders to be more flexible on their terms. However, the closing costs and interest rates are more expensive with these loan types.
VA loans are popular among veterans and active-duty military. They offer no money down as a benefit for serving our country. USDA loans are prevalent in rural areas.
Most other loans are conventional loans, which have more options and lower fees than government-backed loans. They also have lower interest rates and closing costs.
Fixed-rate mortgages are the most common loans these days. "Fixed-rate" means you pay the same fixed interest rate for the duration of your loan. Most mortgages have 15-year or 30-year loan terms, although you can often specify a custom length for your mortgage timeline.
Shorter loan periods will cost you less in the long run because you will have less interest to pay but will cost you more each month with the higher monthly payments. Your budget and income will most likely choose how you go about determining the loan period.
Your mortgage broker will explain each primary loan type that will work best with your financial situation and timeline. They will walk you through the fees and expectations for each type of loan offered by their lending institution.
Once you settle on a loan officer and have chosen your loan type, it's time to get started with the mortgage loan approval process.
---
3. Mortgage Pre-Approval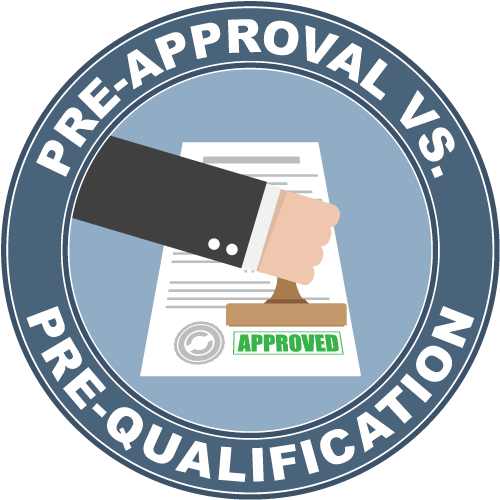 After settling on a lender, you need to apply for loan approval from your lender of choice. The mortgage broker will ask you to submit an application and fill out your debts, assets, credit info, and income. You will also need to submit your social security number and driver's license.
To show your debts and assets, you'll need the following:
● Proof of Income
● Bank Statements
● Investment Account Statements
● Receipts of Gifted Funds
● Documentation of a current mortgage (if applicable)
● Proof of outstanding debts, like an auto loan or student loans
For your credit history, you may need to provide the following:
● A printout of your credit report
● Explanation of any credit issues - (foreclosure, divorce, repossession, etc.)
To provide your proof of income, you will need to show:
● Two years of W-2s
● 1040 tax forms
● Information of your current employer or profit and losses if you are self-employed
By this point, you'll need to choose a target budget to apply for a loan of the correct size. You'll want to be sure you're looking at appropriate homes within the acceptable price range. Just because a lender will approve you for a million-dollar house does not mean that you have to spend that much. Proclaim your budget and stick to it before applying for a mortgage.
Based on your information, the loan officer will decide how much you are approved to spend on a home. They will also detail interest rates, estimated monthly payments, and any other fees associated with the loan.
You will want to have all of these steps complete before making an offer on a home. Sellers are very curious as to how much their buyers are approved to purchase a home. Their buying power conveys how likely they are to complete the loan process before closing.
It's important to note that there is a difference between pre-approval and pre-qualification. Realtors typically like to see pre-approval letters because they convey that the lender has already reviewed your bank statements. A mortgage commitment letter is even better, but it can take weeks to receive, and some lenders don't offer it.
At this step of the mortgage loan process, you have probably only used one loan officer. However, if you choose to switch lenders down the road, that is possible. It's much easier to buy a home when you do not have to change lenders in the process.
---
TIME TO SHOP FOR A HOME
4.) Shop For a House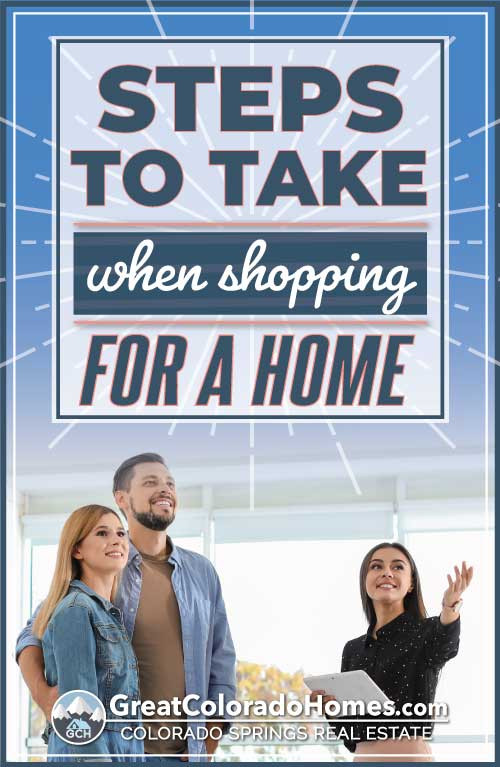 Shopping for a home is the best part of the process. You've set your budget, found a lender, and obtained a pre-approval letter. Now it's time to go shopping for your new home and learn about what you like and dislike in a home.
This process may take you a few days to a few months. You'll want to take your time when choosing a home. Make sure you have a checklist of everything you want in a home. For starters, do you want to be in a big city or a rural town? How many bedrooms do you need?
Is the kitchen design of the utmost importance, or is the space in the master bedroom more critical to you? These questions are essential to discuss before house hunting. The longer you look at homes, the more you'll know what you're looking for in your next house.
If there's something you dislike about a home, but everything else seems perfect, you may want to consider remodeling. First, consider whether or not you have the time, money, and energy to remodel. If so, your options for a home may expand.
Once you find the home that you love, you need to make an offer. There may be a few contingencies depending on the type of house you're buying or the housing market's current state. If you're purchasing a For Sale By Owner (FSBO) listing, you'll need to navigate the process carefully. Your real estate agent will know the ins and outs of the offer and what you need to do to make the deal go through.
You'll need to offer earnest money with your offer contract. The expected earnest money amount is different in each state. Be sure to ask your real estate agent about the earnest money requirements in your area.
You will show the seller that you are serious about buying the home by giving them earnest money. You may want to offer extra earnest money to compete in a competitive market. Your Realtor will advise on the best way to do this.
---
STEPS ONCE YOU'RE UNDER CONTRACT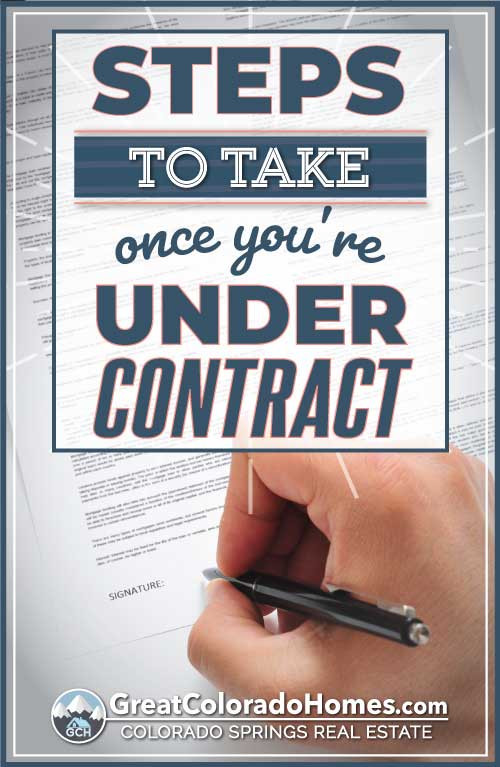 Once you make the offer on the house and a seller accepts, the actual mortgage loan process begins. Not only will you be dealing with everything regarding your home loan, but you'll also need to go through many more steps with your lender and Realtor. For instance, this is when you'll order a home inspection, get an appraisal on the home, and process homeowners insurance.
---
5.) Full Loan Application
The majority of your loan application should already be complete from your pre-approval stage. However, the loan officer will need a few other documents to process your loan thoroughly.
At this point, you will show your Purchase Agreement to your lender, along with a receipt of your earnest money payment. In addition, your lender may request an updated bank statement or pay stub based on the amount of time since they last reviewed your file.
From here, the lender will officially decide if they will give you the mortgage loan. When going through this stage, they may indicate that you have conditional approval.
If your lend calls and says they need additional documentation, there's no need to be nervous. They will most likely tell you that you will have approval once you show them the following:
● proof of mortgage insurance
● proof of homeowner's insurance
● copies of marriage certificates or divorce decrees
● proof of flood insurance if applicable
● copies of tax transcripts
● copies of your W-2
You will be approved for the mortgage loan once you supply proof and copies of whatever documents they may ask from you. Once you're approved, the lender will draft up the final documentation to send to underwriting.
At this point, you will also be finalizing the terms of the loan. You'll choose between the types of mortgages that you qualify for, compare the different interest rates, and settle on one with a term length that you want.
---
6.) Order Home Inspection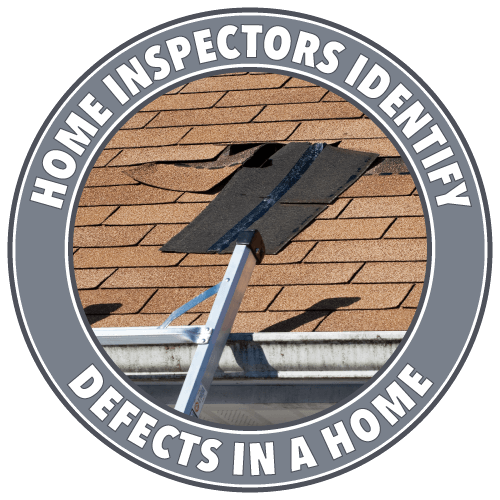 While you're working with your lender on your mortgage application, you'll also be performing your home inspection. So you may wonder why you need to order a home inspection.
What if there is something wrong with the house you're considering buying? Hopefully, that's not the case, but If it were, you'd want to know before moving forward with the purchase.
A home inspection is not a part of the mortgage process, but it is crucial for buying a home. Therefore, we felt very strongly that we needed to include it in this guide. Although a mortgage lender or Realtor will not require a home inspection, we highly recommend that you get one.
A home inspection report will give you many more details about the property than you can see on the surface. It will reveal what you need to pay attention to before moving in or if you need to make any costly repairs. A home inspector will usually look at the following:
● The structure of the home
● The foundation of the house, including the basement and the garage
● Electrical
● HVAC
● Appliances
● Proper ventilation
● Operating carbon monoxide and fire alarms
● Roofing
● Plumbing
● The general condition of windows, ceilings, floors, and walls
When ordering a home inspection, it's important to note that it does not cover everything that could go wrong with the property. It's not a super in-depth inspection but rather a basic visual inspection of all parts of the home from a professional's viewpoint. They typically will not look at internal plumbing inside the walls, examine swimming pools, or test for wood-eating pests.
If you would like a more in-depth inspection, you'll need to order a specialized inspection for whatever is required. Most home inspectors offer a variety of specialty services, as well as referrals for trained experts.
The price of home inspections varies depending on the market but usually hovers around $350. If you want a more thorough examination, it may be more costly but worth it if you buy an older house.
---
7.) Loan Processing
While you are working on your home inspection, your loan officer and team will be processing your loan.
During the loan processing time, you will have your income and assets verified. In addition, the loan processer will update your credit reports, title search, and any tax transcripts that they need. The lender will also verify your employment.
The lender will also order an appraisal to determine the home value during the loan processing. If you sell another home or pay off another mortgage, the loan processer will account for this.
After everything has been reviewed, the processer will re-examine every single document for compliance and regulatory reasons. Once that occurs, your file is submitted to underwriting.
Once you're past the home inspection and loan approval, it may feel like a waiting period for you. However, this is a great time to prepare to move! Start packing up some of your belongings or look for new furniture for your new home. Although you may want to hold off on the actual purchasing of the furniture, go ahead and bookmark the things you love for later.
---
8.) Home Owners Insurance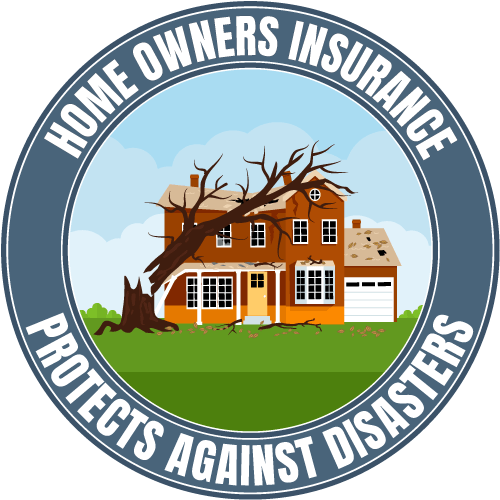 While the loan is processing, your lender will ask for proof of homeowners insurance before officially processing your loan. A home insurance policy will provide coverage for any damage caused by fire, smoke, water, theft, vandalism, natural disasters, or other events in the policy.
If a natural disaster happens, your homeowner's insurance policy should cover the damages. Also, if your home is broken into, the insurance may cover personal property in your home if it is stolen or damaged.
You need to know your coverage options before choosing an insurance company. You also need to know how much insurance you'll need. The number of items you'll need coverage on and the size of your home play into your pricing options.
You will need to search around for the best company and costs before choosing a policy. You'll also want to make sure of the following:
● Your policy needs to be enough to cover rebuilding your garage, pool, and all home contents (clothes, furniture, electrical appliances, jewelry, and heating systems).
● Have a list of everything covered written into the policy. If you are not sure if something is covered or not, ask.
● Double-check if you need to get separate coverage for flooding in your area since this is not automatically included in most policies.
Typically, home owner's insurance costs between $150 to $250 per month, depending on your home's age, size, and location. When looking for a good insurance company, find one with decent discounts, excellent customer service, and professional reviews from previous clients.
---
9.) Appraisal
A loan processor is typically the one who orders the appraisal to be done on the home before sending it through to underwriting. The lender wants to be sure that their investment is sound and they are not overpaying for the property you're pursuing.
An appraiser (licensed professional) will evaluate the home to determine the property's market value based on real estate conditions. They will look at:
● The quality of the foundation of the home
● The size of the house and the land
● The overall condition of the home
● Number of fireplaces
● Number of bedrooms and bathrooms
● The quality of the landscaping
● The functionality of the home's layout
● Any upgrades, such as hardwood floors, updated appliances, or remodeled bathrooms.
The appraisal process can take over a week to complete and get sent to your lender.
Once the appraisal gets back to your lender, they attach it to your file for underwriting to review. If it is less than market value, they'll likely need to adjust your loan details to make the deal work. Often, the seller will drop the price to match the appraised value if it comes back below the contract price.
In reality, you do not have to do any work during this phase. This step usually costs between $400 and $1,000, depending on the location and the type of loan you are using. Sometimes the appraisal cost will be included in your closing costs, so you do not have to pay for it until closing.
A home appraisal is not just helpful for the lender; it's also useful for you because it justifies the sales price. If the assessment comes back low, you have a few options.
● You can choose to challenge the appraisal or have a different appraiser re-evaluate the price of the home (at your expense).
● You can ask the seller to drop the sales price to match the appraisal price.
● If you have an appraisal contingency in your purchase agreement, you can cancel the offer and look elsewhere for a better value.
---
10.) Underwriting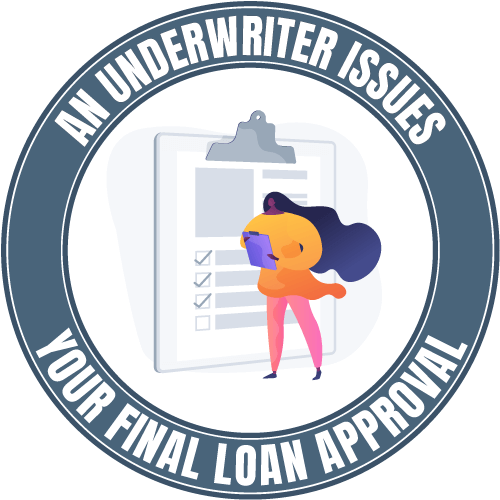 After a loan processor reviews everything, an underwriter will verify your income, assets, and employment. They will then compare this information to the information on your credit report. You should not take on any additional debt during this time since your credit report may be pulled again.
Underwriting is one of the essential parts of the mortgage process. It can take a few days to a few weeks depending on the lender or company you hire.
If there are any credit issues like late payments, collections, or judgments, they will each require a written explanation sent to the underwriter. Their job is to tediously go through your documents to look for any red flags that may arise. They will focus on the following:
● If you have the cash to pay for your loan
● If you historically pay your credit card payments on time
● If the value of the property you are buying is aligned with the purchase price
While doing their research, an underwriter may come back to you and ask more questions. If this happens, it is your job to respond quickly to keep the process running smoothly.
You and your lender will decide when to lock in on an interest rate during the underwriting process. We cover more on this down below in the pro tips section of the article.
---
11.) Closing
Once everything is complete with the loan process, home inspection, appraisal, and underwriting, it's time to close! You've officially made it to closing day!
Before closing, you should be offered a settlement statement and closing disclosures by your lender. These documents will show the breakdown of all the money exchanged in your transaction. Your lender will send all the closing documents and instructions to the title company. They will have everything ready for your closing when you get there.
You will need to bring a photo ID and a cashier's check for any money owed at closing. This amount will be in your settlement statement. You will then need to sign the mortgage docs, along with a lot of other paperwork, and take possession of the deed of your new home.
Once you perform all of those steps, congrats, you've officially closed on your home! You are a new homeowner!
---
Pro Tips During the Home Mortgage Loan Process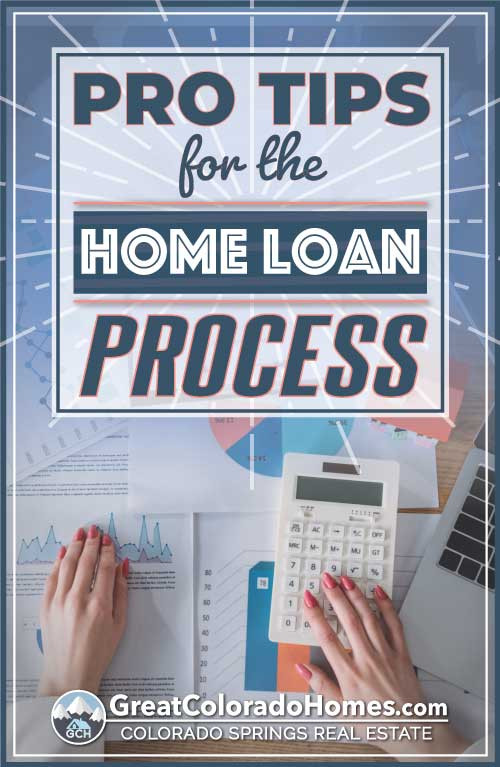 A lot goes into the home mortgage loan process, so you want to make sure you aren't causing delays during the process. Here are a few tips to help you have a smooth transition into your new home.
---
Don't Take on New Debt
If your lender notices that something has changed with your income to debt ratio while under contract, you're putting your loan at risk of non-approval.
Do not open any new credit cards during the mortgage loan period since that may impact your credit score. Likewise, do not make any large purchases that may also send a red flag to your mortgage company if they find out.
This advice may come as no surprise, but don't go gambling on your honeymoon during this time or go crazy buying stuff for your new home. You'll want to avoid moving money around and cashing out on your investments unless approved by your lender.
Your income and credit cards stay normal and balanced until you have closed on your new home. Wait until after the mortgage loan goes through to make any drastic changes.
---
Lock-In Your Rate
Since interest rates can fluctuate several times a day, a mortgage lock will ensure that your interest rates remain the same until the closing occurs. This lock means that the rate you see now will be the rate you will get on your closing day, even if the market fluctuates.
When you lock a rate, you should be aware that there are usually fees involved. To be sure of the costs, just ask your lender for details. Also, since mortgage lock rates only last between 30-60 days, you may have to pay an additional fee if the closing gets delayed.
Typically, mortgage lock rates cost between .25% and .5% of your overall loan price, which can add up quickly.
Although locking your rates can be a great idea, the interest rates may also drop after locking. Unfortunately, if they do, you'll be locked in at a higher rate. This detail is one of the main drawbacks of locking in your mortgage rate.
Your interest rate has a substantial impact on your monthly payment once you close on the house. Even the tiniest fraction of a percent difference in the mortgage rate can determine if you spend thousands of dollars more over the loan's lifetime.
---
Know Your Down Payment and Closing Costs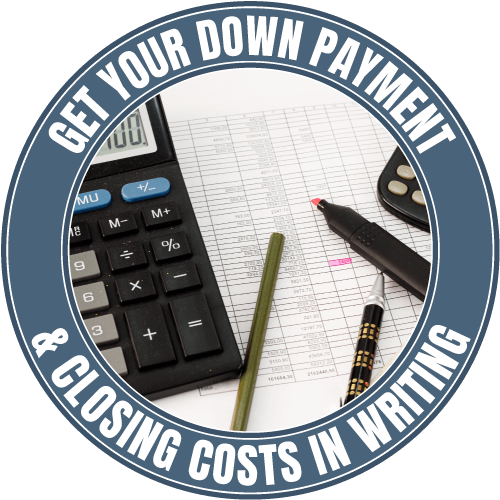 Although the mortgage process will cover you for most of the cost of the house, you will still have an upfront cost associated with the home. This main cost is the down payment. Therefore, you will have to provide a certain amount of money to cover your downpayment when you close.
If you choose to put more down upfront, you'll usually pay less in loan costs over time and get a better interest rate (and vice versa). Choosing your down payment amount will impact what kind of mortgage you qualify for and how much money a lender will give you for the loan.
There are pros and cons to each option.
Choosing to pay more down payment means more out of savings right away. However, you won't have to worry about all of your monthly costs adding up. You'll also have additional expenses each month, like maintenance, taxes, and repairs.
Paying less upfront will possibly put you in a better financial situation down the road if you run into expenses that you didn't consider, like injuries or accidents.
Lastly, the amount you choose to pay for a downpayment can affect the closing time. If you put a large enough amount down, the lender may waive the need for an appraisal, allowing you to close sooner. This leverage can give you a significant advantage in a bidding war.
With all of that said, down payments are pricey. Typical down payments are between 5% to 10% of the home's sales price. In addition, loan types that offer less money down usually have higher interest rates and fees.
In addition to down payment costs, you will also have closing costs. These costs are usually 2-5% of the loan amount, which pays for the title insurance, attorney fees, appraisals, and taxes. You should receive a loan estimate of how much you will need to spend on closing costs from your mortgage lender.
---
Perform Final Walkthrough
Before you're about to pay all of the fees and costs associated with getting your home, you'll want to do a final walkthrough of the house before you're ready to move in. This step usually happens a few days before closing or even on your closing day.
The final walkthrough is not a time to negotiate any terms. It is just a quick visual inspection to ensure that nothing happened to the home right before closing. It would be horrible to close on a home only to find out that someone ran their car through it last night with no insurance. The final walkthrough gives you time to look for significant issues that would keep you from buying the house and breaching your contract.
---
SUMMARY
When it comes to mortgage loans and the mortgage loan process, you may find yourself procrastinating because of how daunting it seems. You may be asking yourself how long it takes to get approved, how much everything will cost, and if you really want to take out a loan.
Why wait to find a home that you'll love just because the mortgage process is scary? You could be missing out on a great deal. If you find a suitable mortgage lender, they will take all of the complex parts out of the equation. If you have a great mortgage lender and Realtor on your side, your whole experience will be great.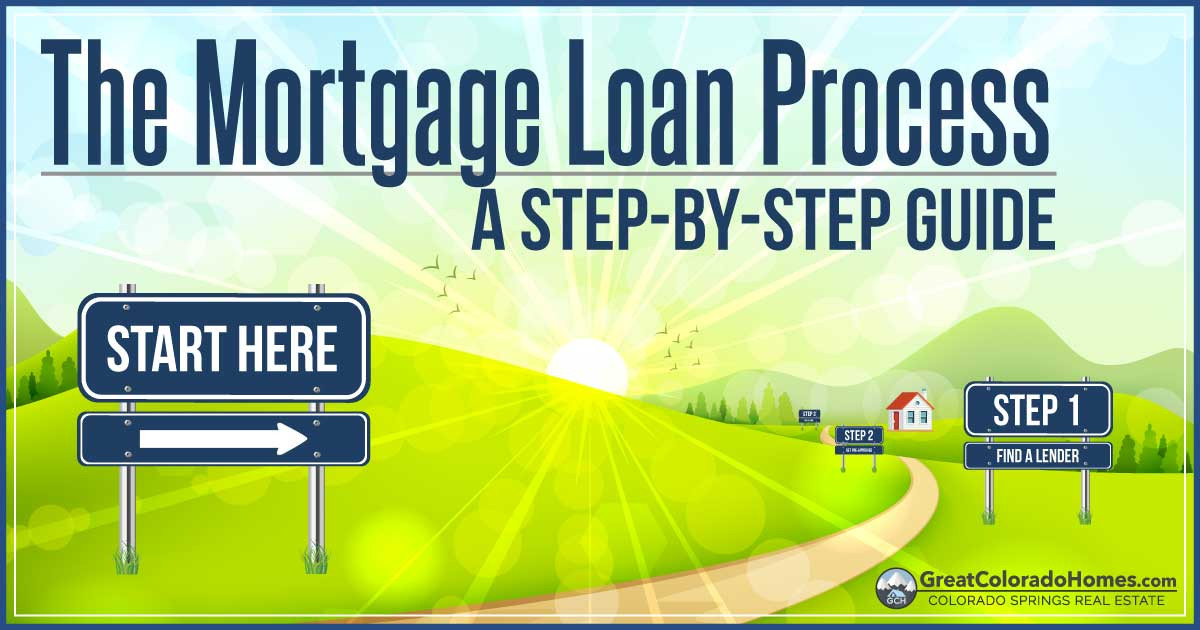 Hi! 👋 I'm Andrew Fortune, the founder of Great Colorado Homes and the creator of this website. I'm also a Realtor in Colorado Springs. Thank you for taking the time to read this blog post. I appreciate your time spent on this site and am always open to suggestions and ideas from our readers. You can connect with me on Facebook, Instagram, or contact me through this website. I'd love to hear from you.
---
Our Most Recent Blog Posts:
---