Navigation
Best Mortgage Approval? Prequal vs Preapproval vs Commitment Letter
Posted by
Andrew Fortune
1,931 Views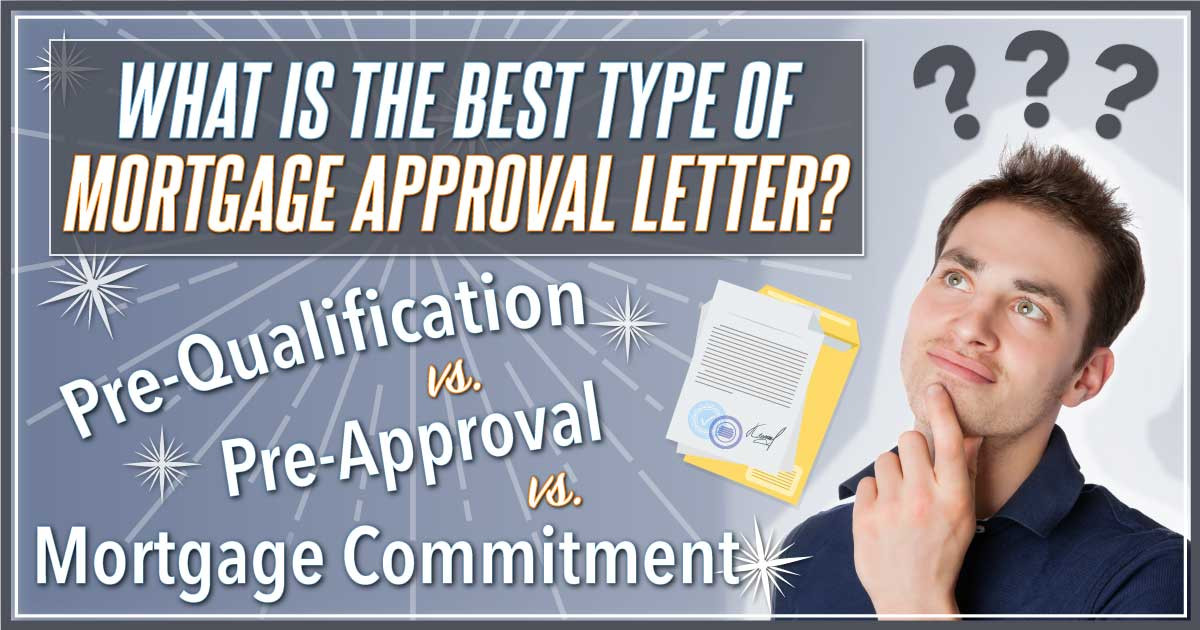 What is the best way to get approved to buy a home?
Loan pre-qualification, pre-approvals, and mortgage commitments are letters used to show that a buyer has been vetted by a lending institution and is ready to purchase a home. These letters empower home buyers to go out and look at homes in person with a real estate agent. So, which letter is better and how do they work? We'll cover that, as well as all the details that you need to know.
Here is a quick reference to all the topics that we'll cover. You can use the reference guide below to jump to the parts that most interest you.
Table of Contents
(click any section)
---
---
What is a Mortgage Pre-Qualification?
A mortgage loan pre-qualification letter is a loose guarantee that a lending institution has approved a person to buy a home. There are no written requirements that make a loan pre-approval different from a pre-qualification, but many lenders will state that a pre-qualification is the weakest form of approval out of the three.
Years ago, some lenders would create a pre-qualification for buyers they have only talked to on the phone without verifying any information. Then, when the lender could confirm everything later, they would upgrade their status to a pre-approval letter as a stronger signal to the seller.
These days, lenders have different requirements and terms for the approval process. Some mortgage companies default to title all of their approval letters as pre-qualifications (pre-quals). To these lenders, there is no distinction between the terms pre-qualification and pre-approval.
Other lending institutions have strict guidelines on whether they prefer pre-qualification or pre-approval. There is no guarantee that a lender's pre-qualification is any different from a pre-approval letter without contacting the lender on the letter.
When receiving a pre-qualification letter from a home buyer interested in purchasing your home, it's wise to reach out to the lender to see how much time they have spent investigating the buyer.
Ask the lender to verify the buyer's credit scores, bank statements, and tax returns. If they have not confirmed those items, the buyer may be at high risk of losing their loan before closing. Therefore, verifying these items is more important than whether the letter title says "pre-qualification" or "pre-approval."
Pros & Cons of a Mortgage Pre-Qualification Letter
---
PROS: The best part about mortgage pre-qualification letters is that they are effortless to generate. Some lenders will offer a pre-qual letter without even running your credit report.
CONS: Since the vetting process is simple, some sellers and listing agents may question the credibility of the pre-qualification letter.
---
What is a Mortgage Pre-Approval Letter?
A pre-approval letter is a statement from a mortgage lender that they have reviewed a home buyer's information and have approved them for a home loan. This process typically includes a credit check, debt-to-income ratio verification, and some basic employment questions.
If you are buying a home, it is crucial to have your loan pre-approval already taken care of before shopping for a home. Realtors and home sellers will treat you differently when they know that a lending institution is working with you.
Sellers typically will not entertain a financed offer without some form of loan qualification verification. Likewise, real estate agents will not show you homes without some form of loan verification.
Once a buyer is under contract on a home, the lender will then work with the buyer to verify that everything discussed during the approval process is correct. A suitable mortgage lender will verify these things before issuing the pre-approval letter, but some do not.
If you are a home seller and wonder if your buyer's lender has fully vetted their client, you can have your Realtor call to find out. It is wise to have your real estate agent reach out to any mortgage institution representing a buyer on your home sale.
Lenders vary wildly on professionalism and loan processing times. A bad lender can cause your transaction to fall apart, while good lenders can make it feel like a breeze.
Pros & Cons of a Mortgage Pre-Approval Letter
---
PROS: Mortgage pre-approvals are the most common type of approval letter, so they are widely accepted in the real estate community. It's the highest form of loan approval possible.
CONS: Since all lenders have different requirements to meet their pre-approval guidelines, there is no firm guarantee that the buyer is fully vetted.
---
What is a Mortgage Commitment Letter?
A mortgage commitment letter coveys the maximum amount of approval from a mortgage lender that a buyer is fully ready to purchase a home. There is no higher state of readiness. The letter informs the seller that the borrower has met all stringent underwriting requirements and is fully vetted to purchase a home.
The mortgage commitment letter goes beyond the pre-qualification and pre-approval by having a professional underwriter review all buyer's documents. For example, the underwriter will review paystubs, tax records, credit reports, and expenses to fully approve the buyer's file.
Since the mortgage commitment letter requires an underwriter to review the file, it takes longer than a pre-approval. This extra time is why many people settle for a mortgage pre-approval letter. A pre-approval can be generated in a few minutes, whereas a mortgage commitment letter can take weeks to process.
When sellers receive a mortgage commitment letter, they will assume the buyer is 100% guaranteed to close the deal. This benefit is worth the time that it takes to process the buyer through underwriting.
In a competitive market where sellers may receive many offers on their property, mortgage commitment letters can be an effective tool to show that you are more guaranteed than the other buyers on the list.
Pros & Cons of a Mortgage Commitment Letter
---
PROS: The best part about mortgage commitment lenders is that they carry the highest value of all three approval types. They offer the seller the highest guarantee that the loan will not fail before closing.
CONS: This letter can take a few weeks to receive because the underwriter has to review the file.
---
Which is better: Pre-Qualification, Pre-Approval, or a Mortgage Commitment?
It would be best if you got approved for a mortgage before buying a home with a loan. All three of these approval types will satisfy this requirement.
The mortgage commitment letter is the best option of the three if you have time to wait for the lender to underwrite your file. This step can take a few weeks if the lender is backed up.
If you need a letter right away, the mortgage pre-approval letter is the next best option. Most lenders can have a pre-approval letter to you within a few minutes. Some lenders can even approve you online without having to talk to anyone in person. In addition, technology has made the pre-approval process much more manageable.
---
What documents are needed when applying for a home loan?
Each lender has different in-house requirements, but you can be sure that you will be asked to provide the following documents at some point in the process. A great lender will ask for these items upfront to ensure no surprises later on.
● Mortgage Application
● Proof of Income (w-2's, pay stubs, etc.)
● Previous Tax Returns
● Bank Account Statements
● Monthly Debts
● Credit Card Statements
● Credit History
● Photo ID
● Rental History (if applicable)
● Gift Letter (if receiving funds as a gift)
Once you have given the information above to your chosen lender, they will let you know if more is needed. Many documents may be required, especially if child support payments or divorce decrees are in the file.
---
What to expect when applying for a home loan?
If you have never applied for a mortgage or bought a house before, this section is for you. Here are some things to consider:
● It's common for lenders to need more information about items in your financial history. Be prepared for this to happen. Most of the time, they are simple things that need extra documentation for the underwriter.
● You may qualify for much more than you expected to spend. However, that does not mean you should buy the most expensive house that you can find. Be frugal and create a budget that works for you, not the lender.
● Expect delays. Mortgage lenders have many files that they have to work on throughout the week. So you may not hear from them for five days, and then all of a sudden, they may need three documents within the next 24 hours.
● Anytime a lender requests a document, submit it to them as soon as possible. If there is a delay in your loan processing, you can bet that they will blame you if you took too long to respond to their request.
● Local lenders tend to have a better reputation than the more prominent national brands. Consider shopping around your local area and compare interest rates with online lenders.
● Check your credit before starting the application process. Ask the lender to hold off on running your credit until you have chosen the right mortgage solution. They can verify your credit score later on.
---
Can I change mortgage lenders before closing?
Yes, you can change mortgage lenders at any time. However, keep in mind that you typically have to start the whole process over again with the new lender when you do that. So, technically you can do it, but your purchase contract may fall apart if you wait too long.
I recommend that you do not agree to a purchase contract on a home until you have found the mortgage lender that you want to hire. Changing lenders in the middle of a transaction can cause problems and unnecessary stress.
---
What is the difference between a mortgage commitment letter and final loan approval?
A mortgage commitment letter is prepared before a buyer has gone under contract on a home. At this point, a buyer's credibility can go through underwriting, but the property has not been chosen yet.
Once a property is under contract, the underwriter must complete the file based on the property. Once the property has met all requirements and the buyer's requirements, final loan approval is granted.
---
How long does it take to process my loan once I have a house under contract?
Most home loans can close between 30 to 45 days, depending on the loan type and property. If you are using any special grants or first-time buyer assistance, your loan may take longer. As a general rule, the less complicated a loan is, the quicker it can close. For example, difficult farm loans can take over 90 days to process and complete.
When a buyer buys a house with cash, it only takes about two weeks to close. This time is needed by the title company or closing law firm to prepare all of the documents.
---
Summary
Of all the types of loan approval available, the mortgage commitment letter is your strongest ally. Unfortunately, some mortgage lenders do not provide this service. You have to ask for loan commitment letters because many people do not even know about them.
If you're buying a house and can get your lender to create a mortgage commitment letter for you, then you will have the best shot at getting your offer accepted.

Hi! I'm Andrew Fortune, the founder of Great Colorado Homes and the creator of this website. I'm also a Realtor in Colorado Springs. Thank you for taking the time to read this blog post. I appreciate your time spent on this site and am always open to suggestions and ideas from our readers. You can all my contact info here. I'd love to hear from you.
---
Our Most Recent Blog Posts:
---